| | | |
| --- | --- | --- |
| Position | Game Name | RTP |
| #5 | Rocket Reels | 96.30% |
| #4 | Itero | 96.18% |
| #3 | Stack Em | 96.2% |
| #2 | Gladiator Legends | 96.31% |
| #1 | Hands of Anubis | 96.24% |
Top 5 Bonus Buy Video Slots by Hacksaw
We'll be talking a bit about Hacksaw Gaming, Bonus Buys and how they work and then giving you a list of bonus top buy games by Hacksaw for you to try and enjoy.
Hacksaw Gaming and Bonus Buys
Hacksaw is a very well-known provider that offers its trendy online slots on many online casinos, many of their games are very popular with our players. They offer up many high-quality games with many different types of interesting art styles.
You can Feature Buy in many of their slots, and in everyone on this list, bonus buys are a lovely feature which lets you buy normally free spins or some other big feature in the slot game. A hacksaw gaming slot will very likely be a highly volatile slot, which will a much higher max win.
With a bonus feature list of amazingly good quality that helps make a lot of high-earning prizes and an amazing provider with high-quality games, with top-of-the-line graphics, you are sure to earn a lot, and enjoy much of your online gambling experience over at Scatters today with hacksaw gaming casinos games!
Let's talk games
We always like making this easy for our players, so they don't waste their time and can just enjoy playing as much as possible, here is a list of some of the top casino slots from hacksaw, with the bonus buy feature being how their bonus buy slots are some of their best and most played casino games, online gaming made better with Scatters.
One good bonus game can change your life and session.
Top 5 Hacksaw Bonus buy slots at Scatters Canada
Below are the best 5 video slots with bonus buy developed by Hacksaw.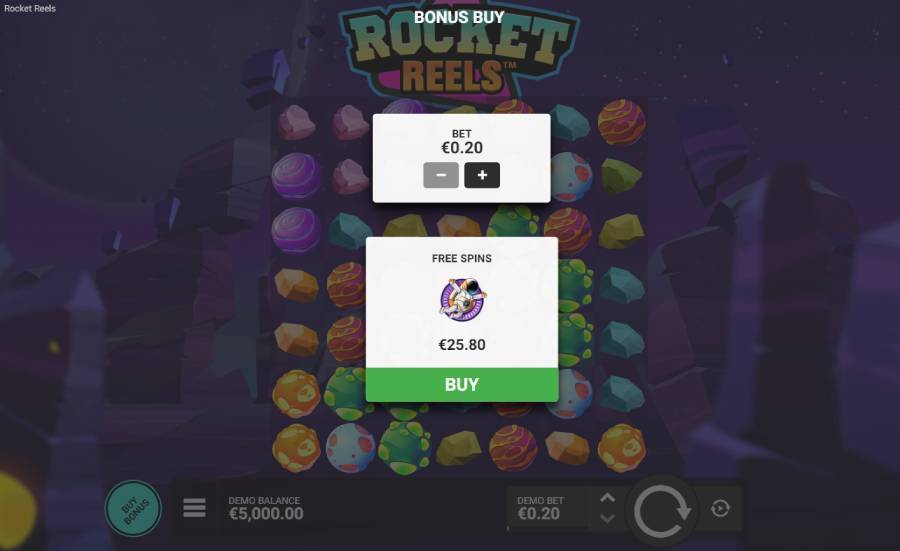 Rocket Reels, a space fairing-themed slot, with different moon rocks as the symbols, and alien-themed features. This slot has a 96:30% RTP and high volatility which should bag you a nice reward for any win, played on a 7x7 reel.
Rocket Reels features
Cascading
This slot is played with cascading symbols, so each winning spin will lead to said symbols exploding and new symbols will drop down possibly leading to a new win.
UFO
A cool-looking feature Rocket Reels offers is the UFO, this feature will trigger at random on spins another feature called the rocket is triggered that is also random, and the rocket will land on the reel randomly and start going up, destroying the symbols in its path and leaving behind multipliers, and if that multiplier overlaps with a winning spin symbol the earnings are added accordingly
Once the UFO is triggered it will beam a large number of symbols up, and replace them with new ones giving you a much higher chance of getting the win.
Free spins
Free spins, which you can activate via the bonus buy feature, are triggered when 3 spaceman symbols land on the reel, and you will be rewarded with 8 free spins. Each rocket will launch, leaving behind a multiplier and that can be very handy in making a decent prize.
A fun space-themed slot, with good RTP, features, and graphics, head over to Scatters to play today.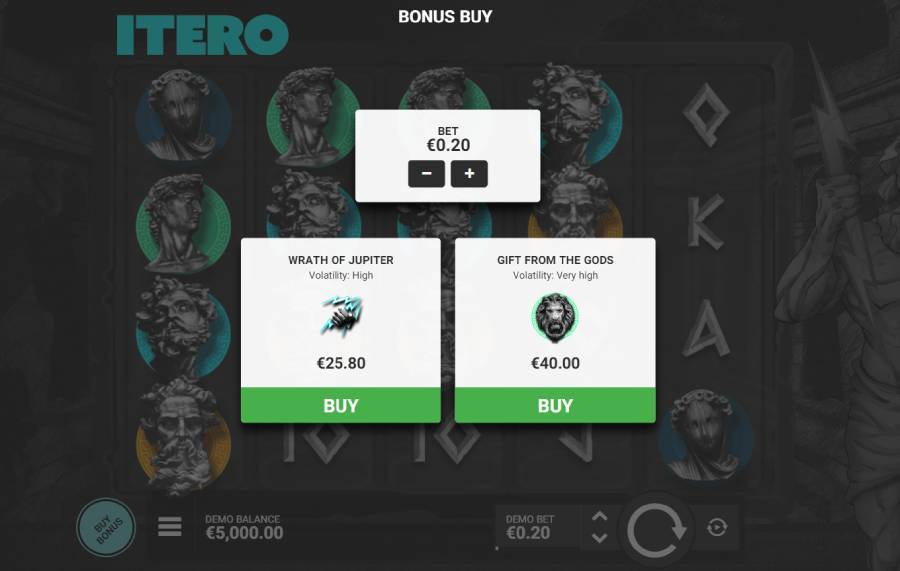 With a strong RTP of 96.18%, a nice 10,000 times your stake max win, a 0.10 cent minimum bet to a max of100 euro, a strong greek mythology theme, with a strong intense atmosphere this slot definitely stands out a bit, so now lets talk features, and why you should play this slot.
Itero Features
The bonus buys feature has 2 options in this slot, one triggering the hand of Jupiter and the other being Gift of the Gods free spin round.
Gift of the gods is an enhanced free spin section, that is triggered by 4 free spin symbols landing on the reel, and will be rewarded with 10 free spins. Each landing multiplier will be collected into the multiplier on the top right of the screen.
Wrath of Jupiter and Echospins
To trigger Wrath of Jupiter you need to land 3 free spin symbols, and for doing this you'll get 10 free spins, and in this mode, you will be able to get more echospins and higher multipliers
You trigger this feature by getting a hand of the Jupiter symbol to land, which will reward around 1 to 8 echo pins. Echospins are is like a respin, but the twist is that the respin will be the same as the original spin that triggered it.
With such an interesting respin feature, and with so many ways to get high multipliers there is no reason to not play this fantastic slot, so get to playing and get too big time gaming over at Scatters.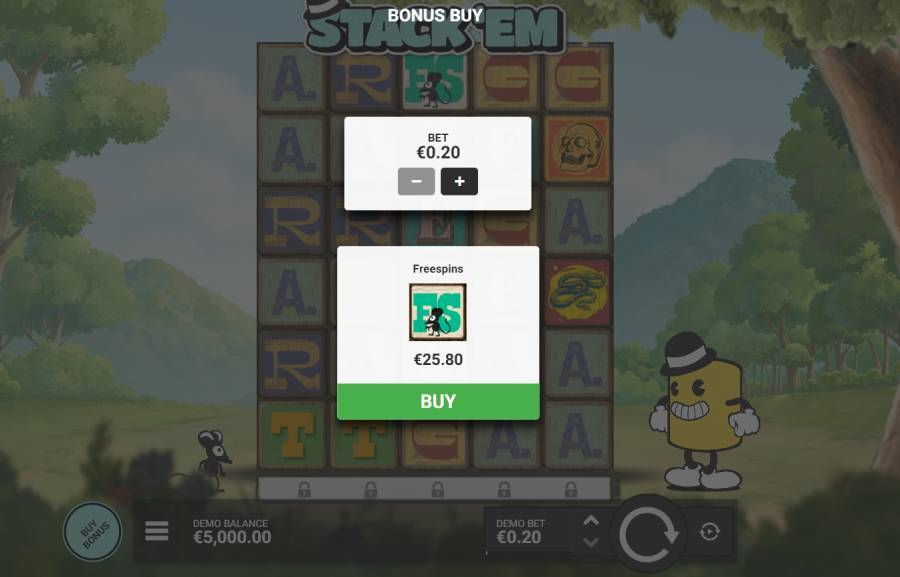 We can't get enough of this slots style, it feels like an old-school Disney cartoon, with the cheerfully animated character that will congratulate you every time you get a win.
This slot offers up a 96.2% RTP and a 10,000x max win stake and is played as a cluster, a nice combination of things that will lead to you getting a nice win. Now let's get to the features
A Top Hats full of Features
This slot has a bonus buy feature, that can be very helpful to boost up your odds of getting high-end wins. To buy your bonus buy, you'll need to spend 129x your stake.
Cluster Pays, if you get 5 or more matching symbols you'll get a winning combination, all none winning symbols will be removed and the winning symbols will be dropped to the bottom of the reel and new symbols will drop down to the reel.
Some multipliers apply at the bottom of the reel.
Free spins
Once you get 3 free spins you will get 5 free spins, but as you play the slot you will get the chance to get more spins.
Each time you get a winning combination you will get the total multiplier will be added and raised by the number of winning symbols, as an example, if you get 6 winning symbols, you'll have 6 added.
The Special X and Mystery Symbols is something you should keep an eye out for, if you get a winning combination, that is connected to the X symbol, you will have a multiplier added based on what number the X symbol lands on.
The mystery symbol will give you an even higher reward, it has many different types of rewards, here they are:
2 to 5 extra lives
A multiplier of 1, 2, 5, 10, 25, or 50 x
It will multiply your total multiplier by 2, 3, 4 or 5.
Verdict
Play this cheerful yet eerie-themed slot over at Scatters and take advantage of the pretty neat features that it has.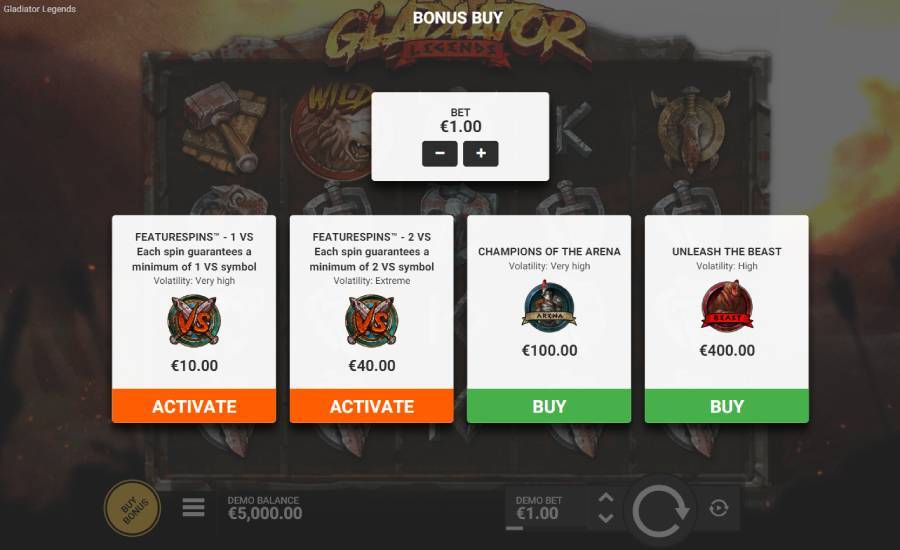 A bloody and hardcore slot with cool and exciting features you rarely see because people don't normally put this much effort.
Some of the basics you need to know
The slot has an RTP of 96.31%, you'll be playing on a 5+ reel with a total of 10 paylines and like many of the other Top, 5 Hacksaw bonus buy slots has a max win of 10,000.
Gladiator Legends Features
VS symbols are something else really, once you land a VS symbol the reel will expand into a dual reel, with wild multipliers.
In the base game duel, reels will if you form a part of a winning combination when expanding. But the bonus feature will let you expand each time you land on a multiplier.
Every dual will have a multiplier based on 2 wild multipliers that symbolise a gladiator, when the feature starts these gladiators will fight and whoever wins, you will be given their multiplier to your reel.
Champion of the arena
Once you land 3 arena symbols the feature will trigger. You will get 3 spins once triggered and each time you get a VS symbol it will reset, and keep going till it runs out.
This feature aims to get as many VS symbols as you can and get their multipliers added to the top of the reel. You should keep an eye out for the coin multiplier, one being epic and the other being normal, the normal will show you a multiplier, up to 10x and add it to the reel, the epic works the same but to all reels, not just the one it lands on.
Unleash the Beast
To get this you need to land 3 very rare beast symbols, you will get 3 spins like the other bonus feature, and any VS symbols will reset your spins.
You'll be getting reel multipliers on the 1st, 2nd, 4th and 5th reels, and will accumulate each of the dual multipliers.
You need to unlock the 3rd reel, to do this you need a VS dual to start on each of the other 4 reels at least once.
Once unlocked you'll be able to dual the beast, which will boost each of the reels, a bit new and can come off hard to understand, but it's not.
There are some pretty rewarding features in this slot, that are very hard to come by, but luckily for you, they have a great bonus buy feature.
You have 4 options:
1 VS - you'll have 10x your stake, and be guaranteed at least 1 VS symbol on each spin.
2 VS - you'll have 40x your stake, and be guaranteed at least 2 VS symbols on each spin.
Champions of the Arena - a crazy 100x your stake and the champion of the arena will trigger
Unleash the Beasy - a wapping 400x your stake will trigger unleash the Beast feature will trigger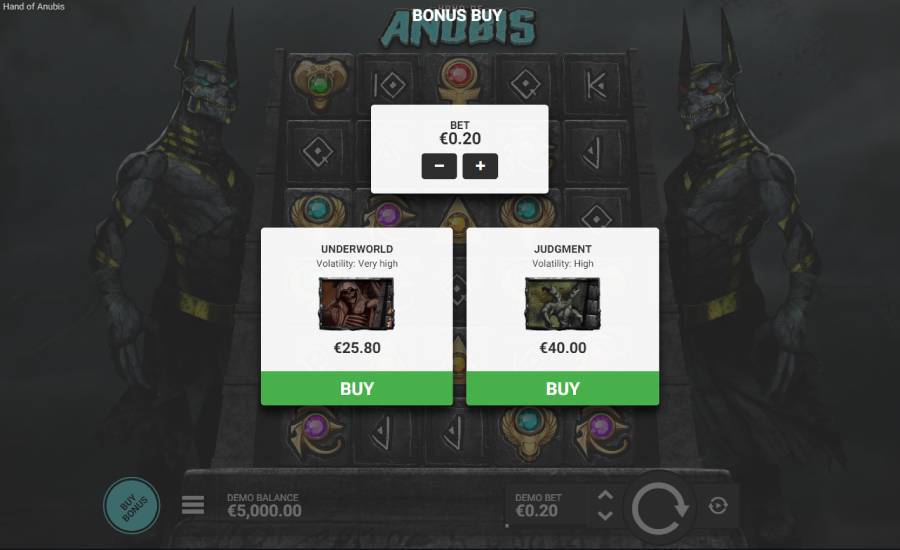 A big hitter in the casino world right now, the extremely popular, Hands of Anubis, with next-level Egyptian-themed visuals, cool features and a crazy sum of opportunities to make money.
Hand of Anubis Features
If you get a winning combination, the cascading win will trigger, and all winning symbols will be removed and new ones added.
Soul orbs, there are 2 of these handy things, one blue and one red, both doing very smilier things, the red will give a multiplier of 1 to each symbol in the cluster, and the blue will is per winning cluster.
The Underworld
Once you land 3 pharaoh skulls the free spin will start, and you will get 10 free spins, and be given 5 multiplier symbols at the bottom of the reel.
These multipliers will go up by the number of winnings symbols on their reel. The Anubis multiplier will help you a lot by giving you between 2x to a whole 10x. The multipliers will only be activated when you get a green orb symbol though, so be mindful of that.
The green orb will turn on the multiplier it lands on simply put. The sum will be put together and applied to your winning cluster. And finally, when you get a multiplier you get 3 more free spins.
Judgment
To get this feature to turn on you'll need 4 free spin symbols. When started you will have all symbols removed and you'll have special block symbols instead.
And 3 spins, that will refill each time a block lands.
The reel will have multipliers at the top of each of the reels. And will go up based on the value of the "special" block that lands on the reel.
There are special blocks that will break your blocks and consume their multiplier, so you can have more space for more blocks.
And finally, bonus buy, you can buy:
Underworld - for 129x your bet with an RTP of 96.29%
Judgment 0 for 200x your bet with an RTP of 96.18%
Egypt is known for being one of the top slot themes, and it works with this one, and the 2 free spins options are something else. So do yourself a favour and head on over to Scatters and start playing.
Conclusion
Ok, now with all the information you have with Hacksaw online gaming, how to use and buy the bonus features, and have seen what the games offer you, you have everything you need to start playing Hacksaw games, and getting that moolah over at Scatters Canada.
A casino bonus can help you get starting in your fun, so if you need that extra push always be sure to check what bonuses and offers are currently going on.
The highest quality slot machines are offered with Scatters, offering the best feature buy slots around, with different types of rewards and even a deposit bonus, for you to have a head start when playing.
BONUS BUY VIDEO SLOTS BY HACKSAW FAQs
Who owns Hacksaw Gaming?
Marcus Cordes is the current owner and man moving this well-oiled train in the right direction.
What slots can you buy bonus?
The games that have a bonus buy feature can be found in the casino section of Scatters.com in the Bonus buy section.
Is bonus buys worth it?
This is a very subjective question because being a being buy feature doesn't mean you will automatically win a huge sum of cash that will make up for the amount you spent on the bonus buy, but it will greatly increase your chances of winning and getting a big win at that.
The game itself is up to luck, but you can help it along with some money to get the ball moving.
Is the provider trustable?
Hacksaw has some of the most popular slots in the world with an amazing track recorder so yes, you can feel safe playing their slots on Scatters. If you wanna try out other providers, we have amazing ones like Relax Gaming or even Nolimit City!
===
Would you like to play using Scatters special bonuses? Please have a look at our promotions: Welcome Bonus, Wednesday Free Spins, Scatters Freepots, Daily Quests, Drops & Wins, Live Casino Tournament, Scatters Casino Rewards, Scatters Level Up System and Bonus Buy.
Other articles that might interest you: