| | | |
| --- | --- | --- |
| Position | Online Slot Name | RTP |
| #10 | Safari of Wealth | 96.2% |
| #9 | Rich Wilde and the Amulet of Dead | 96.29% |
| #8 | Mayan Fire | 94.12% |
| #7 | Lava Lava | 96.14% |
| #6 | Knight Rider | 96.07% |
| #5 | Achilles | 95% |
| #4 | Warrior Ways | 96.33% |
| #3 | Def Leppard Hysteria | 96.20% |
| #2 | Nightfall | 94.23% |
| #1 | Mega Don | 96.20% |
Best 10 Daily Quests Slot Machines | Aug 2022
We'll be talking about the great daily quests we offer and the prizes they give out over at Scatters New Zealand.
What are the Daily Quests at Scatters?
Daily Quest is a system the people over at Scatters made to help out players win great prizes and have more fun while playing. The daily quests run from 00:00 till 23:59 CET, there is a mix of Missions, Tournaments, Win Chases and more. If you want these great prizes and chances you should check out the different promotions throughout the week to never miss out!
If you wanna join and use the perks available, open up and play and of the games over in the Daily Quest category, and use the Unibo plugin and opt-in, all for free.
Daily Quests Online Slots Promo Schedule
Monday: you can get a €1,000 Tournament Win
Tuesday: Slot missions - offer 200 free spins that could be yours
Wednesday: nice little prize Drops
Thursday: A fun Win Chase that offers a huge 100 free spins
Friday: Slot Missions - another 200 free spins up for the taking
Saturday: Win Chase - you could win a whole 120 free spins
Sunday: and finally Slot Missions - 150 free spins in the pot
With all this up for grab why not take part and get a chance to win all these amazing prizes. These Quests can all be seen in the game window, so you never need to leave the fun and action and be bothered by having to go back and forth
If you open your favourite slot that currently has a live promotion on it, the in-game interface will be to the left-hand side of it, or above the game if you are playing on phone portrait mode. Any wins from daily quests will be added to your account immediately and automatically
How Missions work on Daily Quests Slot Machines at Scatters.
Any of the missions can hold several tasks, generally around 2 and 4.
As an example.
If you get 3 wins row
Playing 50 spins
Get a win 30x the bet
There are a large variety of missions that test your luck, and once you are done with your missions you will be rewarded with the prize it is connected to. If you aren't sure about something you can always find all the information you need in the game widget
How tournaments work at Scatters Daily Quests
It might be fun for you to know, that there is a leaderboard for you to compete on, climbing it to show your skill by beating the rest. Your position will always be visible to you, easily from the game interface.
And rules can be found in the in-game promotions area.
Daily Quests Prize Drops
With Prize, Drops give you the chance to win a prize spins.
Bonuses, Cash, Free Spins and even Merchandise are all up for the taking.
If you want to know what prizes are up for the taking, you should check how many are left and what type of prizes there for you to win.
Things to know about Scatters Daily Quests
Any player can take part in daily quests!
If you want to take part in these promotions you will have to opt into the different ones. This can be done easily by going to eligible games and opening the ingame panel and opting in.
You can not win with free spins given to you by the casino, only bonus money and real money bets are eligible with at least a minimum of €0.20 spin-stake will qualify.
The leaderboards and your score in them will be updated in real-time, on the tournament leaderboards.
Scatters reserve the right to alter or cancel this promotion at any time.
Top 10 Daily Quests Slot Machines August 2022
Ok, now that you know how daily quests work, let's talk about some of the top 10 daily quest slots, there are a lot of games including Book of the Dead and Mega Don and more, each slot has wagering requirements, and features, so enjoy these high-quality online slots over at Scatters casino and go make some mega moolah today!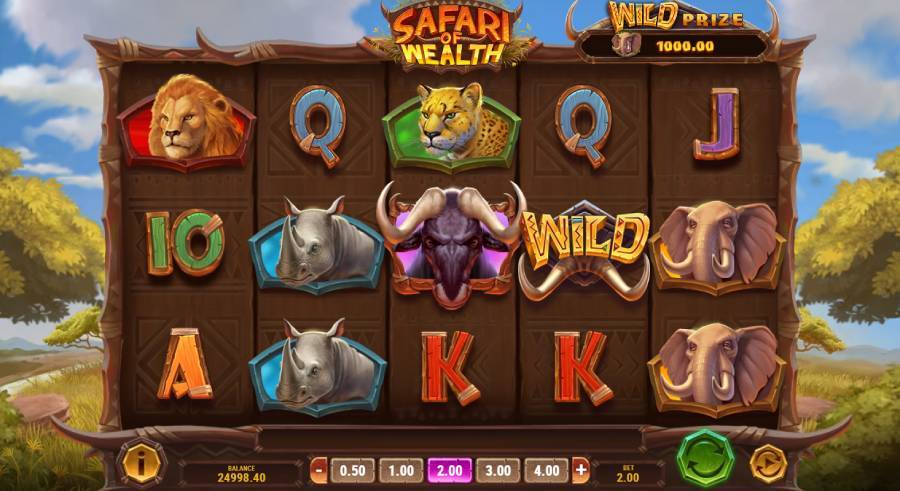 Safari of wealth, this slot game brings you to the fantastic amazon full of fantastic animals, beautiful scenes, with fantastic features, like many other casino slot machines, this slot has next-level graphics and animations, combined with over 7 thousand pay lines, a 96.2% RTP and a cheeky 10k max stake win.
Bonus features Safari of Wealth Daily Quests Online Slot
Safari of Wealth has 2 fun little bonus features. The first one is Wild Prizes, which go up to 500x your stake that can be claimed. And free spins, which gives you 7,776 different ways to win.
Jackpots of the wild Safari of Wealth Daily Quests Online Slot
This feature is fun and spontaneous, you can win a Wild Prize on any spins. Between 1 and 5 reels can become gold randomly, and if the wild lands on the golden reel, you will get a wild prize.
When this feature turns on, you will have rows of stones with different symbols, you have to interact with the stones till you get 3 of the same symbols, and that is how your prize will be decided.
Free spins Safari of Wealth Daily Quests Online Slot
When you land 3 or more sunset symbols, anywhere on the reel, you will trigger the free spin feature, and this feature can pay 5, 10 or even 50 x your bet.
A fun thing this slot does is, it lets you pick how many spins you get and what grid size you play your free spin session on.
These are the available options:
20 free spins - 243 pay ways on 3 rows
15 free spins - 1,024 pay ways on 4 rows
10 free spins - 3,125 pay ways on 5 rows
5 free spins - 7,776 pay ways on 6 rows
Mystery spins - can be between 5-20 free spins and 243 to 7,776 pay ways
This feature can be retriggered if you land another 3 or more sunset symbols, the amount of free spins you will get again is based on what option you picked to start the feature, for example, if you chose option 2, you will get another 15 free spins.
A lovely-looking slot, with a lot of quality and fun features, you should head on over and start playing, you can also play free online slots at Scatters.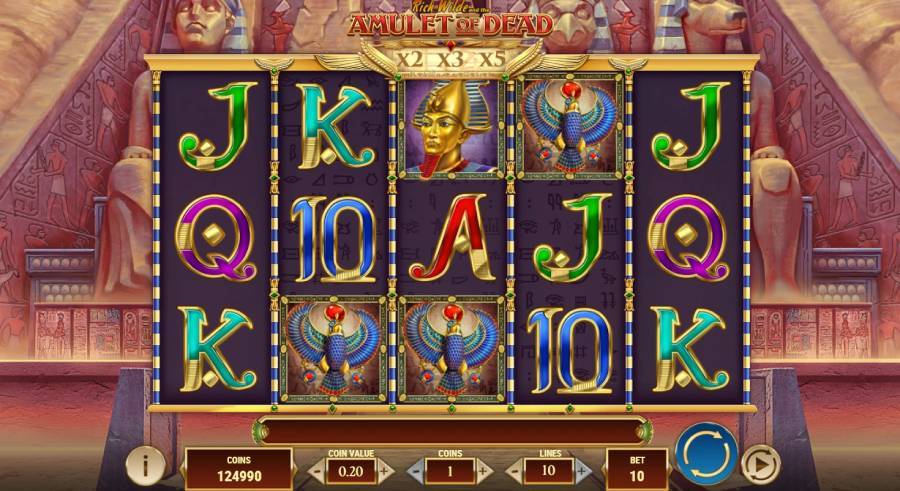 Egyptian tombs can be full of many a thing this one, this one holds treasures, and danger, so you better be careful if you want to make it out with your treasures. This fantastic popular slot carries a 96.29% RTP, a 2,500x Max Win, a fun list of features and great visuals. Let's get into it
Bonus Features for Rich Wilde and the Amulet of Dead
Let's see the multiplier, the Thoth wild symbol that will only appear in the 2nd, 3rd and 4th reel only, when this wild is stacked, the multiplier will activate, and the more stacked the bigger the multiplier will get.
Stacks feature
1 stack will get you: a 2x multiplier
2 stacks will get you: a 3x multiplier
3 stacks will get you a whole: 5x multiplier
These stacks will apply to all your winnings on the triggered spin. This feature will work on the free spin and base game versions of the slot, and this multiplier will apply and boost you scatter wins!
Free spins for Rich Wilde and the Amulet of Dead
After you land 3 or more eye pendant scatter symbols, you'll get 10 free spins and a random high worth or royal symbol, which will be picked out randomly, this symbol will become a special expanding symbol that can get you a big win.
These expanding symbols will expand for you and cover 3 slots of the reels. These symbols will only cover the reel if you get a matching combination though. Remember the better the symbol you get, the better your chances are of hitting it big, on scatter slots.
Head on over to Scatters and start playing this hot slot today. Scatters one of the best online casinos out there, making every game session a great one.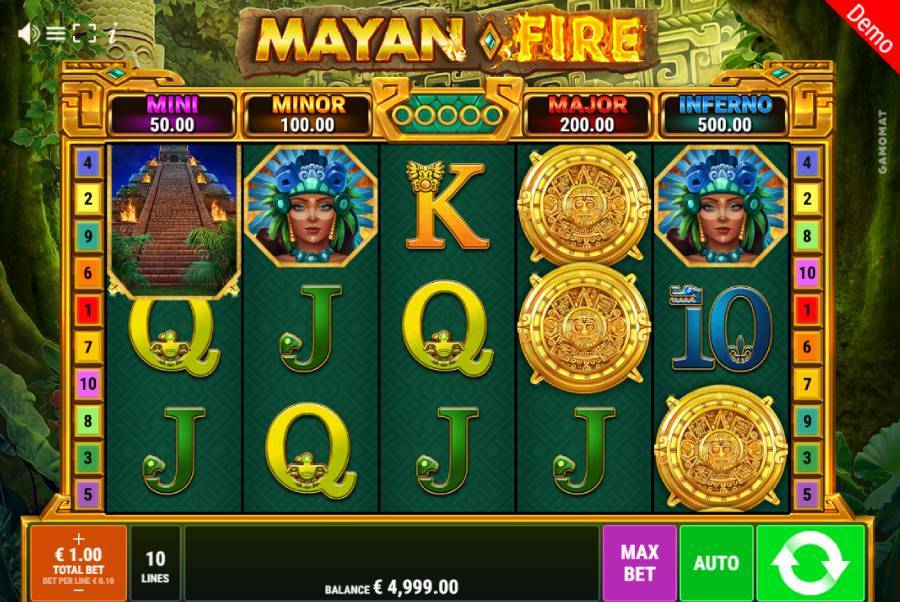 Following the popular Mayan theme Mayan Fire slot has a cartoonish style with a different list of features and cool-looking effects and visuals. This reel has an RTP of 96.06% and gambling features and is played on a 5x3 reel with 10 pay lines.
Bonus Features for Mayan Fire Daily Quests Slot Machine
This slot has a nifty little free spin feature, if you can get 5 or more fire orbs, you'll get 3 fire respins, and in this feature, if you get more orbs to land the counter will reset back to 3, and the total sum of all orbs will add up and give you a huge prize. If you manage to get a mini, minor or major to land you'll get a massive reward!
If you get 3 Mayan Temple symbols, you will trigger the feature that is worth 10 free spins and you'll have the chance to get huge prizes during these spins.
These features and nice art style should keep you busy and having a lot of fun, Scatters offers up the best slot machine games out there.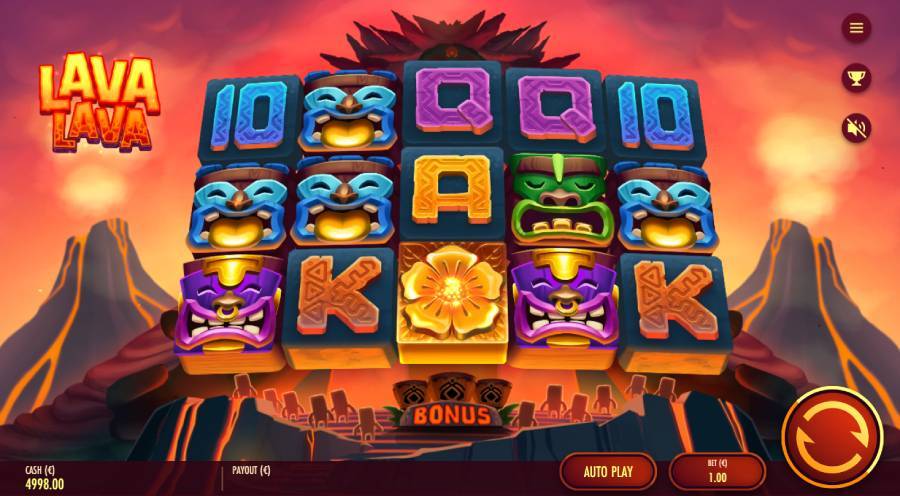 The overly cartoonish-themed slot Lava Lava, this slot is a 5x3 reel game, with a fun and very high-quality level of effort made into its graphics and animations. The RTP is 96.14% and has a max win of 10,000x your total stack, not something should look past, especially with such a high-quality slot. With the high volatility that comes with this game so does the rewards!
You must be careful as you climb, the lava goddess is angry and might try to burn your success, you must power through to win and get the success you deserve. This game developed well, and you can tell.
There are many symbols for this slot, the main and higher paying ones being, the green, blue and purple tiki symbols, each with funny-looking and high detailed faces, a golden flower symbol, and a lava wild which as the name says is the wild of the slot and gives you a multiplier that can go up to 32x, and finally, the volcano goddess scatter.
Let's talk about the features that are here to help you with your winnings, you could win enough rewards that it could compare to jackpot slots!
Bonus Features for Lava Lava Daily Quests Slot Machine
If you have a payline with a wild connected to it, will have a multiplier combined with it, this differs based on how many wilds are on the slot.
The scatter is something pretty different in this slot, once on the reel, it will explode and remove about all the slots that are at a vertically and horizontally position, the wild and other scatter symbols will not be affected by this symbol though.
If you land 3 of these scatters you'll start a free spin feature and be given 10 or 5 free spins.
Avalanches, are normally something you'd wanna avoid, but a handy feature in this slot, once you get a payline the symbol will explode and new symbols will come into the slot and take their position.
In the free spin feature, you'll get 1 to 3 wild symbols placed into your reel, which should be handy in getting you a win.
A fun list of features, graphics and overall quality, for you to try on Scatters.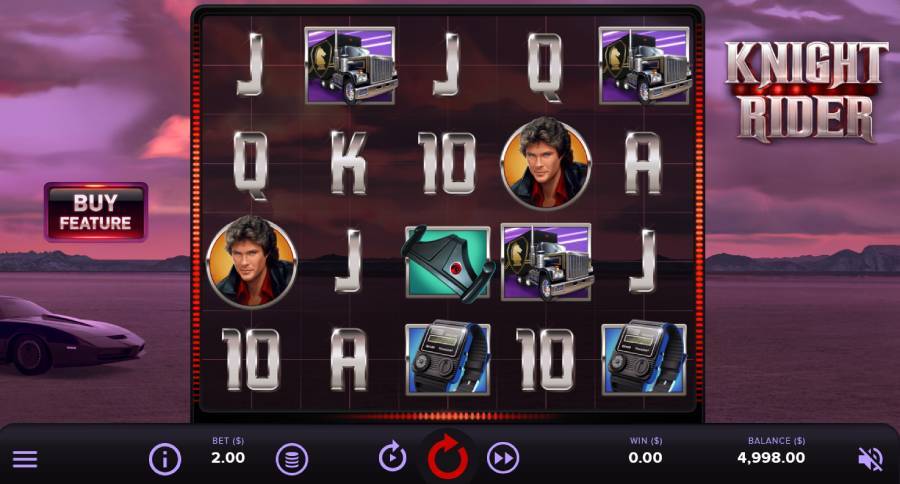 This slot will bring you a wave of nostalgia from the 80s, the popular tv show Knight Rider, with your favourite star David Hasselhoff as Michel Knight and our favourite firebird Trans Am K.I.T.T., these 2 have been on the road for a while and will ride again to save LA, join up with them to help.
This slot has a 96.07% RTP, a max win of 7x000x your stake, this slot is played on a 5x4 reel with 26 paylines. The basic symbols for this slot are the silver tinted symbols, and the higher paying ones would be K.I.T.T., the truck, radio watch symbol, K.I.T.T.'S steering wheel and the highest being Michael Knight himself of course.
The feature-related symbols of this slot would have to be, K.IT.T. wild, a Knight Rider logo Scatter and a knight symbol that only shows up during the free spin feature.
Bonus Features for Knight Rider Daily Quests Slot machine
Knight Rider has a total of 5 features a rare thing to see on Slots that normally have 2-3.
In free spin or base game, the walking multiplier wild can land anywhere. It moves 1 space to the right based on where it lands on a win and stays on the reel, and may have a 1x to 5x multiplier.
A turbo boost feature is a great feature where in the base game you will randomly get 3 or even 4 walking multipliers on the reel.
In the basic free spin feature, once you land 3 knight rider symbols, in 1 go you will be rewarded 10 free spins. This feature has 4 levels, where you fill a meter. The more knight symbols you get the better, 3 will lead to a level up, and each level up will get you wilds and free spins which can lead to huge wins!
And finally, there is a big bonus buy feature for the people, for the people who want to have some fun and not wait to land those free spins.
The official slot for Knight Rider is made with the highest quality, so you should head on over to Scatters to play.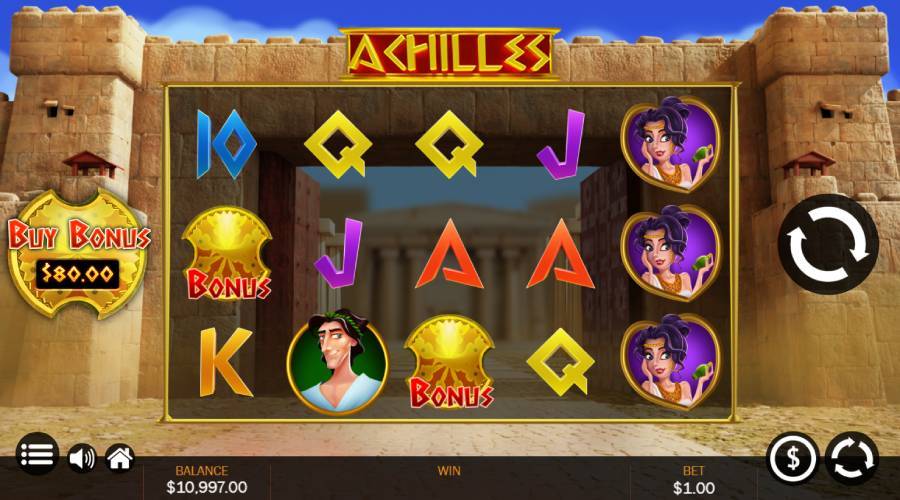 The hero Achilles is a mighty warrior, that protects his people with his god-like strength, joins him and gains the glory of the gods and marks his place in history as a mighty warrior.
The slot has a 94.99% RTP with high volatility, and a crazy x5248 max win, and you can pick from the lowest 0.20 cents to the highest, 80 euro and anything in between.
Bonus Features Achilles Daily Quests Slot Machine
The Achilles wild symbol acts as a wild and can substitute any symbol outside of the bonus symbol, and will turn into a sticky wild once in the free spin feature.
There are 4 bonus features with different mechanics, you need 3 bonus symbols to land on the reel to trigger, and whichever reel lands on reel 5 will decide what bonus you get.
Agamemnon: A group of soldiers will reveal at least 1 wild.
Helen: A spray will cover the reel and will create a supersize symbol.
Greek Soldier: Boulders will be launched at the reel randomly and will show a mystery symbol.
Achilles: Once triggered you will have 6 shields and you must pick 1 as a reward.
Trojan horse: Once triggered you must have a soldier inside the horse, the more the better, once full you will be greatly rewarded.
Bonus features Achilles Daily Quests Slot Machine
you will command soldiers to invade different parts of a map, and based on where you invade you will be rewarded with prizes.
Free spins can trigger by getting 2 bonus symbols, and then an Achilles bonus symbol on reel 5.
This slot has an insane amount of features that will lead to a big hit for you, so head to Scatters and get to playing casino games with the highest quality.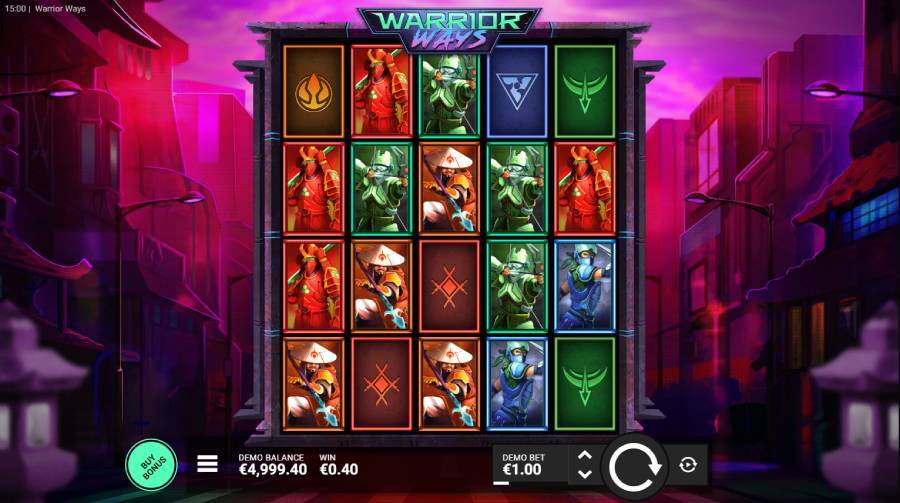 Warrior ways is a very visual slot, with a high focus on effects and good quality graphics, this slot has an RTP of 96.33%, and is played on a 5x4 reel.
A land-based in Asia where a ninja war is raging on, and different clans were in a large battle for dominance in the region.
Bonus Features for Warrior Ways Daily Quests Slot Machine
3 main features are in this slot, lets's start with the dual feature if you have a warrior with a VS symbol and another warrior in a row they will dual. Each duel will have a multiplier, that can go from 1x, 2x, 3x, 4, 5, 10, 15, 20x, 25, 50x, or 100x, with this, you can get a huge win.
Whichever clan wins the duel will replace the losing clan symbols, this can happen in 1 to 3 different ways.
A high symbol can replace a losing clan low symbol
A winning clan high symbol could replace the losing clan high symbol
A losing clan's low and high symbol will be replaced by the winning clan's high symbol.
This slot has 2 bonus buy features, for the clash and conquest features.
The clash feature has a collect and clash phase, the collect phase will have you getting multipliers for reels 1, 2, 4 and 5 and you can get more spins to get more multipliers by getting VS symbols or getting multiplier symbols.
Conquest feature, when you get the 3 conquest symbols you will start with 3 free spins, and get 10 free spins, when a clan loses a duel, the banner of the said clan will be damaged if damaged 2 times, it will be eliminated and that clans symbols will be removed from the reel for the rest of the bonus round, the more clans eliminated the bigger the reward.
A rare slot that you don't see too often that offers so much variety compared to so many other slots, is something worth checking out. Over at scatters today.-
Have fun and play online slots today at Scatters!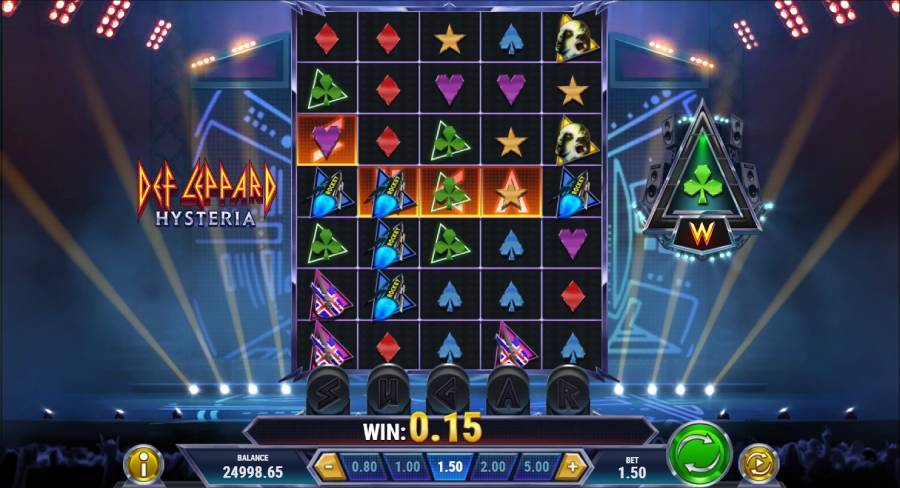 A bit of old-school metal that many a player is sure to love, with a Def Leppard Theme with a bit of a retro and sci-fi/retro theme, Def Leppard Hysteria has a 5x3 grid and is a cluster type slot, with a 96.27% RTP and a massive 10,000x your stake max win.
Bonus Features for Def Leppard Hysteria Daily Quests Slot Machine
Let's discuss the 4 bonus features of this Slot
Cascades feature: When you get a winning combination, the feature will trigger, and the winning symbols will be taken off the reel and new ones drop down to replace them.
Break it Up: On any spins that don't lead to a win, the break it up feature can trigger, and symbols will shuffle about the reel into a new position with 3 to 6 wilds added to the reel, which greatly increases your chance of a winning cluster.
Fire Me Up: On each base game spin, the charge meter will pick a symbol (that is not the wild). If you get a win with that related symbol you will fill the charge. This happens by getting 4 selected symbol wins. When the meter is full, the feature triggers and you will get 3 or 6 wilds triggered.
Pour Some Sugar on Me: If you win on one of the indicated patterns, you will trigger the SUGAR word. Triggering this feature in 1 spin will get you 5 free spins. The charge meter will give you multiplier wilds that, increase every time they drop down in the reel.
This slot is something else and should be played and enjoyed on Scatters. Slots are free to play over at Scatters to try out, and then you can decide to play for real and make some crazy earnings in this fun and nostalgic slot.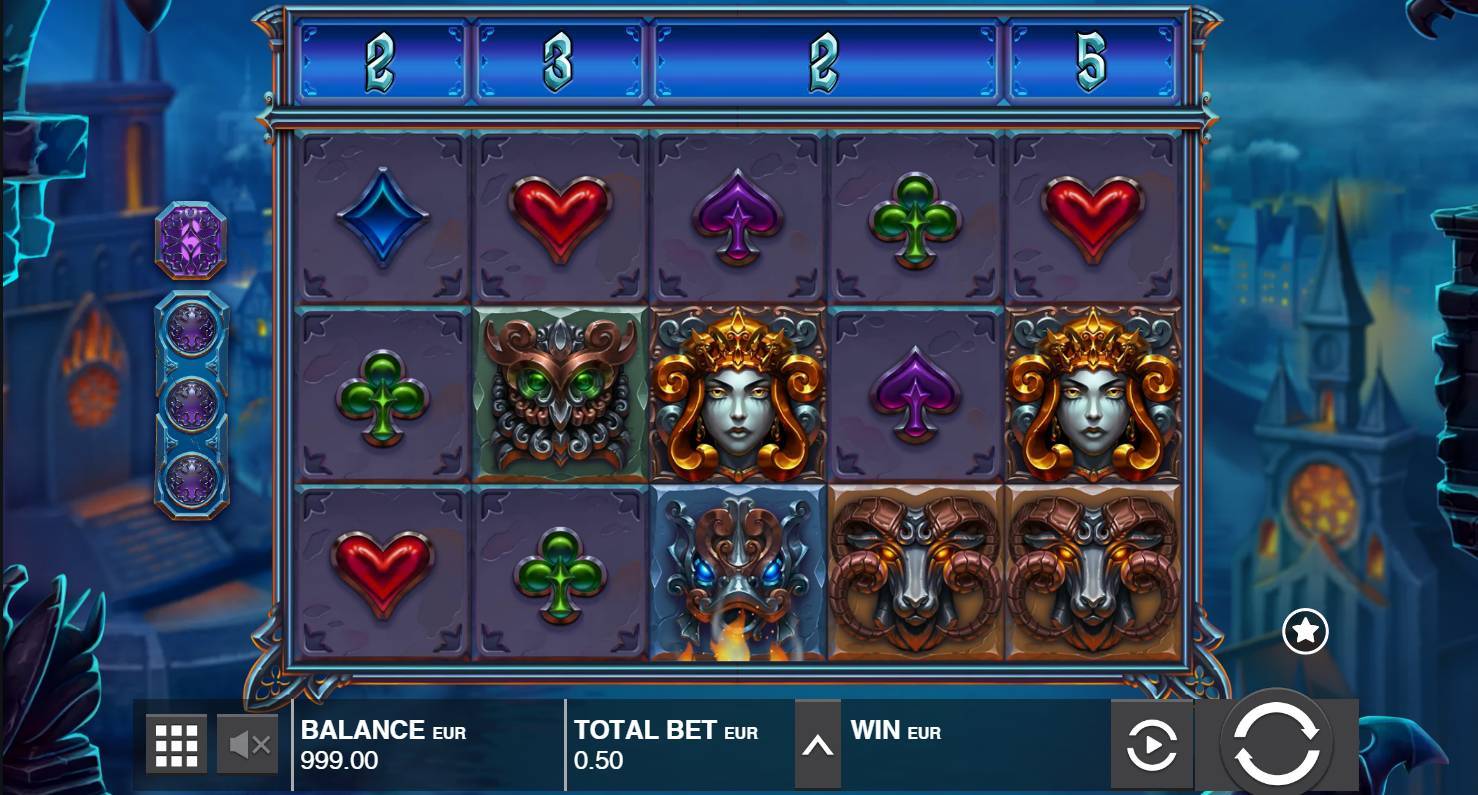 A very nightly haunted city-themed slot, with high-detail symbols, and a nice list of features you rarely see. This reel has 20 paylines, is played on 5x3 reels and has 20 paylines, and a crazy 20,000x stake max win.
This slot is played with cascades, and once a winning combo hits new slots come into the reel.
Bonus Features for Nightfall Daily Quests Slot Machine
The slabs at the top of the reel with different values, and 3 fireball symbols and you instantly get a prize. There is also a fireball multiplier, which once landing will apply a multiplier to the slabs of around 2x, 3x, 5x, 10x, 25x, to 50x giving you a higher prize.
This slot is played with cascades, and once a winning combo hits new slots come into the reel. When you get 3 fire orbs you will be rewarded between 6, 7 or 8 free spins, but you need 4 or 5 orbs to get higher free spins.
Once triggered, only fireball, fire orb and fireball multiplier symbols will appear on the reel, and it goes to the prize slab., If you get 3 fire orbs to land again you get 2 extra free spins, you can always see how many you need to get free spins by the meter.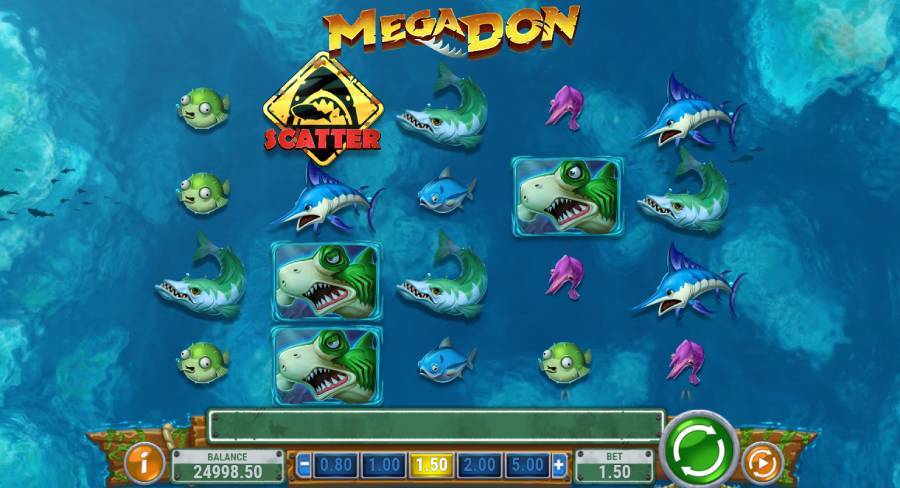 This slot is a bit special and is exclusively on Scatters, it is played on a 5x4 reel, it has 1024 pay-lines, and a 10x000 max prize win and a 96,20% RTP
This slot was made by our friends at Play'n GO with the level of quality you'd expect from such a popular and well-known and respected provider.
Bonus Features Mega Don Daily Quests Slot Machine
Snack Time: In the base game, you'll have up to 3 symbols be randomly picked out and replaced and upgraded into shark symbols.
Shark Feast: For the free spin, if you get 3 Scatter symbols you'll be rewarded with 6 free spins, but if you get 4 or 5 Scatter symbols you'll get 9 or 12 free spins, and some upgraded symbols. This feature can be retriggered.
With high-quality graphics, a cool theme, and nice features what isn't there to love about this slot, head on over and get to playing this exclusive game today and other online slot games at Scatters and other bonus games!
Conclusion
We hope you enjoyed the fun list of slots above, Scatters have many slots, live casino, progressive jackpots and more for you to enjoy. Head on over and start having fun and earning! The top slots casino out there.
We host some of the best popular online slots, with crazy good game features, and offer one of the best slot sites out there with a great gaming experience while you play slots, all you have to do is spin the reels.
Scatters has classic slots, video slots, progressive slots, and free slot games you can try before playing the real money slots, these daily bonuses will help you in these online slot machines, you'll feel like you are in las vegas without leaving your home!
FAQ about Daily Quests Slot machines
When do daily quests reset?
Till days end, the quest will reset at 00:00 in the day.
Where do I find the opt-in option?
Go into any eligible games, and on the left-hand side (or above the game if in portrait mode on mobile) you will find the in-game overlay, where you will have an option to opt-in and you can easily see all the quests you have and track your progress. and go to the casino section and the daily quest tab to find slots that apply for the quests.
What do I get out of this?
Well, you can get a lot of free slot spins, cash prizes, merchandise and bonuses, so ya, that's a lot of rewards for just opting in, so head on over and get to playing!
===
Would you like to play using Scatters special bonuses? Please have a look at our promotions: Welcome Bonus, Wednesday Free Spins, Scatters Freepots, Daily Quests, Drops & Wins, Live Casino Tournament, Scatters Casino Rewards, Scatters Level Up System and Bonus Buy.
Other articles that might interest you: