| | | |
| --- | --- | --- |
| Position | Game Name | Developer |
| #5 | Lollipop | Yggdrasil |
| #4 | Hand of Anubis | Hacksaw |
| #3 | Hex | Relax Gaming |
| #2 | Gigantoonz | Play'n GO |
| #1 | The Nemean Lion | Blue Guru |
5 Fantastic Brand-New Online Casino Slots
We always try to offer the best and easiest way for our players to enjoy themselves on Scatters, and that is why we are making this list for you to find some of our best and newest online slots because even though we make it easy to see what the latest and best games are, it never hurts to cover the bases a bit.
We host a long list of fantastic online slot games on Scatters, many great ones added every day, constantly staying up to date with the newest games, and we wanted to highlight some of our latest online slot machines by giving you a list of some of the most unique and best online casino slots currently on Scatters.
A list we update monthly, so you always know what the hot new slots are.
How did we pick these games? After a new slot machine, we see how our players are enjoying it, and the ones that have stood out, we have put on this list for you to enjoy. These are some of the highest quality and more enjoyable online casino slots that have come out recently. So please look at what they are and get to play today at Scatters!
You can easily find these games by either searching them up on Scatters.com or in the new games casino section. We try to make things easy for our players so they don't have to deal with anything and can enjoy themselves on Scatters today!
The top 5 Brand-New Online Casino Slots on Scatters for this month
Here we go, find out more about the features and characteristics of the best latest online slots.
5:Lollipop - Yggdrasil

Lollipop is a 5x3 play reel slot, with a fun, colourful candy theme, with a high RTP of 95% that you can play with a minimum bet of 0.20 to 100. This slot also offers bonus buys, but any bet over 10 removes those options, for now, brought to you by the online casino slots provider giant Yggdrasil.
It's a colourful joy, lighthearted and fun, exciting UI with good visuals and interesting animations, something any who liked Candy Crush would enjoy; it has many of the other features you'd expect in a slot, free spins, free spin gamble and a bonus buy options that have a 300x your bet.
This game is very relaxing and fun to play yet holds exciting features, and we are sure you will love it. Scatters can easily recommend this to many of our players, so get to playing today at Scatters.
4: Hand of Anubis - Hacksaw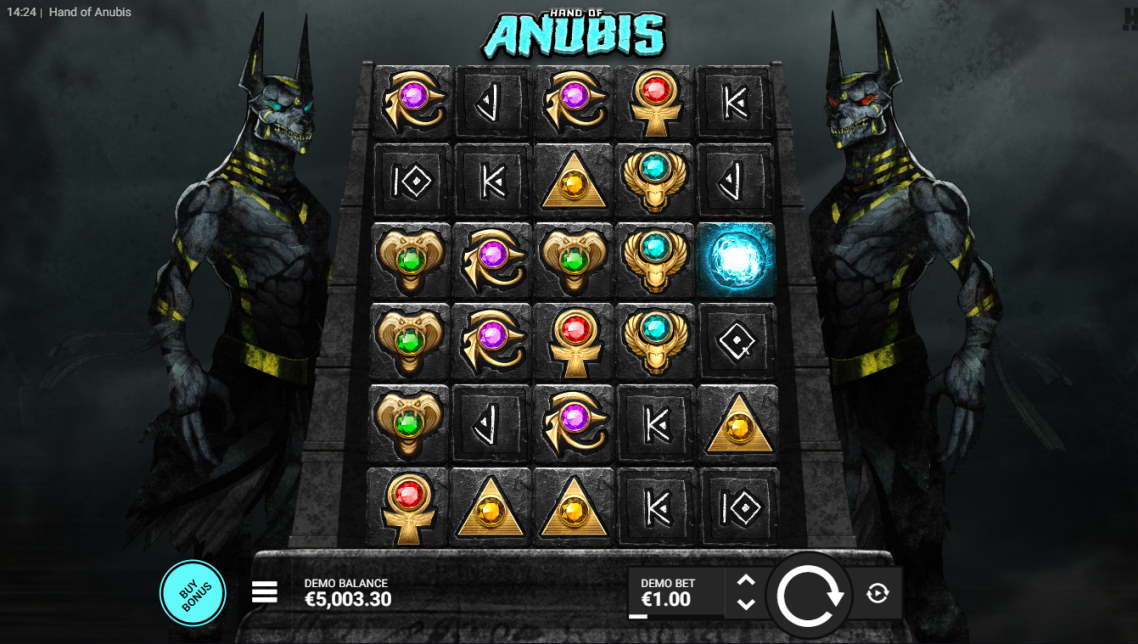 Hacksaw Gaming is known for making a long list of interesting Egyptian themed games; this one follows the god Anubis and his powerful hounds who guard his jewels; it has a cluster type system and many other exciting features we will get into shortly. This slot put a lot of effort into the UI, definitely high quality in visuals / the background and animations.
Enter the underworld where Arbus holds his treasures and hunt them down, but you must be careful of the hounds that guard them and Anbus himself. Still, some say if you gift him gold, he will judge you and give you his treasures freely, but you must always be careful when dealing with a God, especially a god of death, but if you try hard enough, you will earn the treasures you are searching for, today at Scatters!
Hands of Anubus offers a bonus buy feature, which can be found in the bonus by a section which will get you if you scroll down and pick the "Judgement" feature, which gives you 200x your bet, or if you don't want to pay for it, you can get it by landing on four bonus symbols where when active all symbols are removed. Only blocks and special blocks are kept; after three rounds, a multiplier is built up and depending on your luck, you will be heavily rewarded.
We at Scatters would recommend trying this one out; a great hit and worth your time.
3: Hex - Relax Gaming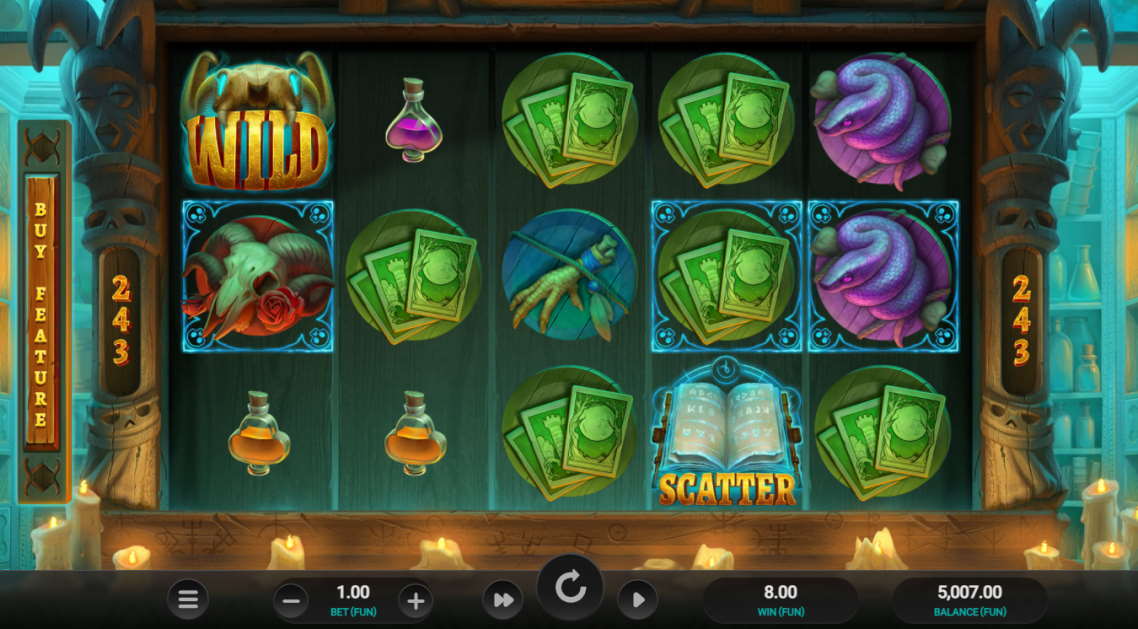 Another Relax Gaming hit, Hex which blew up in popularity the moment it came out, and you could tell it was going to be a hit from the moment it was released, the interface is clean, simple to understand and nicely designed with the "Hex doctor" theme they are going for, great attention to detail when it comes to the graphics, and animations, which both are very nice and interesting, each slot style has its energy that is nice and interesting to look which if you'd like to see you can click on them, something small but always nice seeing that level of quality from a slot. Which is just one of the reasons this game has become so popular.
Enter the mysterious world of Hex, where you will learn the secrets of alchemy and use them to unlock the riches of the world for yourself, things like these take trial and error, so don't give up and keep experimenting with your potions and research and you'll get your riches in no time!
We could talk about Hex all day with how many good things we have to say, a high-quality game with many features like bonus buys for those who want to spice things up and a respin feature, and the other ones we have all become accustomed to seeing, start playing Hex today at Scatters!
2: Gigantoonz - Play'n GO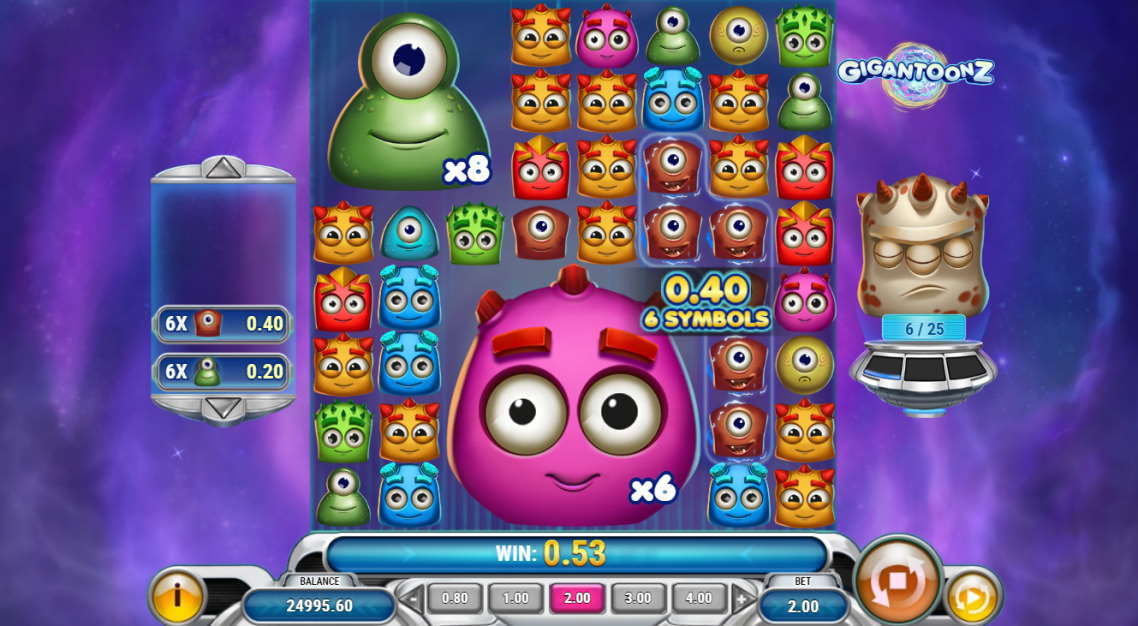 Gigantoonz, a popular series by Play'n GO that is themed around little cute alien creatures, a cluster type slot with an RTP of 96.25% and an 8x8 play reel with a lot of features like mega symbols, quantum Wilds and four modifiers from a charged Quantumeter, the fresh features, fun animations and graphics should keep you interested!
Play'n GO have genuinely found a winner with this slot and series; it is globally loved by many of our players the world over; in fact, this is one of the most popular slot series yet, and with its fun theme, cool and funny design combined with its great mix of features we can easily see why that is the case.
Go into the mysteries of space, meet with these funny looking, smiling little guys, and see what they want to say; they might give you something for befriending them; either way, it will be a fun time. Play today on Scatters!
We at Scatters can't recommend this game and the series enough; all-around a lot of fun and interesting, with an easy to use interface and an exciting play reel and extensive features you probably haven't seen before; get to playing today at Scatters!
1: The Nemean Lion - Blue Guru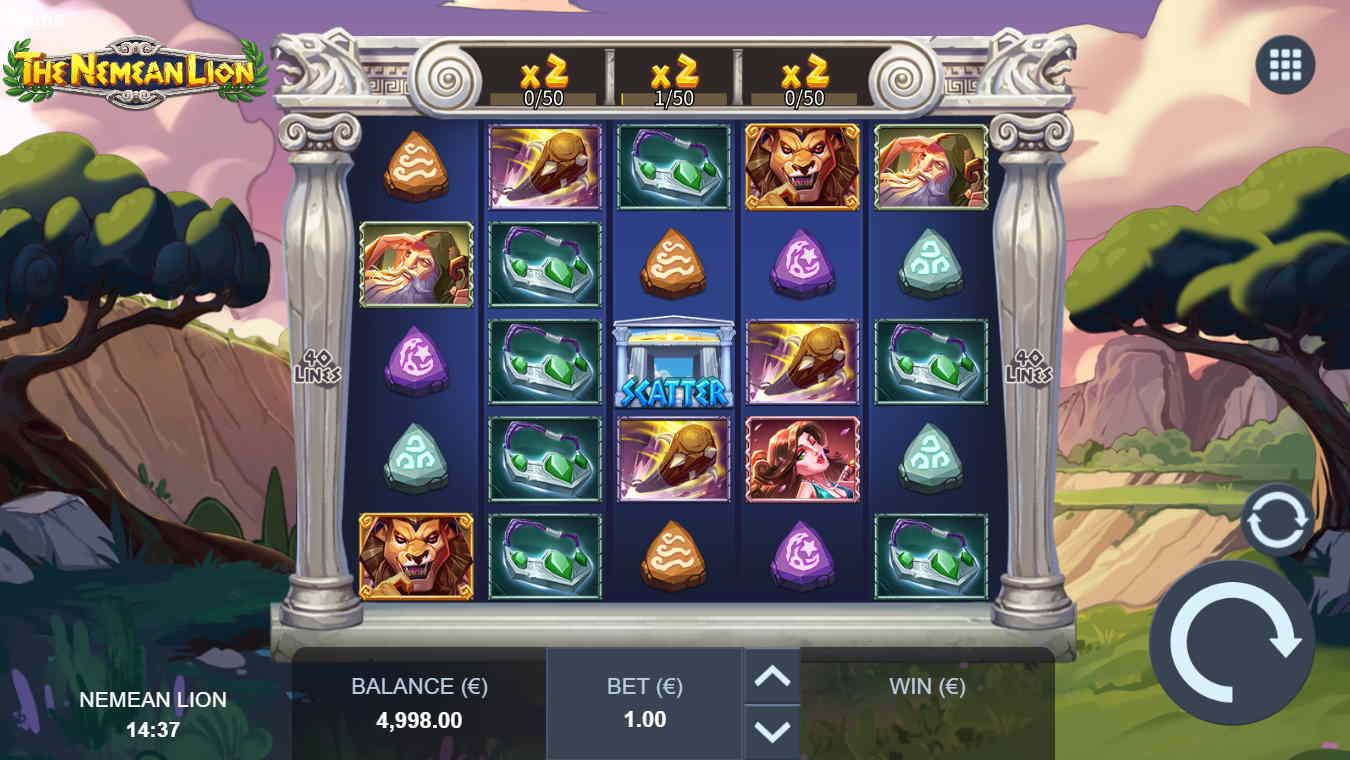 A new up-and-comer, the Nemean Lion by Blue Guru, the slot just came out and is seeing a lot of popularity; one of Blue Guru's most popular games, fight the horrid creature and get all. The prizes hordes today at Scatters!
This slot has five reels, five rows, and 40 pay lines, with a 96% RTP. It has a nice little feature where you can interact with the tiles, and they all play a little animation and give you some information on how much they can provide depending on what the x combo is hit. It's always nice to have something like that, a bit of quality of life and shows players the creators put effort into their game. We love to see it!
The story of the Nemean Lion, an old Greek story of the mighty hero Hercules slaying the unbeatable Nemean Lion who would torment the Greek people and steal their belongings and riches, well, the Creature is back. You are being tasked with slaying it, and for this task, if you take it up, you will be rewarded handsomely for it with the same riches and glory given to the ancient hero Hercules. Play this in the new game, today at Scatters!
Conclusion
As a final note, we are sure from our long list of old and new online casino slots that at least one of the games above will suit your fancy, notable powerhouses made in the online casinos in Canada and in the world. Each is of high quality and has exciting features that will allow all of our players to enjoy excellent additions when playing, So sit back, get yourself your favourite drink and snack, and get to playing today at Scatters!
To start playing, it's simple, login and or register an account with Scatters; after you log in/make your account, pick any one of the games listed, and that's it, get to play. Each game has an easy to understand game interface, and fun minor features and tabs for anything you'd want and expect, with a site and high-quality slots like these there are no needless things to stop your enjoyment at Scatters Casino, Where we bring you the highest quality experience in the desktop and mobile Casino space!
To get you started, we would suggest starting with The Nemean Lion by Blue Guru, a new and fresh slot that many of our players greatly enjoy, and we think you will too! It's nicely made and has lovely graphics and cool animations that make you quickly tell the work that was put into it. Get to playing with Scatters today!
Frequently asked questions
Where I can find New Online Casino Slots at Scatters?
For new slots, it is straightforward to find them on Scatters; go to the Casino tab on Scatters.com, pick the "New" tab, and it is easy as that; to play, you'll need to log in or register, which you can do by clicking the top right "login in" button.
Is it better to play at New Online Slots or Old Online Slots?
It depends on your mood; playing an older game that you know and like is not bad. Still, it will always be nice to try out something new and fresh, and seeing how we have something new every day is even more of a reason to do it, and with all this variety, your chances of finding something new to like and making large prizes go up a lot!
What is the difference between online slots and table games?
Online slots you can play from the comfort of your home whenever you want on your own time where a random number generator decides your chances of winning, and they are straightforward to understand, table games are somewhat similar, but instead of a computer determining your luck, it is what cards the world gives you.
Is the Welcome Offer available for new online slots?
Yes, the current Welcome offer is available for every game on Scatters to make it easy for you to find what you like, and we will even refund you a max of 25 euros of your first deposit if you lose it (maximum at 25 euro).
Are any Casino Bonus Buys available for new online slots this month?
Yes, a decent handful, like Hands of Anubus, Lollipop and Hex, Bonus buys allows you to add a bit of flair to your gaming experience; for those who want to spend a bit to do that, each of these game has the bonus buy feature and an easy to find "bonus buy" button.
Are there any free spins offered for new slots?
Currently, no, but the more you play with us, we will give you rewards over time in free spins.
Is any no deposit bonus included on new online slots?
Not currently, but we have a no-risk first deposit of 25 euros, which always allows you to try out a game and if you lose, you will be refunded (up to 25 euros).
Which features does Scatters offer for Responsible Gambling?
We have a whole tab on fair gaming, where we inform and try to make people play responsible because we want our platform to be used for enjoyment and entertainment, which is what we try to give our players.
===
If you would like to play at Scatters using special offers and bonuses have a look at our promotions: Welcome Bonus, Wednesday Free Spins, Scatters Freepots, Daily Quests, Drops & Wins, Live Casino Tournament, Scatters Casino Rewards, Scatters Level Up System and Bonus Buy.