| | | |
| --- | --- | --- |
| Position | Game Name | Developer |
| #1 | Imperial Riches | NetEnt |
| #2 | Mercy Of the Gods | NetEnt |
| #3 | Book of Aten wow pot | Microgaming |
| #4 | Queen of Alexandria | Microgaming |
BEST PROGRESSIVE JACKPOT SLOTS | July 2022
Let us start a scene, a scene of a win, a big win, A JACKPOT, the dream of many players is to get a huge money-making jackpot, a genre of slot game that has some of the lowest odds of winning but also has the biggest prizes in the casino games world.
Jackpots are the big fish in the casino world, some of the highest and biggest rewards you can get with features that are not seen in any other slots they also have normal features, like free spins. there are different types of jackpots offered on Scatters, and we even have our progressive jackpot that is free to enter that we will get into more below.
Most jackpots play the same as many other online slots, but they usually offer a low, medium, and high prize pool, based on the slot once you win one of the 3 (or more) jackpots, it will reset and start back again and start to go up again.
As previously said progressive jackpot slots play a lot like normal slots, so if you didn't know already you can get a lot of real money without hitting the jackpot.
What is a progressive jackpot and why should you try it/what do you get out of it?
Well as already said, a progressive jackpot is a jackpot that keeps going up in value as more people play it but don't win, so the prize pool will keep going up over time and make the prize so much better after it is won the prize will reset and start going back.
Now the important part, is what you can get out of it, with progressive jackpots you can play and win on a slot and have a chance of winning in getting a huge prize pool that is just waiting to be claimed!
What is the Scatter Progressive Jackpot?
Scatters offers many different and different offers to our players, so we wanted to give you a free way to participate in a freepot jackpot exclusively on Scatters, that can be played in about every slot (slots, table games, and live casino).
To take part is free of charge, all you must do is opt-in and test your luck. It has a default RTP because all the rewards come from Scatters.
The "BIG HIT" starting value is 100 euro and rapid is 15 euro. Play progressive slots today and get a slot win today!
How can you win you may ask?
Easy just play whatever slots you want, the more you play the higher your chances of hitting the Jackpots!
There are just some of the biggest jackpot wins some players have gotten from just opting in and playing.
Putje85 € 4,659.26
Damiantoch € 3,966.28
mickeson € 1,086.04
Luckyluuk € 1,780.21
SimAri € 3,436.75
The Best 4 Progressive Jackpot Slots for July 2022 at Scatters Casino
Here are some of the biggest progressive jackpot games hosted on our site for you to play and enjoy, these slots were picked because of their quality in graphics and provider, and many of our players enjoy playing.
Best of luck, we hope you win a progressive jackpot and make your dreams come true.
Position #1 - Imperial Riches Online Slot by NetEnt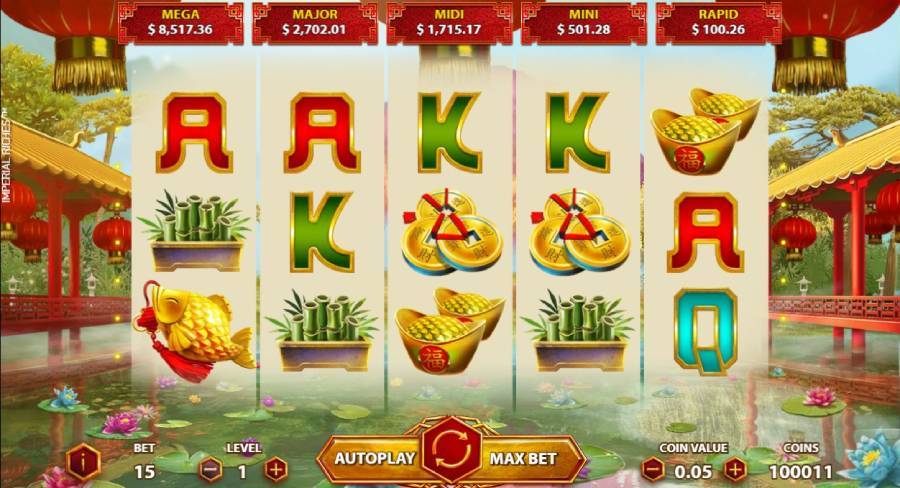 This slot is based in a Japanese garden, with a pond and hanging lanterns as the background. The slot has the standard letter symbols, bamboo, and gold cymbals. Gold ingots and golden fish symbols.
The features are what stand out in this slot. Try your luck now at Imperial Riches!
Avalanche Feature
This one is simple once you get a winning line, the winning symbols will disappear and new symbols will fall into place, meaning you'll be able to win again over and over again A common yet great feature.
Free Fall
For the lantern Scatter symbol, once 3 lands on the reel the feature will trigger and you will 10 free spins, and you can get decently more if you manage to land 4 or 5 scatter symbols while in the feature. Each win will get you a jewel which is very helpful for another feature called the lucky pong bonus
Jackpot Game
This slot has an interesting jackpot feature that acts like feeding koi fish the jewels you collect in the free fall, you will have money and bonus fish, if the bonus fish eats 3 jewels that gets you into the jackpot feature.
In this feature, you will have 5 jackpot fish and 1 money fish, in this feature you will have jewels falling with different colours if the corresponding coloured fish eats the jewel that matches its colour 3 times you will win a jackpot.
A lovely slot with some interesting and rarely seen features, something that will defiantly give you a lot to play around with.
Position #2 - Mercy Of the Gods Online Slot by NetEnt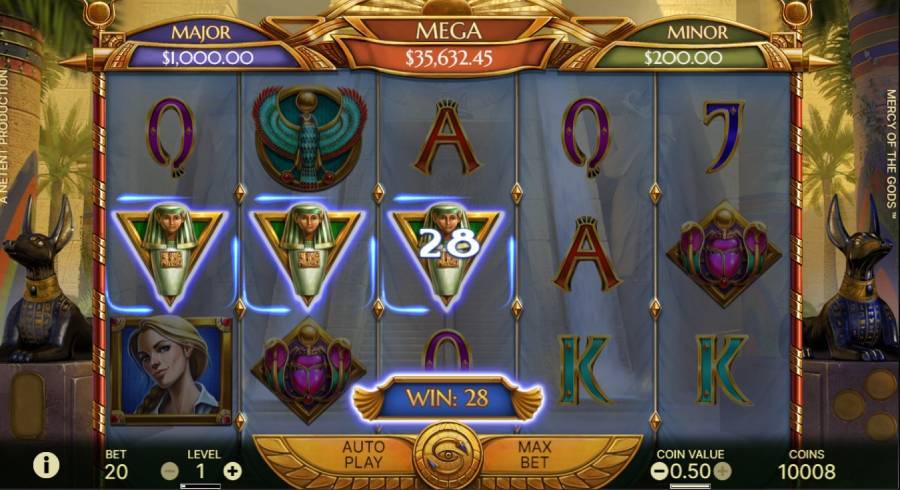 Another fan favourite NetEnt Egyptian-themed slot, but this time it's a jackpot slot, it looks like the entrance to a pyramid, visually great and fun, the god Anubis guards the pyramid and its treasures. There are basic letter symbols, and Tutankhamen, Scarab, beetles, and Horus falcon symbols, and let's not forgot the female explorer symbol, that one being the biggest.
Gift of life
It has a re-spin option that is triggered every time a wild show up, it goes down a row down until it disappears,
Free spins
As for free spins, if you get 3 or more Eye of Horus symbols on the reel, you will get anywhere between 5 to 12 free spins.
The mercy of the Gods
If you get 2 wilds on top of each other will make the symbol expand and you'll get a fully wild reel, which re-triggers the gift of life feature.
Gift of wealth Jackpot
Once you get 3 bonus symbols in the base game or during the wild respin mode, once you get all 3 symbols or "coins" you get 3 spins if you get 1 or more bonus symbols will reset the spins to 3.
This slot has basic letter symbols, a book symbol that acts like a wild and a scatter, the other special symbols are the eagle, snake, flower, and pharaoh that you should work on getting
An Egyptian-themed slot many slot players can enjoy, what are you waiting for? Play now Mercy of the Gods Jackpot Slot!
Position #3 - Book of Atem wow pot Online Slot by Microgaming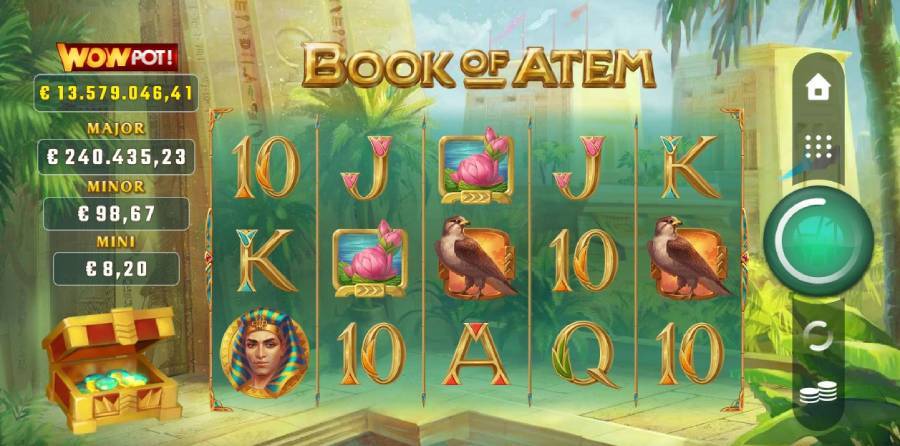 A Mayan-themed slot with fun and colourful colours, symbols, and features with a huge jackpot prize pool. It has 4 jackpots that are up for grabs.
Progressive Jackpot Rules
To trigger the jackpot, you'll need to get the scatter/wild symbol, which has a chance to trigger it. When it triggers, you'll spin a wheel and have a chance to win one of the 4 jackpots for you to get and win!
Free spin games
To trigger a free spin, you'll need to get at least 3 Books of Aten and you'll get 10 free spins, which can re-trigger as well if you, once you activate your free spins, you'll get a randomly picked expanding symbol.
Try your luck now to win millions! Play Book of Atem Progressive Jackpot Slot!
Position #4 - Queen of Alexandria Online Slot by Microgaming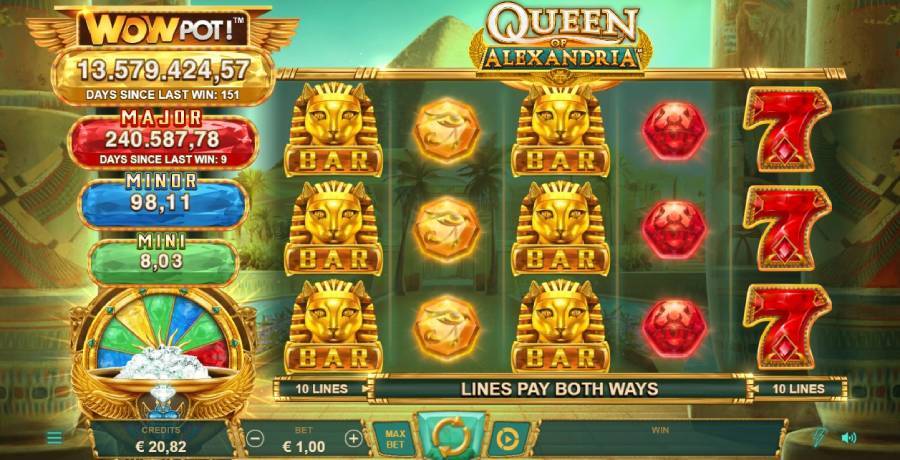 Another Egyptian-themed slot, with some nice graphics, and plays like a lot of the high-quality jackpot slots, themed around queen "Alexandria" based Queen Cleopatra, this slot is played on a 5x3 play reel and has 10 pay lines, you can either win with a jackpot or normal slot playing
Slot Symbols
The slot has many different nicely looking symbols, with the basic ones being nicely coloured gems, the higher ones would be the golden bar tattoo, and the ruby 7 symbol and the symbol you'll want to keep an eye for is the Alexandria one.
Progressive Jackpot Feature
The progressive jackpot trigger can appear off any of the symbols on the reel which gives you a chance to trigger the feature. There are wilds in this slot that also act as scatters the wild can be substituted for any symbols and if you get any wild it will respin the whole reel and any wild that lands will expand the reel too and be locked in place.
Free Spins Rewards
If you get 3 "Alexandria's" you get free spins that will give you a bigger chance of earning rewards and maybe triggering the jackpot!
If you are a fan of Egyptian-themed slots, with good old quality features and a large prize jackpot this slot is for you, and you should defiantly try it today!
Play now Queen of Alexandria Progressive Jackpot Slot and try your luck!
Conclusion
Well, we hope we've given you a nice list of jackpot slots for you to enjoy and play, we are sure at least one will interest you, each one of these slots holds high-quality visuals and interesting features you've very likely never seen before.
Some of the best jackpot slots offered in the casino world are made by our good friends at NetEnt who create high-quality jackpots, some of the best in the casino world, with such a good track record who can be surprised that these slots are of such quality.
Frequently Asked Questions
What are progressive jackpot slots?
Progressive jackpot slots are slots that have a progressive jackpot that keeps going up as people play and don't win, but once someone wins, they take the jackpot and it starts again. The jackpots normally have 3 or more jackpots to win in them.
How to win a progressive slot jackpot?
It depends on the slot, but normally you play the slot as normal and symbols will give you random "points" that give you a chance of triggering the jackpot, where you will get some form of spinning wheel with colours related to the different jackpots that are available.
What provider makes high-quality jackpot slots?
The main and most trusted provider for jackpots is currently NetEnt, they make some of the best jackpots, and seeing how many of their jackpots are always at the top of every casino you just know you can trust them, not even mentioning their long and good track record.
Remember! You must be 18+ to take part in Online Gambling
Scatters follows all rules set by the Malta Gaming Authority and only hosts slots that are licensed and regulated, as set by the gambling commission you should always play responsibly, play for fun and gamble responsibly
===
Would you like to play using special deposit bonuses? Please have a look at our promotions: Welcome Bonus, Wednesday Free Spins, Scatters Freepots, Daily Quests, Drops & Wins, Live Casino Tournament, Scatters Casino Rewards, Scatters Level Up System and Bonus Buy.