Kalamba games have been prolific recently.
You've no doubt noticed their games on Scatters already.
They have an interesting feature called Hyper Bonus.
It's effectively a buy-in to the games feature (something a lot of slots have included recently).
The Hyper Bonus comes with 4 tiered offers.
Offer 1 is the cheapest because it includes fewer spins and a lower multiplier or similar depending on the slot).
Option 4 is naturally the most expensive as it gives the biggest chance to win due to more spins and an enhanced game modifier (in this case 25% more spins than the base offer and a 5x multiplier.
The example below is from The Kalamba slot Pyro Pixie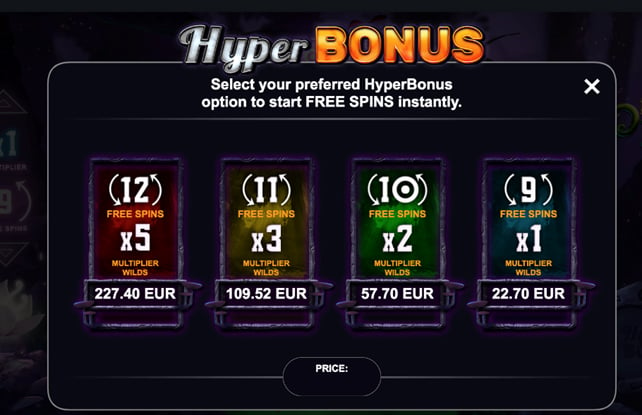 The Hyper Bonus games work in a similar way, adapted for the theme of course.
You need to clear the grid as quickly as possible as that results in more ways to win – it's a lot like Megaways.
The bonus buy ins can be incredible fun and the Hyper Bonuses are among the best in my opinion.
Do remember though it can be expensive, and you can quickly lose a bankroll if your luck isn't in.
Bear that in mind but give it a go if you can afford the outlay and risk – I'm sure you'll enjoy it.
Good luck!
You can find more Kalamba slots and more than 2,000 other slots in our Online Casino Slots Lobby.
Other articles that might interest you:
= = =
Aladdin and the Sorcerer Online Slot
Give Eagle Riches Online Slot a try!