| | | | |
| --- | --- | --- | --- |
| Position | Game Name | RTP% | Volatility |
| #9 | Ghost of Dead | 96.21% | High |
| #8 | Rise of Olympus | 96.5% | Medium |
| #7 | Scroll of Dead | 96.28% | High |
| #6 | Fire Joker | 96.15% | Medium |
| #5 | Super Flip | 96.53% | Medium |
| #4 | Moon Princess | 96.50% | Very High |
| #3 | Reactoonz | 96.51% | Very High |
| #2 | Legacy of Dead | 96.58% | Very High |
| #1 | Book of Dead | 96.21% | High |
Most Popular Online Casino Slots by Play'n Go
Play'n GO, a name that makes waves in the casino world, is a widely beloved online slot company known for being on top of the rest of the competition. It shows because you can see how every one of their games is always at the top of every list, and the reason for this is clear, it's the quality; they always come out with interesting, diverse ideas and combine that with high quality produces.
They currently hold so many of the big hitters and series that are beloved in the casino world; it's insane how long-lasting that fresh that can make certain products, and to point out the obvious, they made "Book of the dead", the most popular slot in the world played by everyone a must-have for any online casino. To name a few of the biggest names, it would have to be a book of the dead, the toonz's series of games, and so many of their Egyptian themed games like Legacy of dead or Scroll of dead, honestly if you look at their list of games, you'll find it hard not to find a hit.
With this long of hit games and success, they've got a long list of awards over the years, to name a few "Best casino supplier of the year in Malta for IGaming Excellence Awards in 2019" and "Slot Provider of the Year Award at the International Online Gaming Awards in 2019" as well. The list goes on for this provider, it truly is a giant in the world of online casinos, and we are happy to say it will be staying there for a while if they keep coming out with such high-quality mobile games like the ones listed above.
Suppose you are wondering how this list was decided, well. In that case, the answer is pretty simple, we look at the numbers of what our players were enjoying the most on our site from Play'n GO but highlight them a bit more; you can easily do this by going to Scatters and the casino section and pick popular and the provider of your choice.
That's enough praising Play'n GO; for now, let's give you some online slot machines from this great provider to enjoy; below, you will find a list of some of the best and most played online casino slots by Play'n GO games to date; all on Scatters!
List of most popular online casino slots at Scatters
Here is a list of some of our top pics from Play'n GO slots that is either popular with our players or around the world; these games have reached this level of popularity by being high in quality, graphics, and features, each one significantly or slightly (why mess with perfection?) different than the other and will be something you can easily enjoy whenever you want with us at Scatters!
#9 Ghost of dead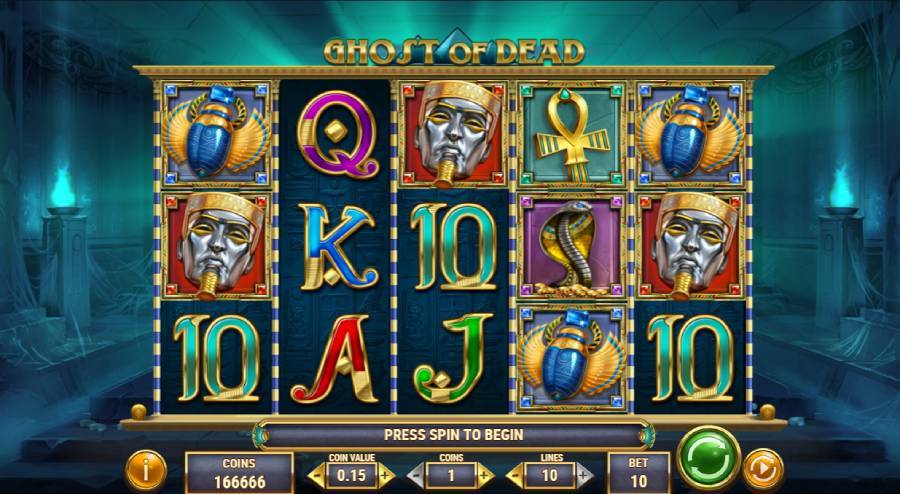 As we listed before, this hit is like many other slot games from the Play'n GO list of games like Book of the dead or Scroll of the Dead, but why mess with perfection, am I right? But they did and added exciting features that will give you a lot of enjoyment, like Ghost spins that can activate randomly on any spin, expand your symbols, and give you more chances to win. Awakened free spins are activated by triggering three or more spectral scatter symbols, and then there are just regular free spins, which you can get by landing on three scatters or more on the reel. After that, you pick a special expanding symbol from this feature!
It is a good reel that we have seen before but has its flair and quality, something we are sure you and others will enjoy. Play for free or real money today at Scatters!
#8 Rise of Olympus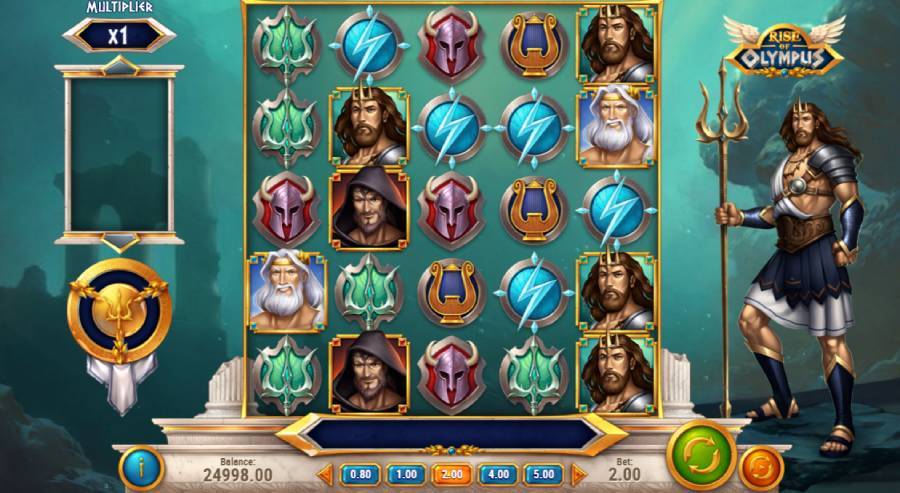 This slot follows a lot of features like Moon princess and is also a cluster type slot but themed around the Greek gods of old; the characters who have effects and abilities are the three brothers of Olympus; this slot is excellent if you like Moon princess but aren't a fan of that game's theme, now the features, it has "Hand of God, start randomly on non-winning spins. Any of the three Gods can emerge, all with their unique abilities. Hades will transform one set of symbols into another symbol, Poseidon adds up to 2 wilds, and if Zeus appears, two sets of any symbol are destroyed. And the other is what happens when you fully charge the meter, which is performed by landing a 5-of-a-kind win combination with any God symbols. All three gods will then take turns to bless the grid set with their superpowers, increasing the chance of activating the free spins. Have fun now!
#7 Scroll of dead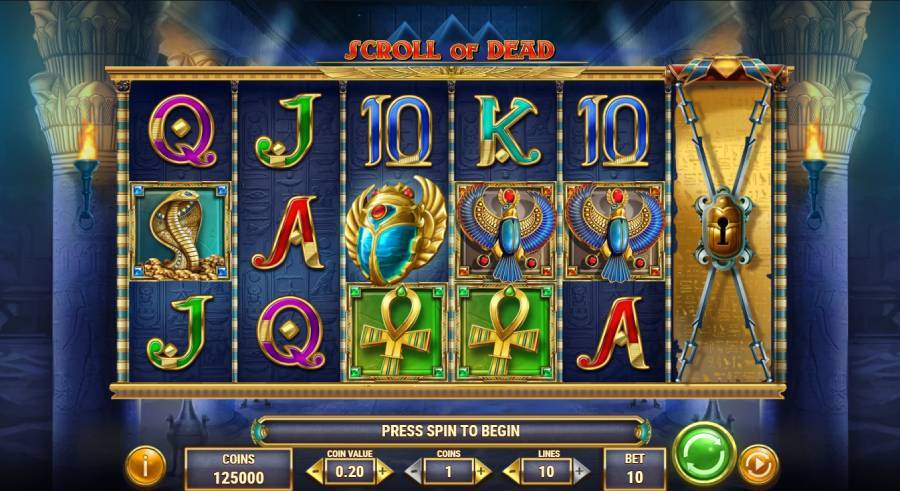 Another BIG hit for Play'N GO casinos with another one of their Egyptian themed games; this one has something a bit interesting that we think you'll like; once you activate free spins by matching 3 Scatters will trigger the 6th reel, which will give you the chances for bigger prizes, it also has expanding symbols which can provide you 375000 coins!
This slot has high-quality graphics and is sure to be loved by those who like games like the book of the dead, and definability something MANY of our players have been enjoying, so we are sure you will too!
#6 Fire joker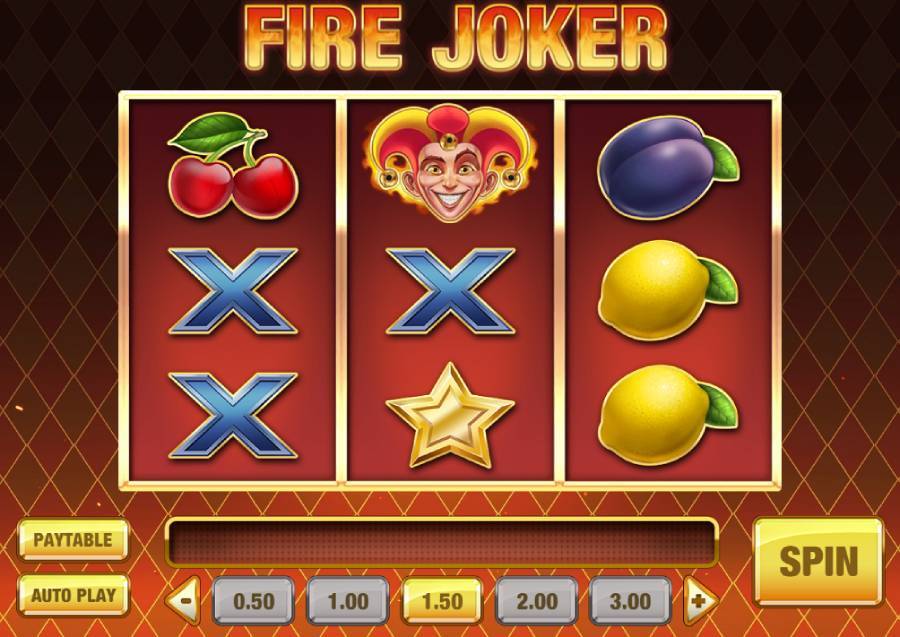 Another classic slot themed game by our friends at Play'n GO, this one has a 3x3 play reel, it also has a free spin feature, which is to be expected, but an interesting feature you might not expect is a multiplayer wheel feature which might give you 800x your bet. You can activate this by filling the reel with the same symbols.
An overall simple slot, but many of our players have enjoyed playing and winning on, and something we are proud to say you should try today at Scatters!
#5 Super flip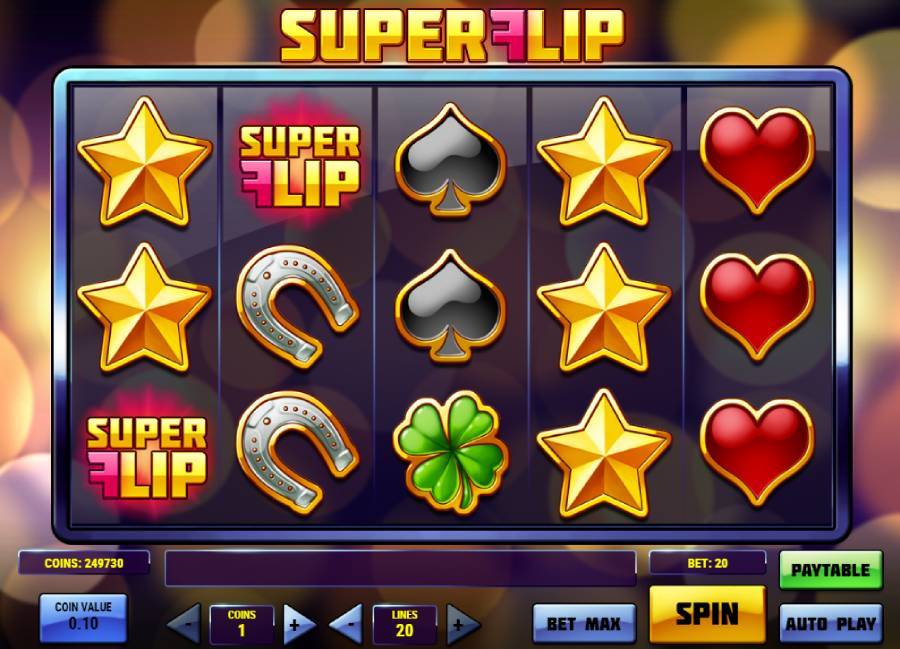 Super flip, it plays like a lot of classic slots, but with a bit of extra Play'n GO spice; it is a 5x3 play reel with the standard features like Scatters, Wilds, and free spins, but with the added feature of gambling your earnings for more, via two buttons that will give you the option to collect or gamble, if you bet a window will pop up. You will have the option to click either what colour the card will be or what simple and colour it will be if you lose, you will lose your earnings.
It's a fun slot for the people who enjoy a more classic-based slot, but with fresh graphics and designs made with Play'n GO magic, it's worth your time; play today on Scatters.
#4 Moon Princess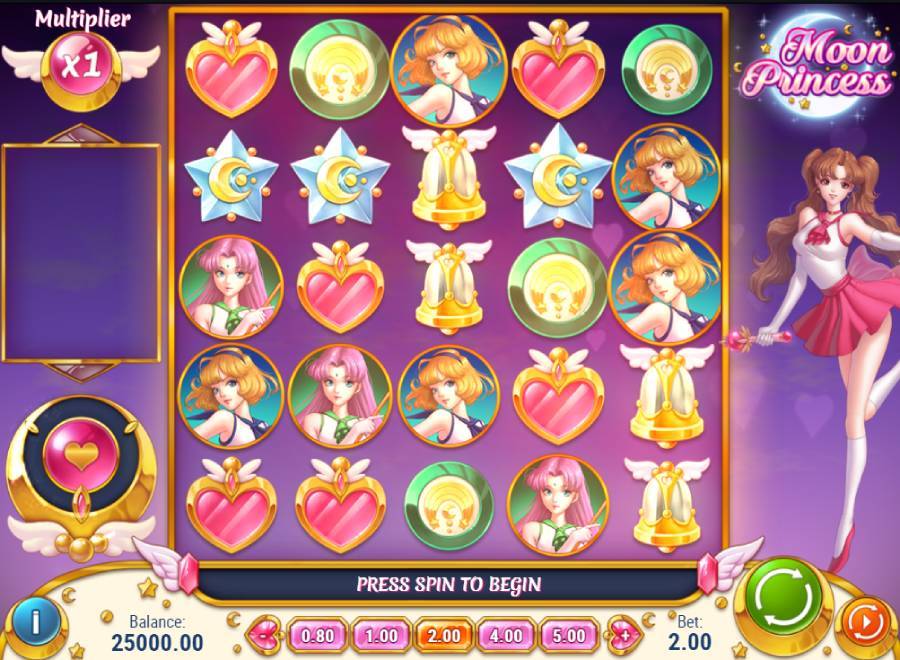 A cute anime-themed slot that functions as a cluster slot with different features and "modes" with three characters that affect the grid differently, Love transforms one set of symbols into another type of symbol. Star adds one or two extra wild symbols to the grid, and Storm removes two sets of symbols from the grid; there is also a "power meter " on the left of the screen that goes up as you match symbols. When fully charged, it actives "princess trinity", which gives a free spin and actives the features of each character one at a time to give you a higher chance of winning.
Overall, a great slot with exciting features and cool animations. There is a lot of fun to be had with this one, so get to having it today at Scatters!
#3 Reactoonz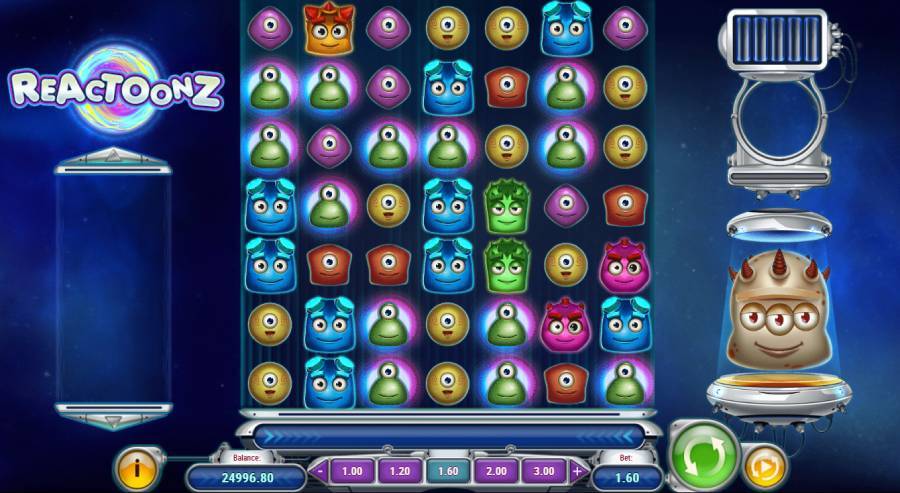 Reactoonz is the first in the top-rated series and one of the most popular for many good reasons because the game and idea are just fun and fabulous; it is a cluster type game, a lot like Tetris, with a lot of fun and exciting features added with it.
When you get a winning spin, there is a feature that charges up more features that make more considerable effects to the reel; this adds a lot of fun to the slot. To name a few of these features, Implosion transforms 3 to 6 symbols into wild symbols while destroying all adjacent symbols, and Alteration, Chooses one random one-eyed symbol. All matching symbols turn into another symbol. If there are no one-eyed symbols on the grid, the feature can choose any available symbol, and demolition destroys all one-eyed symbols and matching symbols. There is a lot of fun in this slot; try it out today at Scatters.
#2 Legacy of dead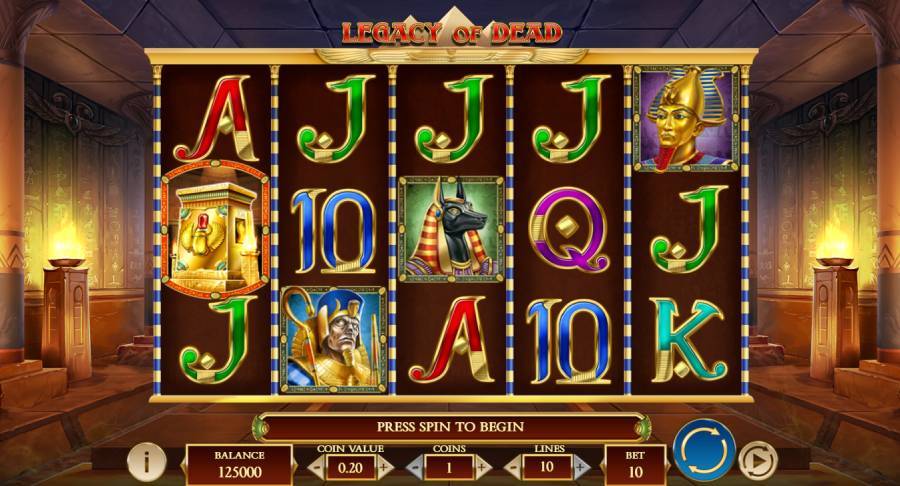 This simple yet great slot follows a lot of from book of the deads playbook but brings its flair with themes; as for features, it has a lot of the classic ones, like free spins, of course, and a gambling feature where you can pick between red and black and increase your earnings depending on if you win, you will lose your earnings if you pick the wrong one. Overall, a suitable slot with many of what you already like with a different package.
#1 Book of dead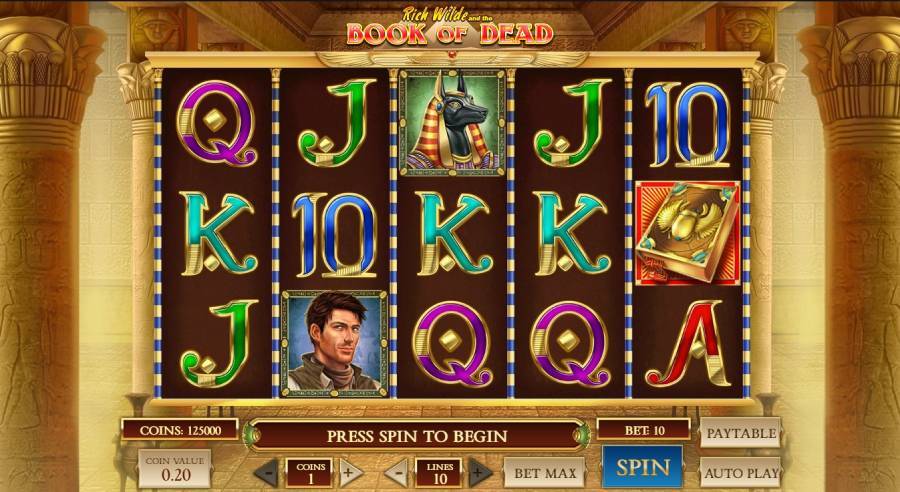 Book of the Dead, if you couldn't tell already, we like this game and want you to try it out. Minimal needs to be said about this game, but you can also say everything. It is currently the big dog of the gaming world, loved and played by everyone and their grandma, and we at Scatters Love book of the Dead, too, and we suggest it to you.
Some basic information for you, It has five reels and three rows with ten pay lines, it has a mixed RTP from the lowest being 87.25% to the highest being 96.21%, and it follows an old Egyptian theme like many of the games the same name and theme that we have come to know and love from Play's GO.
Follow Rich Wilde on his adventure into a temple of danger and riches. As the story goes, it holds an ancient golden book, said to keep many secrets and riches. Explore with Rich today and find the mysteries and prizes of ancient Egypt today at Scatters.
It is easy to understand why this game became such a hit. It is very well designed and has a lot of high-quality details and graphics. It is combining that with the powerhouse of Play's GO.
Conclusions
To finish off, we can't get enough of Play'n GO games, not only for their quality games but their high-quality visuals, exciting features, and themes, and we hope they keep coming out with these never-ending hit games with the way they are handling things with their top of the line team and excellent practices for the consumer we are sure they will! We at Scatters are delighted and proud to host Play'n GO games.
We are sure you will find something to enjoy with the list above, as many of our other players have fallen head over heels for Play'n GO games, so stop waiting and get to playing today at Scatters!
We recommend Book of the dead (of course) and Reactoonz to start, but any games will be fun. You should try all of them to see just in case you find there is something you like more than another; all this is easily doable and easy to access on Scatters today, a place that lets you enjoy yourself safely and efficiently!
Frequently asked questions
Is Play'n GO a trustable provider?
The simple answer is yes; not only does it have a long list of awards, games, and history to back it up, and proper licenses, but also each one of its games are tested by cleared by BMM, Test labs, and Quinel, which confirm everything is on the up and up!
Are Play'n GO mobile slots friendly?
Short answer Yes, Long answer Play'N GO is created with HTML5 that lets them quickly adapt any of their games for mobile casinos, so don't worry, your favourite Play'n GO is definitely on mobile.
Why is Book of the dead a famous online casino game?
There are many reasons for Book of the dead to be as popular as it is, it is a high-quality slot with good visuals and animations, but at the same time, it also has a long list of features like the common ones being free spins, scatters and wild symbols but also more unique ones like gambling feature and expanding symbols.
How many free spins can I win?
If you want any free spins from Scatters to use for any of the games listed or others, it's simple, make an account or log in, play, and as you play, you will get rewarded with free spins, simple as that!
===
If you would like to play at Scatters using special offers and bonuses have a look at our promotions: Welcome Bonus, Wednesday Free Spins, Scatters Freepots, Daily Quests, Drops & Wins, Live Casino Tournament, Scatters Casino Rewards, Scatters Level Up System and Bonus Buy.