Return of kong Megaways Slot Review
Enter the deep jungle and be prepared to take on the Kong himself, with this Return of kong megaways online slot! This is a lovely mega way full of special features and has a whole 117,649 ways to win and spin through. If you are looking for a slot that will test and keep you entertained while you play, this high volatility slot is the one for you.
Get your wins by activating the cascading reels and collecting the scatters, which will unlock a whopping 12 free spins on any random spin. These golden monkeys might throw up to 100 mystery barrels. If you want to know what this mystery kong has for you, you should play on Scatters the best online casino.
Return of Kong Scatter Symbols
This slot machine was created by our friends at Blueprint Gaming. Makers of high-quality games for some of the best online casinos like Scatters! If you play any one of their games, you will be able to tell immediately the high level of gameplay and quality you are about to take part.
This slot has a bright and colourful type of vibe, it has a great set of reels to spin on. Some of the lower-paying mystery symbols are 9,10, Q, J, K and A. Some of the higher-paying ones would be, a tiger, parrot, and rhino. And of course, Kong himself is the most valuable symbol in the slot. You should keep an eye out as well for the leady wild, the barrel of mystery scatter and bonus spins scatter that spell out Kong IN shiny Dimond-like symbols.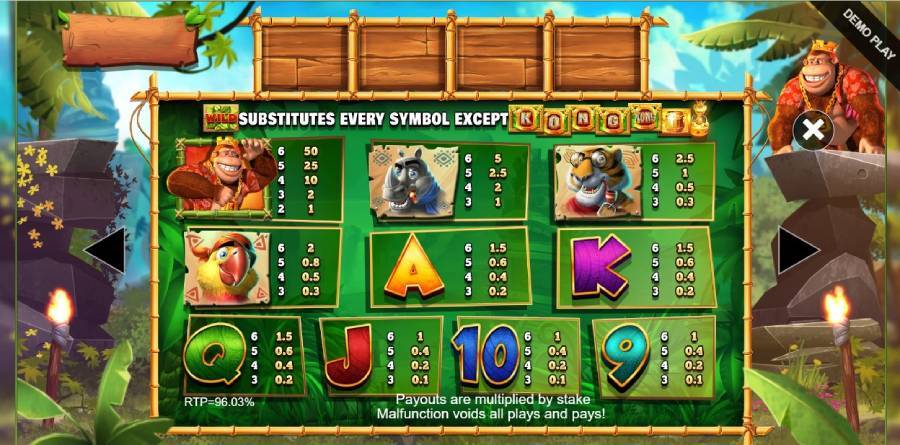 Up to 117,649 Paylines!
The Return of Kong Megaways slot has a high to medium volatility, and as we said before 117,649 pay lines! Some players might think that's a bit much for them at the start, but it's a great slot and way to play for anyone who feels like they can take it on. Its RTP is at 96.03%
You can place bets ranging from 10 cents to 10 euros on Scatters, managing your best bets should be fairly easy to do, the interface of the slot is very simple, clean and easy to understand. Get your winning combinations today!
Bag Those Barrels
Return of Kong Megaways is filled to the brim with special features to help you win. One of its most notable and first features you might find is the free spins feature, which is very commonly seen and welcomed in all slots and one of the best ways to win big and get real money out of a slot! Another one is the mystery barrels feature. On a random turn, Kong might throw up to 100 golden barrels into the reel. The barrels turn into the same symbol. The more barrels you can get, the better chances you have to get a crazy good win.
Once you land on a winning combination, the symbol will disappear and new ones drop down. This might trigger another win within the same spin, or even if you are lucky drop a lucky scatter you need to trigger your free spins.
If you wanna trigger and get free spins in this slot, you are gonna have to get scatters that spell out KONG. if you can manage that you will get 12 free spins, and each time an additional scatter symbol shows on the reel you will be awarded another 5! You also have the option to collect the golden money scatters for 2 whole extra free spins and it boosts the minimum megaways, another big one is the unlimited win multiplier. This will increase by one after each cascade, which could lead to a big win. And finally, bonus buys, if you want to help your session out you could pay for a bonus buy to win big!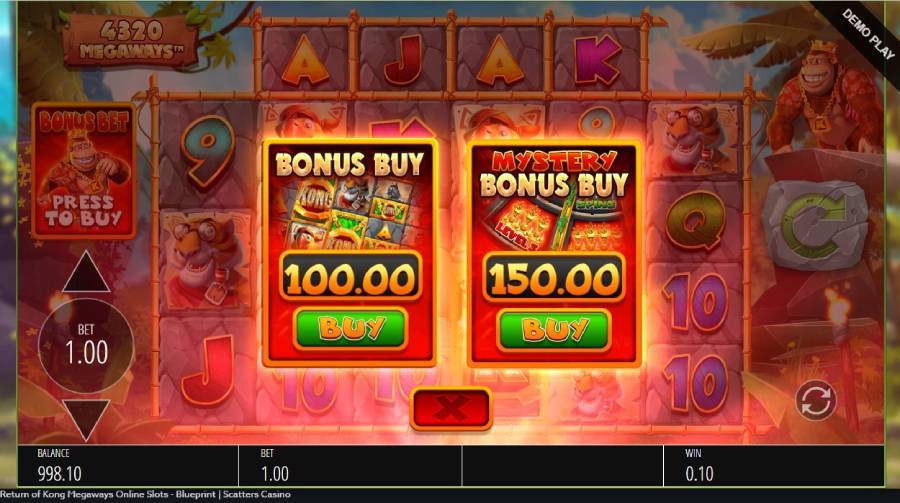 Theme
This slot follows a fun colourful theme, with a nice jungle in the background, and a fun 3d monkey in the background that flips about as you win. Each time you get a winning spin, there is a colourful green glow on the symbol/s and it disappears, and while we are on the subject of symbols, it's notable to say each symbol is nicely well made, many have colourful nicely drawn happy characters and the Scatter symbols are well-made diamond-like rocks that shine. Great slot worth your time, play today!
You now know everything you need to know to play and win in this epic animal-themed slot, go get some king kong cash today at Scatters! Go play the return of kong megaways slots today!
Conclusions
So, you have all the information you might need to play this slot and or if you should play this slot, so what's next? Well, it's to play it of course. This is high quality not on in graphics but in design, and technology, with many features, normally not found in other slots, so you should go check it out on Scatters, the best online casino out there. A high-quality slot on a top-of-the-line casino, what a great combo. Play today on Scatters!
Frequently Asked Questions
Is blueprint gaming a trusted provider?
Each provider we host on Scatters is a heavily trusted provider and each slot is a legit one, so yes blueprint is someone you can trust, well known for high-quality work! As can be seen in the slot above!
Where can I find other slots like this?
This is an easy question to answer! If you want to find more slots like this either by the same provider or a similar type slot in the theme you can always go to Scatters.com and find a list of thousands of slots of many different themes and playstyles for you to enjoy.
Can I use my Scatters offers on Return of Kong?
That really depends on what offer, but you can definitely use the rewards gained via your loyalty points, like free spins or extra cash, be sure to read your offers properly to see for which slot they apply for. If you want extra stuff while playing this slot the free-to-enter freepot jackpot hosted by Scatters, That might fit your fancy as it's available on every slot!
===
Would you like to play using special offers and bonuses? Please have a look at our promotions: Welcome Bonus, Wednesday Free Spins, Scatters Freepots, Daily Quests, Drops & Wins, Live Casino Tournament, Scatters Casino Rewards and Scatters Level Up System.
Please play responsibly gambling can be addictive and we at Scatters always suggest players play responsibly