| | | |
| --- | --- | --- |
| Position | Game Name | RTP |
| #10 | Aztec Secrets | 95.50% |
| #9 | Faerie Night | 96% |
| #8 | Book of Loki | 95.8% |
| #7 | Blackbeards Compass | 95.9% |
| #6 | Battle Maidens | 96% |
| #5 | Arctic Fruits | 94.6% |
| #4 | Kitty Cash | 97.86% |
| #3 | Van Helsings Book of the Undead | 96% |
| #2 | Asgard Warriors | 94.56% |
| #1 | Battle Maidens Cleopatra | 96.4% |
Top 10 Online Casino Games by 1x2 Gaming
We love our friends over at 1x2 Gaming, and so do a lot of our players, so we wanted to make a little list for you about some of the most popular slots we host on Scatters that 1x2 has made.
A brief history on 1x2 Gaming
Founded in 2003, as an online casino software developer under the name of 1x2 Gaming, a company with a large accumulated sum of knowledge of the iGaming industry, mainly focusing on creating high-end online slots games.
This brand also has other companies under its wing, like classic table games, bingo games scratch cards and more. 1x2 Gaming is based in the United Kingdom, 1x2 Gaming is a brand people know, the industry knows, well-known and respected brand. It powers and develops some of the best, most popular and modern slots in Europe.
What regions can play 1x2 Gaming slots?
The brand mainly powers European online slot machines, 1x2 Gaming slots while mainly being European based can also be found in different online casinos throughout the planet.
Is 1x2 Gaming a trusted brand?
The biggest thing to take from all this is that 1x2 Gaming is one of the most dependable game developers around, with licenses issued with Alderney and by the UK Gambling Commission, which tells you a lot about how serious this brand is when it comes to its security and the effort they got to when it comes to their players' security, to make sure there are no fixed odds, giving them an amazing online gambling experience.
Players who mainly play on mobile devices do not have anything to worry about, as a large majority of 1x2 Gaming titles, including their table games and video slots, can easily be played across multiple handheld devices.
The 1x2 network is also in the sports betting game, with virtual sports, and virtual football, very different from your normal video slot or slot machine for real money and big prizes.
Important to underline is that 1x2 Gaming creates games fully mobile friendly and they are not providing a live dealer casino experience.
Top 10 Online Slot Games by 1x2 Gaming
We talked a bit about the history of many 1x2 Gaming casinos and the different types of games they host and support, now let's talk about some of the best slots that are hosted on Scatters given to us by 1x2 Gaming.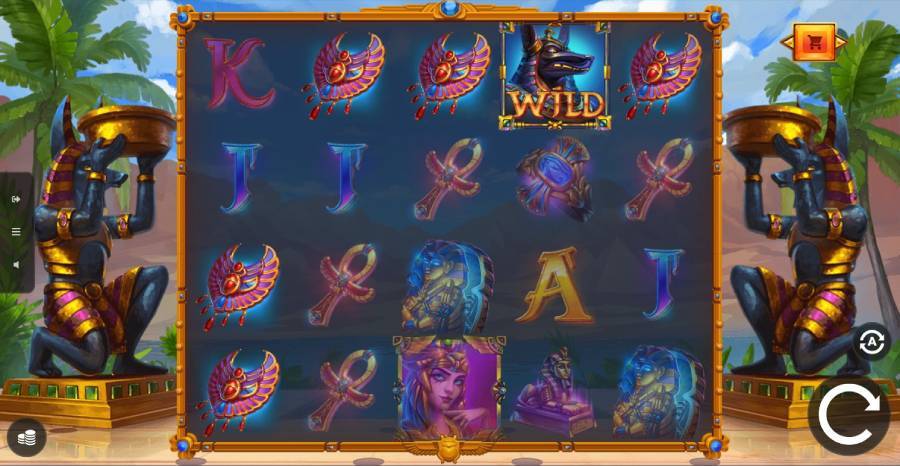 Cleopatra's treasures are being held in her old kingdom, being protected by battle maidens, if you want this treasure and fortune, you'll need to be strong enough, and careful to win your rewards.
Battle Maidens Cleopatra Online Slot Bonus Features
A nice little feature this slot has is that symbols can transform into wilds and free spins, this feature is included with special modifiers
Battle Maidens Cleopatra Online Slot Transforming Wilds
The Eye of Horus has a nice feature attached to it. When it lands on the reel, it changes into a wild symbol. But wait there is more, this symbol will also make 1 to 4 other symbols into wilds as well. This feature will help you get a nice payout which will enhance your gaming experience.
This slot like the name suggests has Battle Maidens, each one being its symbol. They can each land once in a single reel in a base game spin. If you get 3,4 or 5 of them in a spin, you'll have triggered a free spin, which will reward you nicely with 10 free spins.
Slot Machine Modifiers?
The maidens have their Modifiers. While in the free spin stage the Maidens will trigger their different modifiers while they are on the reel, as for what the modifiers are, here you go:
A 2x Wild Multiplier: during your free spin the maiden will give you a 2x multiplier and is wild during a free spin round.
Sticky Wild: when the wild maiden lands she will turn into a sticky wild.
Extra spins: you will get 1 extra free spin added to the total amount you have each time this maiden symbol appears on the reel.
Expanding Multiplier: you can have a 1x boost multiplier added every time this symbol hits.
The Expanding symbol: this feature is a very nice looking one, where the symbol will fill the whole of the ree/reels when it lands
This slot has a high level of quality and features combined with amazing graphics. This fits being at the top of the 1x2 gaming best games list! And you can play this slot today over at Scatters!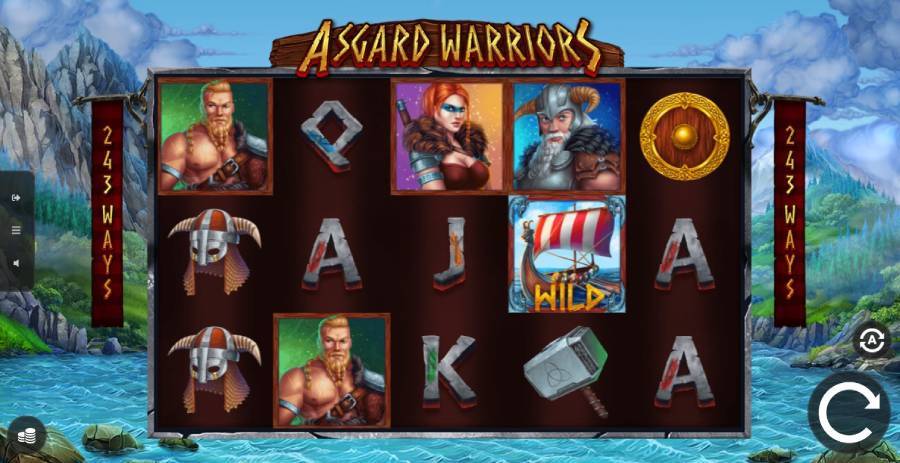 Join the mighty warriors of Asgard, in the battle for the gods, treasure and glory, many fear the seas and warriors and challenges that await, but you look like a strong warrior who can withstand this challenge.
Asgard Warriors online slot fun features
The features of this slot should interest you a decent bit as they'll help you out with cashing out huge prizes. Warrior Spins will show up quite a lot more often, and only contain high-paying symbols only, this slot also contains a lovely feature that we all know and love, but is full of stacked wilds and expanding multipliers.
Let's explain the features
Let's start with Warrior spins, this one gets triggered by filling all 3 of the positions of the first reel, with the same warrior. Any lower value symbols on the reel are removed from the grid. You get instead 3 high-value Norse warrior symbols and wilds.
As normal, you get a free spin by getting 3, 4 or 5 scatters (in this case a skull symbol), to land anywhere on the reel in the same session. Now you'll be rewarded with 8, 12 or even 16 whole free spins. This feature that is a classic in the online slot world will heavily boost your chances of hitting big.
If you wanted more ways for a high winning chance with free spins, you are in luck friend. Each time you get a Skull scatter symbol to land on the reel, it will add more free spins while the free spin feature is active, and will be added to your total, and if that already sounded great you will love this, it will also add a multiplier. This caps out at 5, but the value is already so great!
Example
1 scatter = 1 extra spin and +1 multiplier
5 Scatters = 5 extra spins and +5 multiplier
This slot has the visuals, features and gameplay loop to keep you hooked and having fun for a while, and you should defiantly try it out over at Scatters!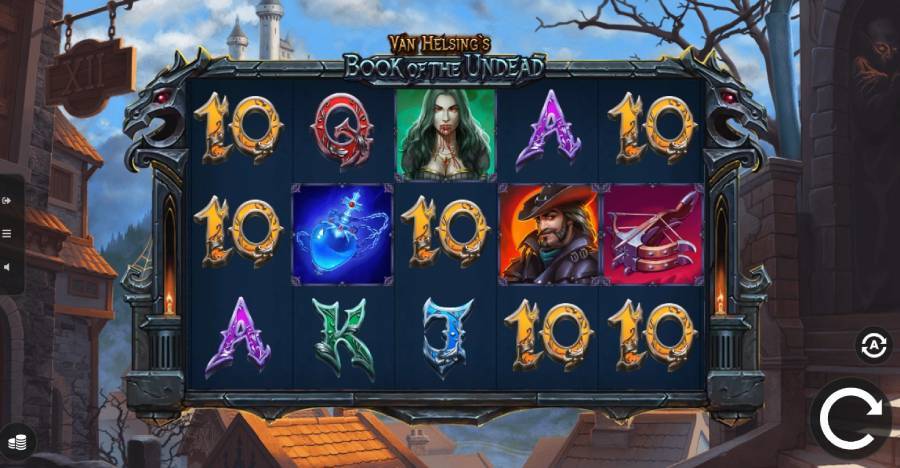 A village has been recently attacked, by a vampire, mainly attacking the rich folk and robbing them, you need to take up arms with the vampire hunter Van Helsing and hunt it down, the payday will be out of this world, but you have to be fast to take this one down.
Van Helsings Book of the Undead Features
This slot's scatter symbol is the "Book of Undead" and it also acts as the wild. If you can land 3, 4 or 5 of these symbols in the same spin and you'll trigger a free spin and be rewarded 10 free spins, and be given a stake equal to 2, 20 or even 200 x your total stack
When triggering the free spin, you will also have 1 random symbol picked out of the rest and this symbol will become a special expanding symbol. This expanding feature will only trigger if you hit a winning combination.
If the expanding symbol lands on several reels on the same free spin, it might lead to a large cluster, and give you a huge value payout!
Vampire fans will love this slot, all the essentials and needed features with next-level graphics are here and will give you a lot of enjoyment over at Scatters.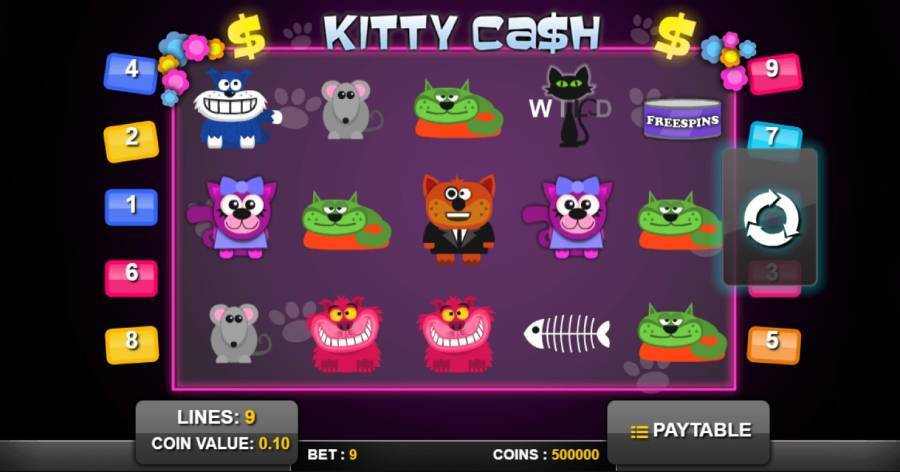 This is something else really, a fun little slot full of cute and goofy-looking characters and funny little symbols all cat themed, perfect for your fun and casual slot player. If you want some goofy fun while getting great prizes this slot is for you.
Let's talk about Kitty Cash features
This slot offers you your basic free spin feature which rewards 5, 15 or even 25 with the symbol of a tuna can, and a substituting wild with the symbol of a black cat.
This small little slot is a blast, the goofy and cute little symbols alone are worth playing already, and with the fun, and features included it's worth your time, so get to playing on scatters today!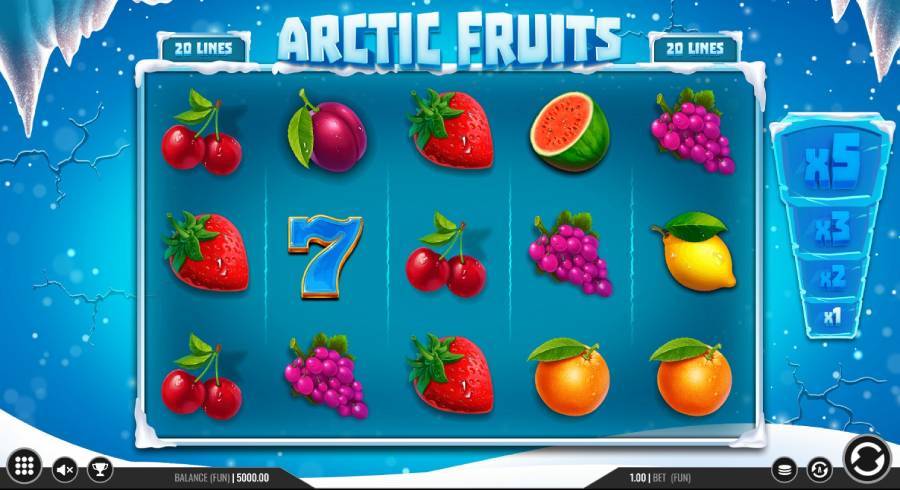 This is a new one, a classic fruit slot, but themed around being in the arctic, it has all the classics you can probably think of, full of fruit symbols, like lemons, strawberries and more, a high paying seven symbol.
Arctic Fruits Features
The Wild symbol is a big factor in this slot, it fills any missing symbols you might need based on where its positioned on the reel, and as an added feature each time you get a win you will get a multiplier, from 2x, 3x and 5x one after another, so if you can manage to get to 5x you can get a high payout!
With the high 2,500x, your stake max prize for such basic gameplay this slot is worth your time and the arctic theme adds a lot to it compared to simple old-school slots, a mix of old and new.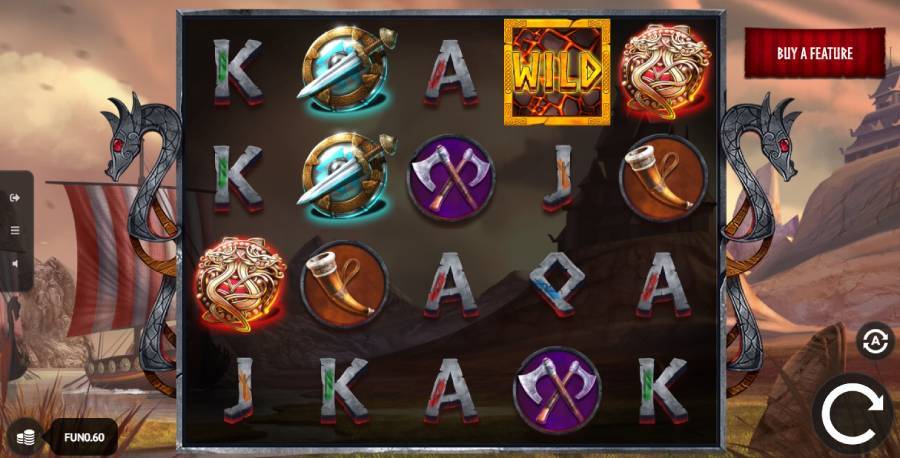 1x2 Gaming has made something else with this, a fine-looking slot, labelled Battle Maidens, the first of the series, this slot is set near a hillside and dock as its backdrop. There are huge Viking longships right next to the reel.
Battle Maidens Features
There are iron-themed A to J symbols, which fit well with the Viking theme it follows, there are also a helmet, hunting horn, axes, tree of life, and dragon symbols, as for higher paying standard symbols that would be a sword and shield.
There is also a wild and scatter symbol and 5 battle maidens which will be your best friends for this reel that act as the scatter. If you manage 3 battle maidens on the same spin you will be able to trigger a free spin and be given 10 whole free spins.
Battle Maiden Online Slot Modifiers
Each maiden has its modifier, that can be a big help to you in your session and can be used during the free spin session.
Modifiers:
Hellevi: if on reel 1 will turn wild during the free spin session.
Eldfrid: when on reel 2 will turn into a sticky wild. Locks into place for the rest of the free spin.
Maiden modifiers
Alfhild: if on reel 3 will add 2 extra free spins.
Snefrid: if on reel 4 will give you a higher multiplier by 1x for each time she shows up on the reel.
Solvej: if on reel 5 will expand into wild that fills the reel each time it connects.
Take on the battle maidens today over at Scatters!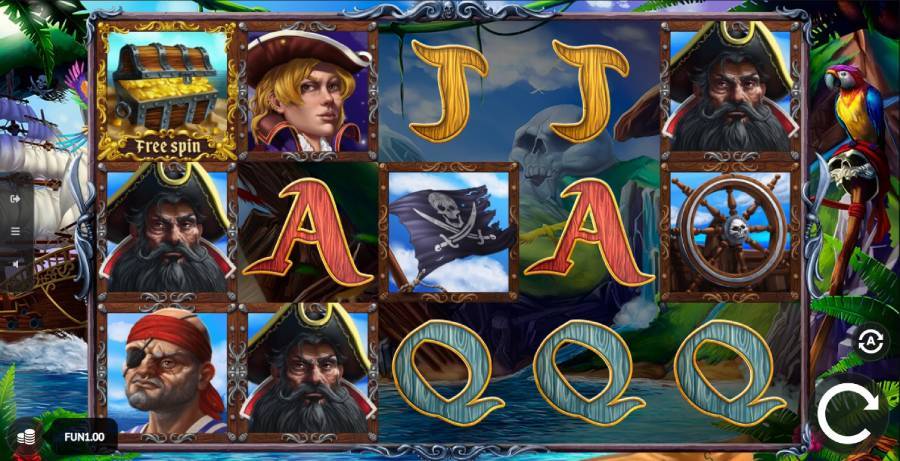 Join a fearsome band of pirates on the merry sea for blackbeards compass, said to be the key to the old king of the pirate's large treasures. It has 25 pay-lines, this slot is full of character and style.
Let's talk about some basic symbols. the A and J symbols look like they are made out of carved wood, with golden outlines, pirate flags, different symbols of crew members, the helm skull and even the pirate captain, these symbols will help you get your high paying hit.
Let's get into Blackbeards Compass Online Slots features
Let us start with basic, free spins. The golden chest symbol is this slots scatters, if you manage to get 3 or more you will be rewarded with 10 free spins, but there is a fun twist, there is a transforming compass, each time it appears, it locks into place and stays there till the end of the free spins.
The transforming symbol, anytime compasses are on the reel they will transform into the same symbol, and payout based on if there was a match.
And finally, the bonus feature where if you get 3 treasure maps on your reel in 1 instance you get you will be handsomely rewarded.
Enough reading, get ready to sail the seas on Scatters!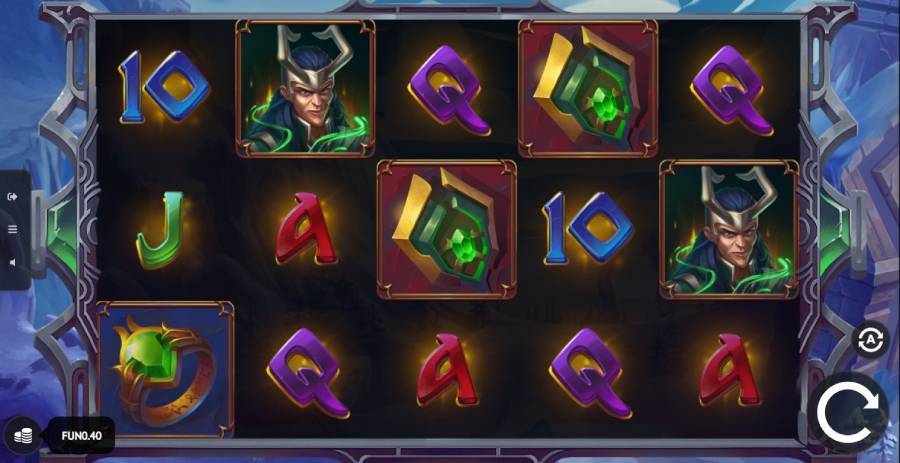 That Loki fella has a book full of spells he used for his nasty tricks, but there are some pretty handy things in there too, if you want the power of a god you better get tricky like the trickster god himself.
Let's get into book of Loki Online Slot features
The free spins feature comes into play like many 1x2 gaming slots, there is also a lovely respin feature that comes along when 2 free spin symbols and will keep spinning from each reel till you find or don't find a free spin symbol. Once triggered you will be rewarded with 10 free spins.
Once the free spin features are active, like many slots under the 1x2 gaming slots, are picked at random and will become an expanding symbol, each time you hit you will get a whole reel filled.
The same symbol that acts as the free spin is also the wild, and you can get something like 2, 20 or if you are lucky 200x of your stake.
This slot has a fun little Norse theme and cool little symbols and the basic and fun features found in most 1x2 slots. A fun and simple slot perfect for most, try it over at Scatters.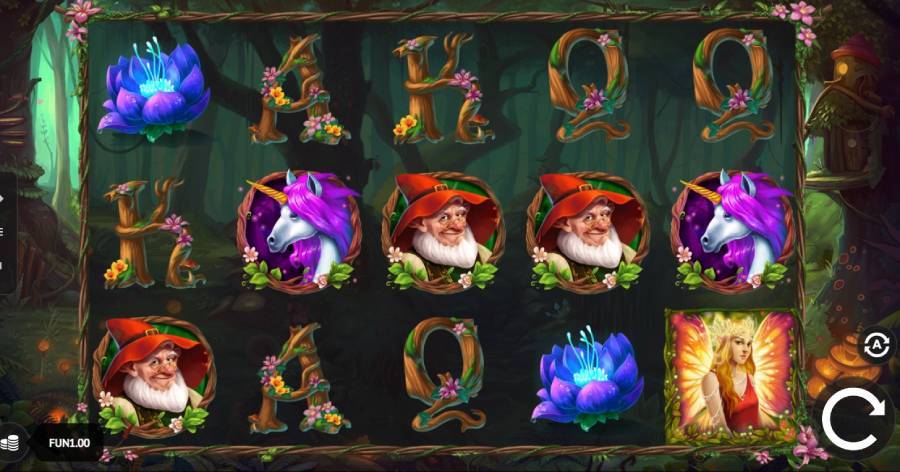 There is a forest deep in the wood, with mysterious and beautiful magical wildlife, some people have said they have seen tiny fairy people flying about, and butterflies that glow and shimmer, a true place of wonder you should visit.
This slot has a decent 96% RTP, 25 pay lines, and is played on a 3x5 reel with a nice mix of cool little symbols where the higher paying symbols are sparkly and magical looking, and the basic ones are made from wood and covered in flowers.
Let's see some Faerie Nights Online Slots features
Day and Night queens feature, the day forms rules over the base game and night rules over the night bonus round and this feature also
How to activate night bonus round mode at Faerie Nights Online Slots?
You'll need to get 3 or more of the sisters to land on the reel in 1 spin, and with this free spin feature active you'll be given 7 free spins, if you can manage to get 4 or 5 you'll get 9 or 11 extra spins, so many the luck of the fairies be with you. This feature also acts as a multiplier when the night queen appears on the reel.
This slot has wilds and acts differently than normal in the free spin session, they expand into a "living tree" and expand to fill the whole reel if you get the right match.
With all the features that give you the chance of doubling your winnings and nice-looking designs and effects, you are sure to love it.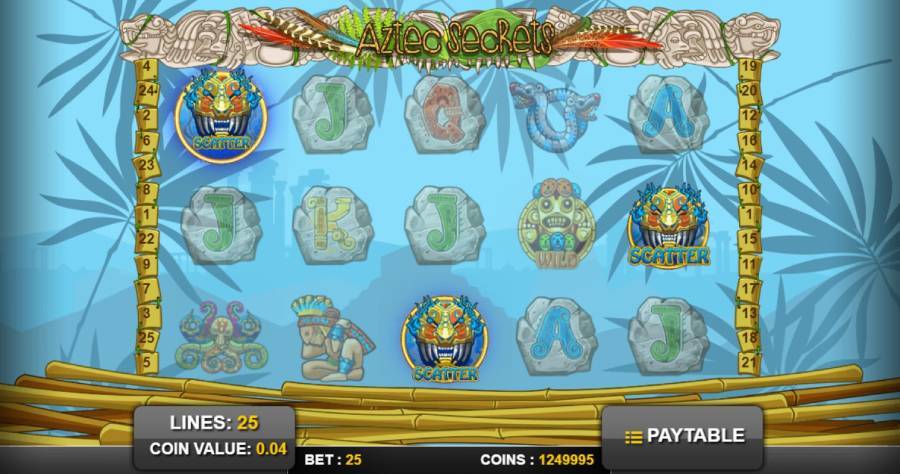 This Aztec-themed slot really makes you feel the Aztec culture, (as much as a video slot can) the symbols have a stone and bright and colourful theme, and each time you hit, they play a small animation. Aztec Secret is a 5x3 reel with 25 pay-lines.
Aztec Secrets Online Slots Features
The basic features of this slot are what you expect and love, let's start with free spins, once you get 3 scatters symbols, if you manage that you'll get 100 coins, or if you can get 4, or 5 you'll get 320 or 750 coins based on which you get and rewarded 10 free spins with your payment doubled!
The nicely made bonus round starts when you land 3 or more bonus sun symbols, and it will even pay you out a bit too!
You rarely see pick-me rounds in video slots, you will be transported 5 rows and 5 stones, you'll need to pick a stone, and if you get lucky and you get a number, you will be rewarded with coins and be moved to the next stage of the bonus round, the further you go the better and bigger the rewards.
Scatters gives you the perfect home to try this cartoonish-styled slot full of fun and prizes, head on over and play.
Conclusion
That about ends things, a bit of history on the great provider, 1x2 Gaming, and their top 10 games that should keep you pretty busy for a long while. So, head on over and start playing at Scatters, and if you want more afterwards, you can go to Scatters and filter by providers in the casino section, to find all the amazing slots made by 1x2 Gaming. Get to winning today!
FAQs about 1x2 Gaming
Is 1x2 Gaming legit?
1x2 Gaming has been around for a long time, is one of the most trusted brands in the industry and has all the licenses to prove it.
How to play 1x2 Gaming slots?
Pretty easily, all 1x2 Gaming slots have a simple and easy way of playing, the spin button, all information needed by the exclamation point symbol, normally a way to speed up spins, and nice autoplay features. Pretty simple and nicely packed for your enjoyment!
Who owns 1x2 Gaming?
Kevin Reid is the current owner of 1x2 and has spearheaded them to a core regulated market and built up a heavily talented team, and there seems to be no stop for this great brand!
What is 1x2 Gaming?
1x2 Gaming is an iGaming development team, who focuses on making video slots and other iGaming content with a high focus on quality and design.
Remember! You must be 18+ to take part in Online Gambling
Scatters follows all rules set by the Malta Gaming Authority and only hosts slots that are licensed and regulated, as set by the gambling commission you should always play responsibly, play for fun and gamble responsibly
===
Would you like to play using special deposit bonuses? Please have a look at our promotions: Welcome Bonus, Wednesday Free Spins, Scatters Freepots, Daily Quests, Drops & Wins, Live Casino Tournament, Scatters Casino Rewards, Scatters Level Up System and Bonus Buy.
Other articles that might interest you: