| | | |
| --- | --- | --- |
| Position | Game Name | Developer |
| #1 | Curse of the Mummies | Blue Guru |
| #2 | Machina | Kalamba |
| #3 | Drill that Gold | PragmaticPlay |
| #4 | Wolf Strike | Iron Dog Studio |
| #5 | North Guardians | PragmaticPlay |
We at Scatters offer the best and simplest ways for you, our player, to enjoy yourself at our casino. And for that reason, we make a monthly list of some of the freshest and newest online casino slots. We do currently have many systems in play to help you find these games yourself, but a bit of help and highlighting never hurt right?
We currently offer a long list of pretty cool online slot games on Scatters, and we have new ones added every day, regularly staying up to date for you the player with the newest games so you can play something new every day. With this list, we wanted to highlight some of our latest slot machines by giving you a list of the most memorable and cool online slots of this month!
A list we update each month, so you can stay informed of what is hot.
Why were these games picked? Once a new slot machine has landed onto Scatters, we see how our players are enjoying it, and for the ones that shine the brightest, we put the top 5 onto the list. These slots are some of the highest quality and most interesting slots currency available on Scatters.
If you want to find any of these games or any others you can easily do that by searching them on Scatters.com and going to the search bar, or you could also go to the casino section and press on the new tab. We always make things the easiest and smoothest for our players to enjoy their time with no hassle!
We at Scatters offer many banking options for you to be able to easily play any of our many Casino Games, that all give you the chance to win huge sums of real money in various ways, from progressive jackpot slots, live dealer games, video poker, slots and more with high RTP and low RTP, perfect for your preferences! have fun playing slots online at Scatters.
The New Online Slot Games to play at Scatters Casino
These slots are some of the hottest and newest things on the block for you to play today, so why not try them out now, a list that we change monthly
Position #1. Curse Of The Mummies Slot Machine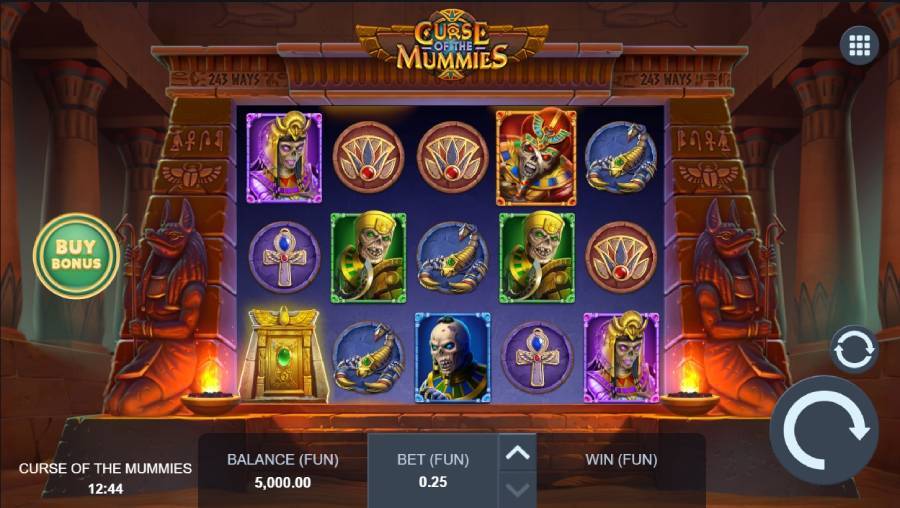 Curse of the mummies, enter the land of Egypt a wasteland and search for the treasures of the kings of sand, be careful as there are many things that were set in place to keep you from your goals, but if you keep trying you will surely get your riches, young treasure hunter. Go get your gold!
This slot was brought to you by our friends at Blue Guru Games, a quality slot, with simple yet interesting features and looks. Where there is simplicity there is also greatness, this slot might have a simple look and simple features but it also has crazy huge rewards you can gain from it! Like all the slots online on Scatters!
Let's talk a bit about the features.
Rise from the Crypt, if you've played any other Blue Guru slot like Octopus Armada you'll be familiar with this type of feature, it can be triggered on any random spin you make, when it activates any random pay symbol will turn into a scatter or wild symbol which will give you great chances to win, a great feature for any spin and one you don't normally see.
Free spins, if you manage to hit a scatter on all 5 of the reels you'll be rewarded with 15 whole free spins, 5 or 10 more than normal in other slots. Each hit on a scatter will raise the multiplier that will apply while the feature is in session. If you get a super scatter it will be worth 10x which will really give you some crazy good rewards. If you are lucky enough you can retrigger the feature by getting another 5 scatter symbols and you'll get an extra 5 spins, when you retrigger you get an additional multiplier to the win multiplier.
And finally, it has a great bonus buy feature, there are 4 options, the first one costs 80x the bet and gives you 5 scatter triggers, the second is 140x the bet and you get 1 super scatters, the third is 200x the bet and you get a whole 3 super scatters and finally the 4th costs 260x the bet and at least 3 super scatters.
Overall the slot has a nice simple design and look to it, with a nice little simple and somewhat new to most features, a cool and fan-favourite theme and crazy high multiplier chances.
Position #2. Machina Online Slot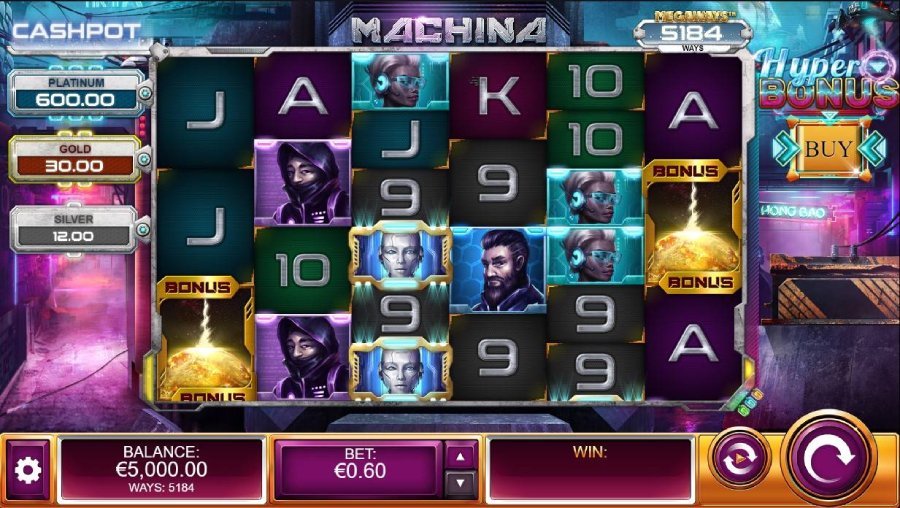 Let's take a trip into the future and fight the robot overlords who seem to be trying to take it over, if you can manage to beat them, maybe you can take their priceless data chips with you and make a large fortune.
This slot has a fun and cyberpunk-looking feel to it, interesting features and an overall nice vibe.
It has different symbols, the higher-paying symbols to look out for are character symbols that should give you the easiest chance of winning. The golden circuit board is the wild of this slot and the thing you should try to get the most of.
Free spins are easy to come by in this slot and many ways of getting them, one of the simpler ways are by getting 3, 5 or 6 scatter symbols to land on the reel and for that, you will be rewarded with anywhere from 10, 12, 15 or even 18 whole free spins. And if luck isn't on your side the bonus buy option is always available
One of your main objectives is to collect yellow circuits to fill a meter on the right side of the reel, for every 4 to 5 symbols you get 2 extra spins, and one of the higher paying symbols is turned into a cyborg symbol for the rest of the spin sessions.
If you can manage to make all the high-value symbols turn into cyborgs you will have a much higher chance of landing a mega win or triggering a jackpot, either way, you'll be making bank!
A lovely slot with a lot of fun and interesting features for you to play and enjoy, the cyberpunk theme is not one we see too often in the casino world even more so with quality like this, you should definitely try this slot out at Scatters today!
Position #3. Drill that Gold Video Slot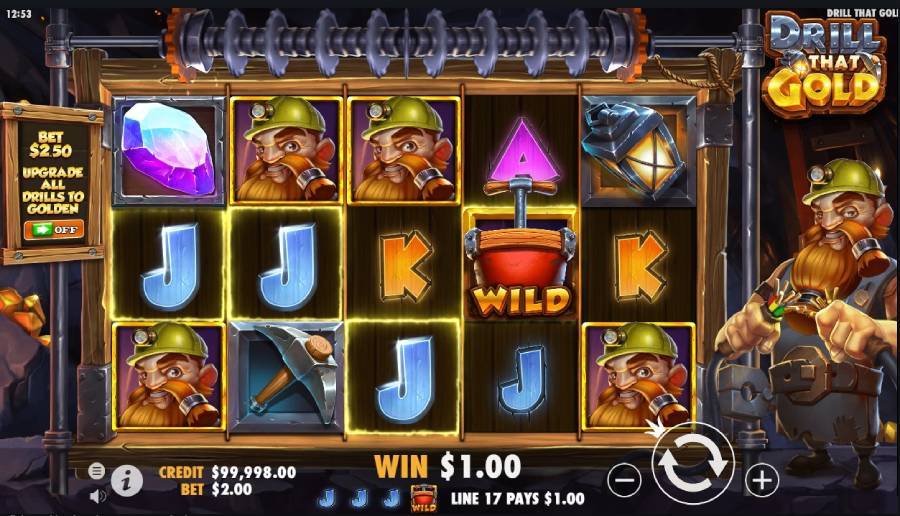 Enter the mines and dig for that gold! Enter an old abandoned mine and dig for some rumoured gold that was said to be there. Be careful, those mines are said to be a bit dangerous.
Game Features
"Drill feature" when a stack of miners manage to hit you get a silver drill symbol and expands upward and turns into a wild
You can get a win without actually spinning in this slot, if a modifier activates it makes the spin into a win that is worth at least 10x or it could give you bonus symbols enough to trigger a gold spin when you get 3-4-5 bonus symbols to hit gives out 6-8-10 free spins and a silver drill.
Position #4. Wolf Strike Casino Game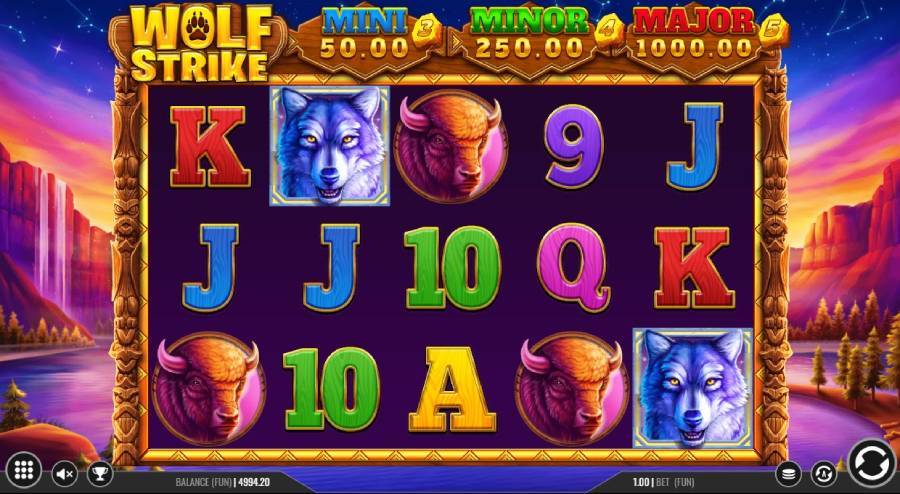 Take to your wild side with Wolf Strike and harness the power of a wolf into the wild lands of nature.
Game Features
This slot has nugget symbols that can appear anywhere on the slot, and it has Strike nuggets, the difference with the nuggets is that the strike does not show the prize value, either way, they both give the chance for crazy high rewards. This slot also offers free spins, you could even get 20 free spins in this slot, crazy I know.
Position #5. North Guardians Online Slot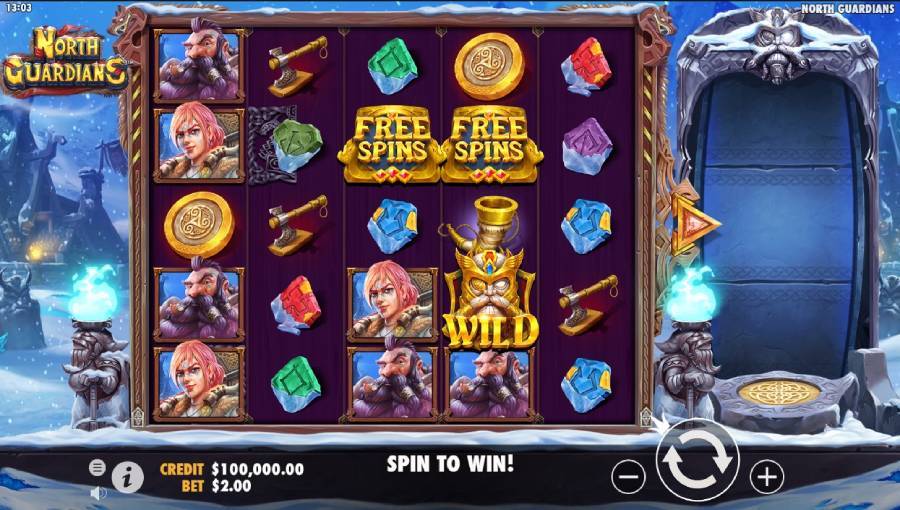 Enter the frozen lands of the north and fight a powerful guardian who guards a large stack of gold just ready for the taking if you have the power and will to get it!
This slot has wild patterns which is a big selling point and something you should definitely try out, it also has the fan-favourite free spins and bonus buys which are always fun to have
A fun slot made by a good provider, try it out now at Scatters gambling site.
Conclusion
To end this top 5 list off, we are confident this list of ours of some of the best new slots will keep you busy and will enjoy at least one of them, each made by the powerhouses of the casino world so you know they are something else when it comes to quality and features!
And with such quality providers, you also know that they will bring fresh new features for you to play around with, which is always lovely to have! So why not grab a nice drink and snack and sit down and get to have some fun on Scatters.
For you to start playing it's easy, you can log in or register an account with Scatters, after you've logged in or made your account, use the search bar to find and play any one of the 5 games above.
Each one of the slot games has its features and easy-to-use interfaces with everything you'd need for your gaming session. With such a high-quality service given to the player so easily, it makes just playing a lot easier, so you don't need to stop having fun.
To start you off, a great slot game we would suggest would be Curse Of The Mummies by our friends at blue guru, a fun little new slot, with fresh designs and features, that a lot of Scatters players are having a blast playing.
This is a slot that you'll love playing too! It has all the things you could ask for, nice features, nice graphics, made by a great dev team who put a lot of care and the chance to win huge rewards for playing it, on Scatters.
===
Would you like to play using special offers and bonuses? Please have a look at our promotions: Welcome Bonus, Wednesday Free Spins, Scatters Freepots, Daily Quests, Drops & Wins, Live Casino Tournament, Scatters Casino Rewards, Scatters Level Up System and Bonus Buy.