Yggdrasil Casino Slots and Games
It's pronounced Ig-Dra-Sill and of course it's a Scandinavian company and they either thought we'd all know what Yggdrasil is and how to pronounce it, or they knew we'd look it up.
Either way, it seems to have worked as Yggdrasil has been a name on everyone's lips for years now in the online casino world.
Yggdrasil is the World Tree (or Tree of Life) from Norse Mythology. The tree joins the 9 Worlds and is inhabited by some fantastical beasts. It's also the tree on which Odin sacrificed himself – it's fascinating stuff.
I digress, onto the games studio...
Yggdrasil Gaming has been with us since 2013 bursting onto the scene with some great games and some truly innovative features. Graphically they were amazing at the time and it's something they clearly put a lot of effort into.
Yggdrasil Slots And Games
Our pick of the Yggdrasil Casino games: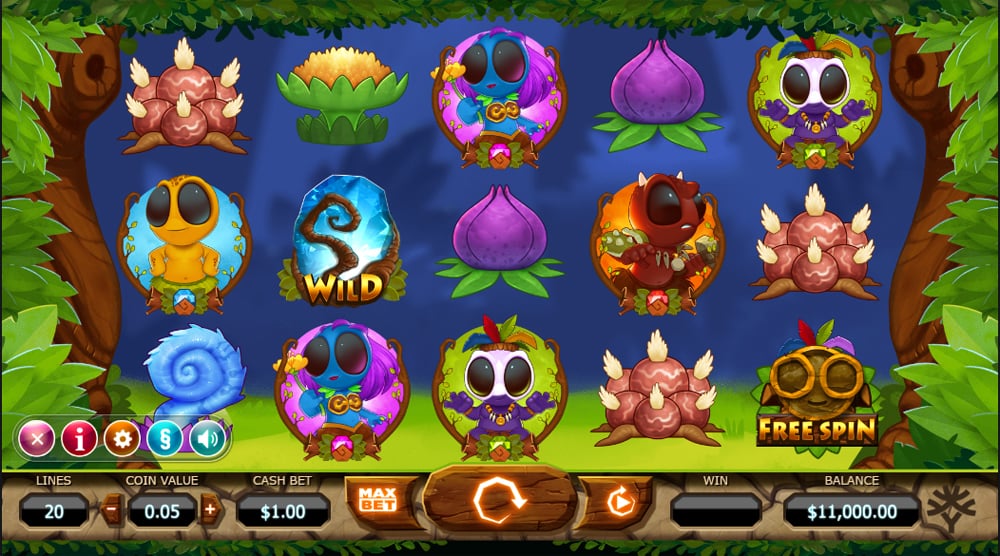 Chibeasties Online Slot
An early release that stands the test of time.
It's a 5-reel, 20-payline slot (almost everything was back then). The free spins are nice and they are triggered by a randomly chosen expanding symbol. The Chibeasties are wonderful little char-acters. Definitely worth a spin or two.
What Yggdrasil say about it
"Enter a tranquil grassy alcove where the Chibeasties guide players through 5 reels and 20 paylines oriented from left to right. The game has eight regular symbols that win if three or more are lined up in sequence on a payline. This medium to high volatility game focuses on the extraordinary free spin mode which is activated by one randomly chosen expanding symbol, with the wild feature also capable of expanding into a stunning visual!"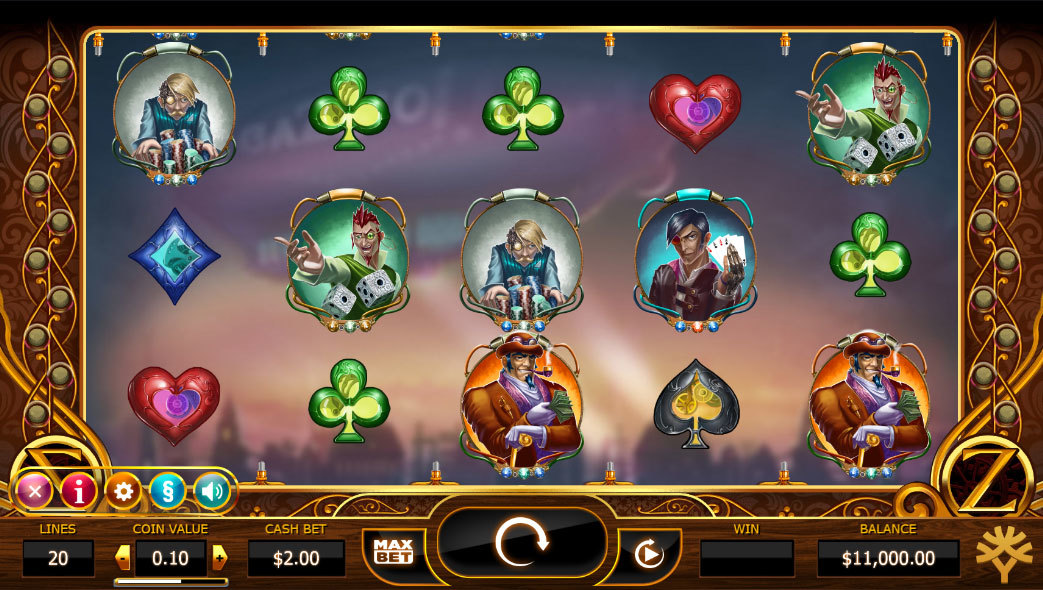 Cazino Zeppelin Online Slot
This one should come with a warning – it's volatile. AT least it was incredibly volatile when it was released, these days the volatility trend has gone completely nuts but it still stands up at the top end of the scale.
Beautifully sculpted characters which could have jumped straight from the page of a dark DC graphic novel will keep you entertained as you chase the elusive free spins. It can be worth the wait, as with all volatile slots though you can also bomb out.
It's one for the player who understands how slots work and that there will be low spots along with the highs. Overall though it's one not to be missed.
What Yggdrasil say about it:
"Cazino Zeppelin immerses players in a steampunk atmosphere with quirky industrial-inspired graphics and energising in-play audio to match. This 5 reel, 20-payline slot oriented from left to right features Free Spins with Sticky Wilds and Wild Transfers which substitute for any regular symbol. The game has eight regular symbols that win if three or more are lined up in sequence on a payline, beginning in the leftmost position. Expect a world-class gaming experience full of cool animations and intuitive gameplay."
Golden Fishtank Online Slot
An absolute classic. Golden Fishtank is just brilliantly done. An incredible ambient soundtrack, lovely animations and one of the best pre-bonus round pickers of any slot (you can increase your number of reel modifier and free spins in the picker by using the Yggdrasil Golden Bet to enhance the bonus round. It's worth it! I've often found myself excited to be in the bonus round only to realise I haven't selected Golden Bet and it's a downer. Don't make that mistake.
What Yggdrasil say about it:
"Discover the serenity of the depths below as symbols float around an underwater habitat made up of 5 reels and 20 paylines oriented from left to right. The game has 8 regular symbols that win if three or more are lined up in sequence on a payline. Players will immediately get immersed in the game's bright visuals and uplifting music. Three or more free spin symbols trigger the super exciting free spin mode. When free spin mode is activated, 18 objects emerge from the depths of the tank and come to life for players to take their pick. When the Golden Bet is selected, an additional item can be chosen. Each object contains a hidden feature which will be activated for the entire duration of the free spins."
Temple Stacks: Splitz Online Slot
This one debuted Yggdrasil's proprietary mechanic Splitz. During normal play Splitz™ can appear on any reel, at any time. They are mystery stacked symbols which can transform into any other symbol and add additional paylines to the reels by increasing the overall number of symbols available for big wins. It's an interesting mechanic, it doesn't appeal to anyone as the frequency with which symbols make up no-win, or a poor one is high but when it pays, as they say, it pays.
Here's what Yggdrasil have to say about it:
"Welcome to the first-ever Splitz™ game as we go back to basics inside an Aztec empire. Enter the forgotten temple of stacks and Splitz™, where mystery hides behind every relic and win potential is beyond epic!
When two scatters land they turn wild and trigger a respin, while the scatter reels remain fixed. One more scatter unlocks the Free Spins mode, while more scatters unearth more free spins and levels. But not so fast! Before entering into the unlocked realm of Free Spins, players must choose between Bronze, Silver, Gold, or Diamond rounds where each one is more valuable than the last. More Splitz means more win potential – The choice is in their hands."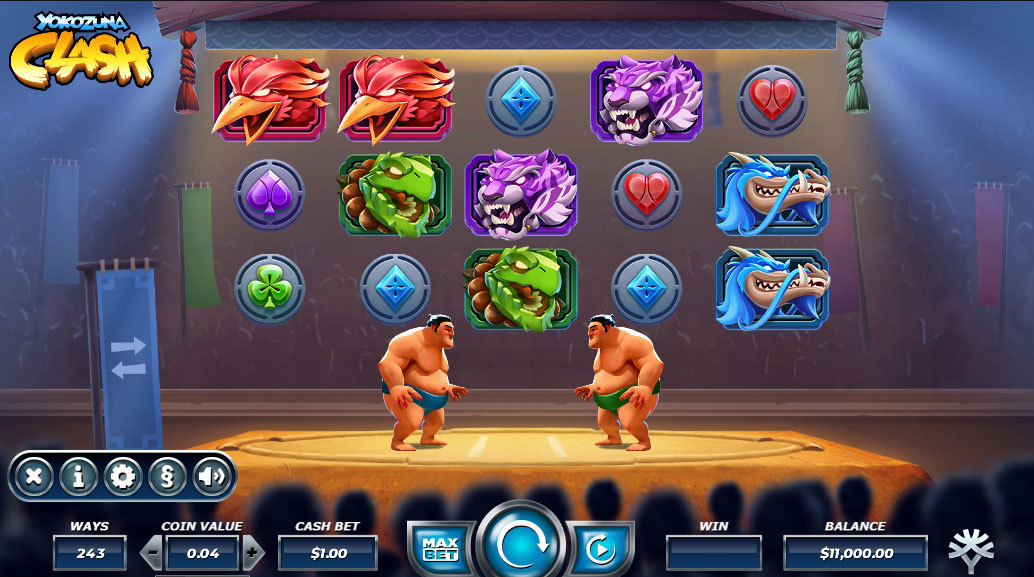 Yokozuna Clash Online Slot
This one is very nice and truly innovative. You'll be taking part in a series of Sumo battles each with increasing difficulty and higher rewards. It's great fun and about as close to an actual game that I think any slot should come. Studios have tried to make slots into more engaging game-style offerings but it hasn't worked. With Yokozuna Clash the game is a fun addition that really creates excitement but doesn't detract from the point of the slot at all. Great stuff.
Here's what Yggdrasil have to say about it:
"In the heart of buzzing Tokyo, locals can be seen drifting in-to the Dohyo, where the ultimate battle of tradition and discipline is about to take place.
The Grand Sumo Tournament begins in the Base Game, two fighters stand in their corners, one brings a Random Wilds Feature, the other Random Multipliers; and together the two fighters offer a Combo worth their body weight in gold! Two scatters mark the beginning of the ultimate battle for the Yokozuna title and Grand Reward. Players fight their way through rounds of Random Wilds, Multipliers, and Free Spins Tournaments as they go up against 2 famous sumo wrestlers, thirsty for victory.
It's time to throw salt into the ring, the Yokozuna bout waits for no one. Will your players stomp their feet and rise to the challenge?"
You'll always find some innovation in an Yggdrasil game and they are most definitely one of the studios to watch. It's always a bit of an event when they have a new release as you may just find a classic.
You'll find all of the Yggdrasil slots over at Scatters Casino.
Have fun!
===
If you enjoyed reading this article then we suggest that you also check out the following: