| | | |
| --- | --- | --- |
| Position | Game Name | RTP |
| #5 | Taco Brothers Derailed | 95% |
| #4 | Nitropolis 3 | 95% |
| #3 | Cygnus | 96.1% |
| #2 | Book of Toro | 95% |
| #1 | Coba | 95% |
BEST BONUS BUY SLOTS by ELK STUDIOS
Let's give you some information about one of the biggest and best brands around and some of the best games they have on Scatters.
About ELK Studios
ELK is a bit on the younger side of the provider list, being that it started in 2013, but don't let the age fool you, it's been providing fantastic online slots to millions of players. This brand is noted for being innovative and groundbreaking in the iGaming world for its designs and mathematical models.
This Swedish-based company can be found in the centre of Stockholm and has grown to house over 30 employees. This brand has a quality over quantity mindset which is always lovely to see. They follow the rules of "for you to succeed with the making of something good, you need to make it with good parts". They follow 3 main rules in the making of their slots, Art, Math and technology.
When creative at slot the part of making it fun and nice-looking isn't easy as it looks, many slots find 1 format and stick to it, ELK manages to switch things up very often and create brand new themes while showing their skill and creativity.
As for the gameplay, it's always top of the line, always showing tech that is above the rest and can provide an outstanding experience. This combined with the mathematics they use, nothing is left to chance (outside of the slot during your session) and is all handled with the highest level of quality.
X-iter features
Many ELK games have feature buy slots with an integration that lets you buy bonus features with money instead of waiting for luck to turn its head! This feature might not be available in all countries but it is a great bonus buy option for those who like the opinion to buy features and skip the base game.
Let's get into the games
After a brief intro into the working power of ELK, we'd like to spotlight some of the best ELK slots available to you as the player, these slots were picked for either their popularity with our player base or with the quality and gameplay they offer.
Games:
#1 Coba Online Slot | Try it now
Coba is a very Mayan-themed slot based on a Mayan snake God Quetzalcoatl, which has shielded the city of Coba for thousands of years. You will be sent into a jungle into the ancient city as your background. Explore the old city and overcome the old spirits that live there, if you manage this, you will not only get out, but with riches, you've never thought possible.
Before we get into more detail on this slot, let's give you some basics you need to know. This is a cluster-type slot played on a 7x7 play reel, your RTP is set to 95% and you'll have a great max win of 25,000 times your stake with some of the more basic and important information out of the way, let's tell you about the great features.
Slot Features
The Avalance feature is when you get a winning cluster, the feature triggers and each symbol apart of the winning cluster is removed from the reel and the rest drop-down, and new symbols will fill the empty slots as an added note each winning cluster adds to the Snake meter, which if triggered could start a money train!
Snake Feature
When you get a win, the winning symbols will add progress to the Snake Meter. It has 4 levels, the higher the level the more snakes get released on the grid. What you'll get from this feature on triggering the bonus feature:
Level 1 - Snakes on the grid:1
Level 2 - Snakes on the grid:2
Level 3 - Snakes on the grid:3
Level 4 - Snakes on the grid:6
That and a lot more cool features are available in Coba, you can find more on one of the best online casinos out there Scatters.
#2 Book of Toro Online Slot | Try it now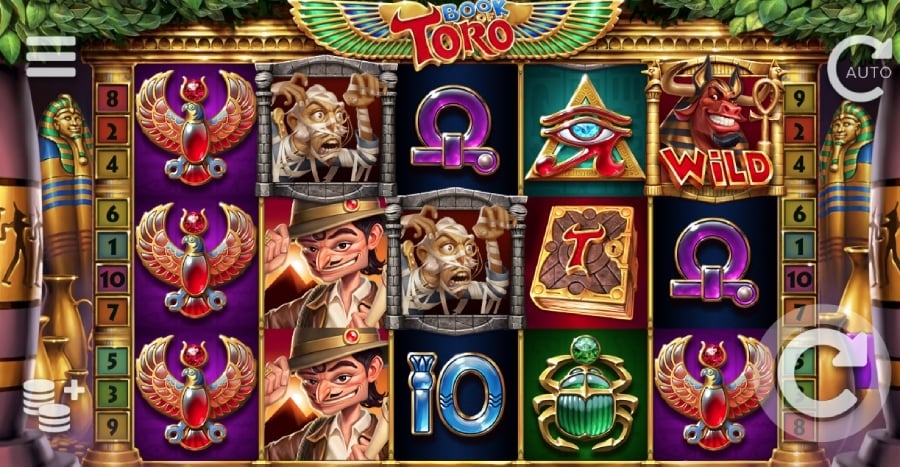 Book of Toro is one of the biggest games out there for ELK studios, a well-known and heavily played slot, that is a part of a long series of games with ELK, let's tell you some basics and why this slot is worth your time.
You have a slightly lower than average RTP of 95%, and you'll be playing this slot on a classic 5x3 play reel with 10 max paylines, this slot is also in the medium to highly volatile range so if you win you'll win big, and you could win well over 100 times your stake (10,000x in fact) if you get big wins!
Slot Features
The Toro symbol will act as your Walking Wild, which once it shows itself in reel 5, the feature trigger. You will be rewarded with respins, Toro will move to the left and will leave wilds in his path as he beats the mummies. When the toro is in view, all the book symbols will turn sticky. You will be given 1 respin for each of the steps left, meaning 5 respins in total.
Free spins
When you manage to land 3 or more book scatters on the reel you will get the bonus game and get anywhere from 10, 15 or a whole 20 free spins based on the number of book symbols you land. Once this feature is triggered there will also be a random symbol picked to be the expanding symbol.
There is much more to this slot, and you can find all these out by going to Scatters and playing it, enjoy your big-time gaming on the best slot machines out there on Scatters.
#3 Cygnus Online Slot | Try it now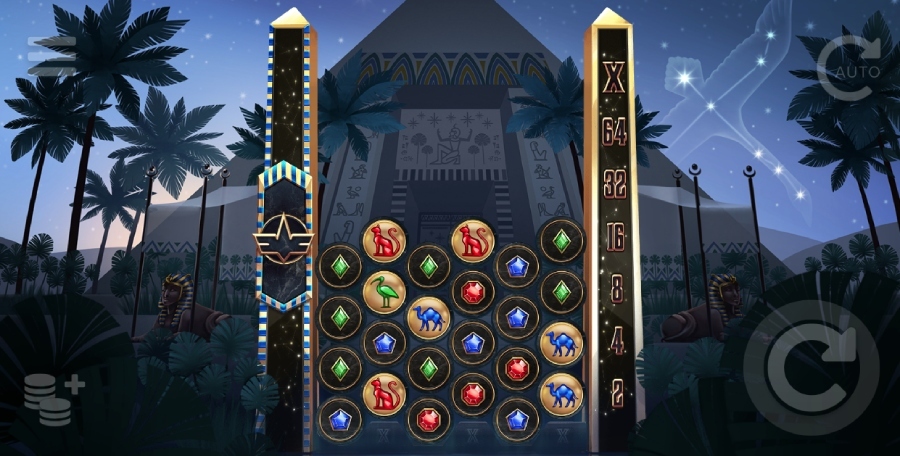 Cygnus is an interesting-looking slot that you don't see often with interesting features and overall quality, we'll tell you about the cool features and basics so you know what you are getting into.
Let's see, this slot offers a standard RTP of 96.1, a nice max win of 5.000, is played on 6 reels in a cluster style and has 262,144 ways to win, the cluster feature will come in handy and give you more chances to win. On the topic of features, let's tell you more about them.
Slot Features
Let's start with the most used feature, the Avalanche feature. When you get a win, any symbols a part of that win will be removed from the reel and new symbols will fill the empty positions and gives you more chances to win.
Keep an eye for the multiplier symbols, when triggered the right-hand side of the reel will activate and you'll get different multipliers, from 2x, 4x, 8,x, 16x, 32x or if you are really lucky 64x.
this slot has more features to offer for you to play test and find out yourself, on Scatters.
#4 Nitropolis 3 Online Slots | Try it now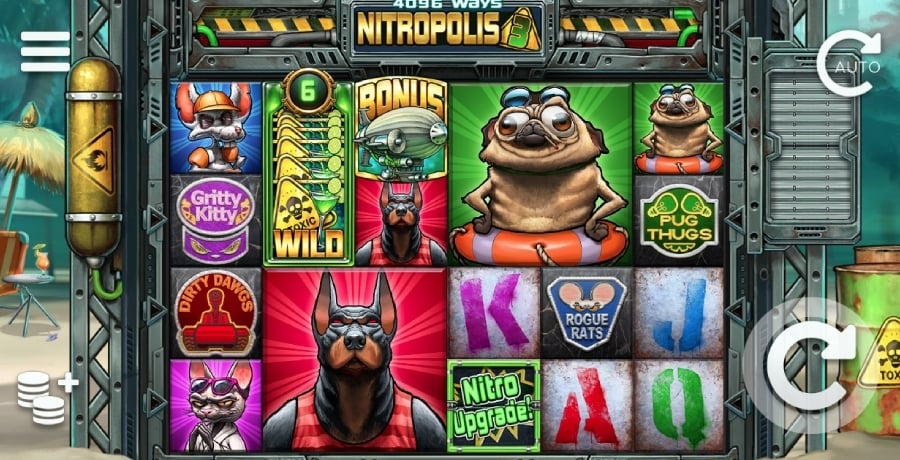 This one is big, Nitropolis 3 is one of the highest paying slots by ELK Gaming, and has a crazy sum of features and a nice bonus buy feature if you want to boost your luck.

Some basics of this slot are, that it's set in a dystopian world with interesting animal-like characters. The slot is played on 6+ reels and has way over 262,144 ways to win.
Some Bonus Features
There is a huge amount of features for you in Nitropolis 3, let's get into a few of them and let you discover all there is to enjoy on your own time.
Avalanche
If you get a win, this feature comes into action. All the symbols that are in the win will be removed and leave space for new symbols. A new row will be added which maxes out at 8 rows. One win could lead to many more!
Slot Free spin feature
For free spins, you'll need need to get 3, 4, 5 or 6 blimps to land in a spin, and for this, you'll be rewarded with 8, 12, 16 or 20 based on how many scatter symbols you land.
There are so many more features to talk about, but this should be enough to help you get started, so go out there and play!
#5 Taco Brothers Derailed Online Slot | Try it now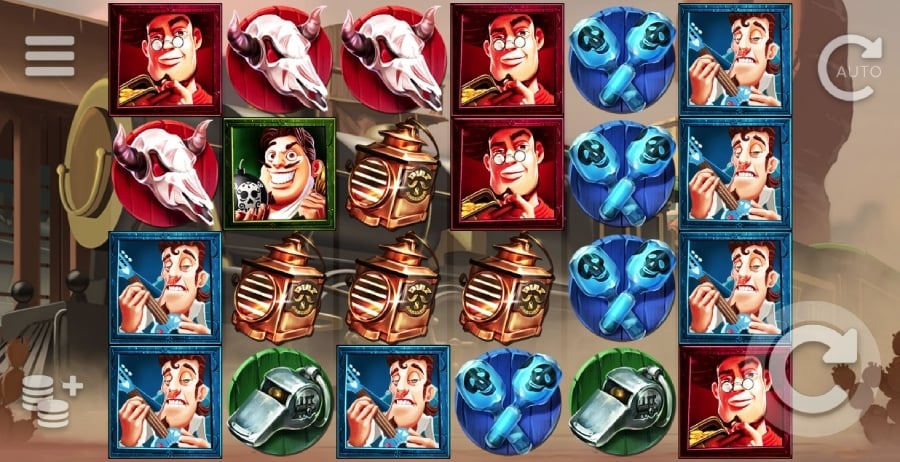 This gold rush slot is a big hitter in iGaming, has an awesome 10,000x max win, cool high-quality symbols and is a big upgrade compared to its predecessor, let's get into the fun features and let you get to play.
Slot Features
This slot has a lot of features to discover, but let's talk about the main ones that we are sure you'd enjoy.
The walking wild feature, all other symbols can turn into walking wilds. When this happens, they will trigger the feature, and give free respins. The walking wild will shift to the left and turn other brother symbols wild. You will keep getting respins till the walking wild is on reel 1.
The Heist Feature is the most profitable feature to trigger, you can get it by triggering 3 taco brothers bonus symbols. The brothers will appear on the reel after each other and give you respins to help you out as they walk across the reel. Corresponding bothers will turn wild as they emerge
The Taco Train Heist feature is triggered by landing 3 Taco Brothers bonus symbols anywhere on the reels bar reel 1. Set inside a train carriage, each of the Taco Brother Walking Wilds will appear after each other and give you respins as they walk across the reels. The corresponding Taco Brother symbol also becomes wild when they emerge and you'll also get random multipliers too, which will greatly boost your rewards.
Find all this and much more when playing on Scatters.
Conclusion
We hope you enjoyed this showcase of some of the best slots offered by ELK Studios, a great and trusted provider that has been operating and offering some of the best quality games for years now.
Always keep an eye out for a casino bonus to help you on your adventure, or for new players a deposit bonus!
If you'd like to find more of these ELK studio games go to Scatters.com and filter by whatever provider you wish in the casino section. Enough reading, go out and play some fun slots today with Scatters.
ELK Studios FAQs
Can ELK gaming be trusted?
Seeing how licensed by UKGC, MGA and SGC, and has been around for so long and offers some of the most played games on the biggest casinos, we can assure you that yes they are, but in case of a problem contact support.
Do all ELK games have bonus buy?
No, not all ELK games offer bonus buy, but many do have it via the X-iter feature, so be sure to check that out.
What do I do if I have a problem?
If you find any problems with ELK gaming slots or any other slots, be sure to contact support so they can aid and help you fix your problem.
===
Would you like to play using Scatters special bonuses? Please have a look at our promotions: Welcome Bonus, Wednesday Free Spins, Scatters Freepots, Daily Quests, Drops & Wins, Live Casino Tournament, Scatters Casino Rewards, Scatters Level Up System and Bonus Buy.