Let us enter a world of darkness, mystery, and horror. Take your first steps into a castle that you know you shouldn't be in. However, you won't probably help yourself but enter, find the mystery hidden within and get out, alive if you can.
Would you like to have such an exhilarating experience? To make your decision, here is our guide on Immortal Romance story, theme, and awesome free spins features.
Table of contents

243 Ways to Win in Immortal Romance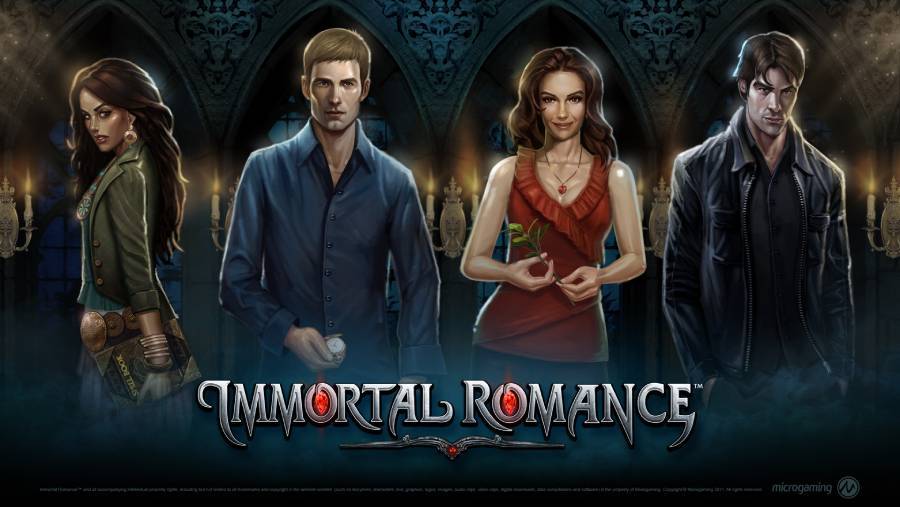 Immortal Romance is undoubtedly one of the biggest slots out there. It is so big, in fact that they remade it 3 times. Not only that, but a possible remaster is on the way (we'll get into that later).
It is worth noting that this slot has a total of 243 paylines. And it is played on a 5x3 reel and has an insane 12,150x stake max win. Above all, Immortal Romance has a very cool 96.86% RTP, which is always a must for a top slot.
Still undecided? Try it now for free!

The Slot's Forbidden Love Story
Sarah, a smart lady in a red dress, was attending a medical seminar. She was looking to learn more about cellular regeneration. At one point, a handsome guy named Michael gets on stage and presents an interesting paper on molecular phylogenetics.
Sarah is impressed, thus meets Michael, and a powerful connection full of passion begins. However, as their bonds get stronger Michael decides to reveal his biggest secret.
He is a vampire! Surprisingly, when Sarah finds out she desires him even more. But, things become complicated. Sarah's best friend, Amber, and Michael's loyal body, Troy, get involved.
Soon later, Amber threatens Michael to curse him if Sarah comes to any harm. While Troy, a vampire playboy, believes Sarah is harboring a dark secret and looks to uncover it.
As this story goes on, Sarah can already tell something in her is changing, and she has yet to find out what that is.
What an intriguing story. How many slots can you say has such a detailed story to them? Very few, right! That's why this one has stood out for a long time.

Vampire Themed Slot
Immortal Romance follows a vampire and slightly gothic theme. It was released in 2011, and is still so relevant, which says a lot. But, it still has a high-quality level of detail until this very day. It also has a pretty cool and ominous soundtrack.
Fun fact, this slot was released to coincide with the release of the 4th Twilight movie. That was a very smart move from Microgaming, the software provider. So, as a fan of the Twilight saga, this game developed around the supernatural romance genre must be alluring.
The 4 focus characters:
Amber: Descendant of a family of Caribbean witches
Troy: A tough vampire playboy
Michael: A professor and an old vampire who found love
Sarah: A scientist searching for a cure for aging

Are you still passionate to know more about each of these characters? Well, you can find a lot of information about Amber, Troy, Michael, and Sarah in the paytable section of the video slot. But, what about Immortal Romance symbols? Here is all that you need to know in the upcoming section.
The Castle of Darkness
The symbols have the same vampire theme and have three different types. First, there are the low-paying symbols like A, K, Q, J, 10 and 9. They are all ghostly looking with dark mist coming off. There is some sort of item of a character connected to them.
Second, there are higher paying slots. They are located in and off the castle, which both have an eerie feel to them.
Finally, the character symbols and bonus feature symbols are the highest paying in the slot. Each of the 4 characters has a symbol which pays a lot. But, there is also a wild symbol, which is the name of the slot. Also, you may keep in mind there is a golden lion door head as the Scatter symbol.
Immortal Romance Free Spins Features
This slot is packed with features, a 5x multiplier or higher. You can even get 20 free spins or more. So, arguably this exciting slot offers more than many players expect. But, there are two main features to watch for.
Wild Desire

This feature can arise randomly, and you can have 5 whole reels that turn fully wild. If you manage to get a grip of Wild Desire features, you can win a total of 1,500x. However, you need to be aware, when Wild Desire arises free spins cannot be triggered.

The Chamber of Spins

This feature is a bit of a roller coaster. You trigger it by getting 3 free spins symbols. However, you will not have access to all the different free spins unless you've entered multiple times or managed to get 5 whole free spins symbols.

Each of the 4 free spins is different, and you can unlock each one as you progress. Here is what each set of free spins includes:

Amber: Offers 10 free spins with an incredible 5x multiplier. If you manage to retrigger this feature, you will be rewarded with 20 free spins, and you can pick this option anytime.

Troy: You get 15 free spins and a vampire bat feature. It will give multipliers of 2x and 3x to symbols. They can be combined if you get more than one. Also, keep in mind that you must enter the chamber 5 times to get this option.

Michael: 20 free spins are up for grabs. You will also enjoy the rolling reels feature. It will give you multipliers that start from 2x to 5x. However, you must enter the chamber at least 10 times to get this option.

Sarah: This option is the most profitable one. It rewards 25 free spins and a Wild Vine feature. This feature will land on reel 3 and randomly turn symbols into wilds. If you manage to get over 2,3, 4 or 5 scatter symbols, you will be rewarded with free spins.
Mobile Slot Compatible with All Software
Whether you have an Android, iOS, or Windows cell phone, you can play Immortal Romance today! Thanks to the great team of Microgaming the game is just available on all cell phone devices. The reason is that this slot uses some very good HTML5 technology.
So, just take a break while you're out and about and enjoy the powerful graphics of Immortal Romance. How can you access it? Open Scatters, one of the finest online casinos, on your cell phone and voilà you are ready to get some big wins.
Demo Version
Are you not sure about the game yet and want to test it? That is perfectly fine. You can easily do it via our demo version on Scatters. You can see the graphics and check out how to place bets or rely on autoplay before having a chance to win real money.
Game Options
A slot game doesn't normally give out that much in terms of its free spin features. This game will have you hooked for a while with all the amazing things it offers. Not to mention that you have the chance to try other Immortal Romance online slots, such as the mega moolah and video bingo versions.
This slot is definitely a big hitter. What is more, a remaster is currently in the making, so be ready for an even better version.

Our Verdict
It is safe to say that you should be playing the Immortal Romance slot game. It has 2 other versions for you to play if you prefer mega moolah or bingo. The story is very solid, which is rare in slots. The theme is very classic, and most importantly the slot is packed with various free spins features.
We hope you've found the Immortal Romance slot review helpful. If you would like to know more you may read about Scatters best progressive jackpot slots of the month.
Immortal Romance FAQs

Where can I play the slot for free?
The Immortal Romance slot machine, while best played with real money, can be easily played for free to get the feel of it on Scatters. Just go to Scatters.com and press play for fun.
How do I play Immortal Romance?
Easily, load up the slot. After depositing the funds, pick your bet amount and press the spin button. Hopefully luck is on your side. Answers for any questions you may have can be found in this review or the information tab of the slot.
Are there offers on Scatters for this slot?
Scatters has a lot of lavish welcome offers, bonuses, and free spins for players. The offers can be claimed for many slots and will let you increase your profits. To find out about the offers like Immortal Romance free spins please visit our promotion page.
Is Immortal Romance considered a reskin of Thunderstruck II?
No, they are two different slot games, but they have a lot of similarities. For example, they are developed by the same company, and they have the same paylines.
===
Would you like to play using Scatters special bonuses? Please have a look at our promotions: Welcome Bonus, Wednesday Free Spins, Scatters Freepots, Daily Quests, Drops & Wins, Live Casino Tournament, Scatters Casino Rewards, Scatters Level Up System and Bonus Buy.