| | | |
| --- | --- | --- |
| Position | Game Name | Scatter Symbols Win |
| #7 | Around The World | 15 Free Spins |
| #6 | Buffalo 50 | 5 Free Spins |
| #5 | Wild Love | Up to 5x €10,00 |
| #4 | Ultra Fresh | Not available |
| #3 | 3 Thunders | 20 Free Spins |
| #2 | Joker Stoker | 30 Free Spins |
| #1 | Lucky Streak 1 | Up to 5x €200,00 |
Most Popular Online Casino Games by Endorphina
Endorphina is an online gaming provider with a long list of series of highly compelling 3D games. The primary features of Endorphina are the high quality and protection of their games, which have ensured the provider a high standing for dependability and clarity. On this page, you will find the major components of this brand and, of course, its exciting online games.
Endorphina is currently based in Prague, where it was established in 2012, and is represented not only by the production of primarily high-performing slots but also by what goes above all that is, the current functions, the stunning graphic effects, and the bonuses they offer.
The quality of this provider's slot machines is easily notable if you consider that Endorphina collaborates with two excellent providers in the online casino industry, such as BetConstruct and SoftSwiss.
As already emphasised, Endorphina stands out in creating online slots and other online casino games. The central element of Endorphina's slots is the themes of the games, which are to explore a wide assortment and will let each user find the online slot machine that best fits them: their famous games include: gladiators and pirates, vampires and superheroes, and the list go on, to be noted Endorphina speciality is fruit or precious gems slots.
We at Scatters are happy to have these notable and ever-growing brands' games on our site for our players to enjoy with any payment method you could think of, and for that reason, we've made a list of some of the top and most popular games, for you the player to enjoy today at Scatters the best online casino. You can find anything that we didn't add to the list that you might want to try or will come out in the future as we keep updating our ever-growing list of games by going to the casino section on Scatters and filtering by the provider. You can check our Scatters welcome offers for new players for our newer players.
Here we are! Top 7 online casino games by Endorphina played at Scatters Casino
Position #7 - Around the world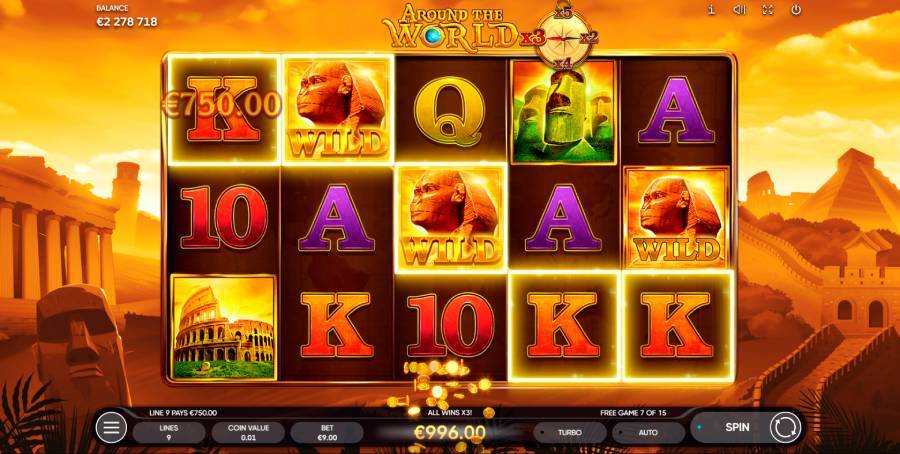 Have you ever wanted to travel the world, and see incredible places that hold significant historical meaning, like the Great Wall of China, the Taj Mahal or even the Aztec Pyramids and more, well you can do that in the comfort of your own home, with Around the world by Endorphina a 5x3 grid nine ways you can win, it has like many of Endorphina games a 96% RTP and a great list of features we will talk about soon.
This slot is greatly received by our players, for its graphics and excellent quality, it has a good list of features, like a gambling feature where you can pick to keep any winnings you make or gamble it for more, it has wilds and scatters like many other slots we expect of this quality.
This game will be fun for our more classic slot fans because it shares a similar theme but with the added flair to add something new and lovely animations and effects.
Position #6 - Buffalo 50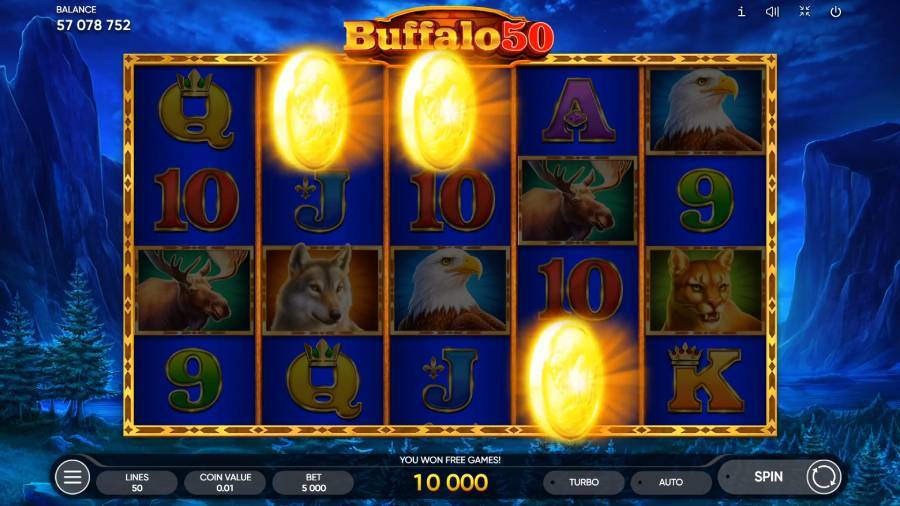 Buffalo 50 is similar to the slot above, they share many different outstanding quality elements but have their wild animal twist to it, it brings a long list of wild animals for the special symbols, and as the name says, buffalo act as the wild symbols, three scatters (which are in the form of a buffalo coin) will give you 5 free spins with 5 stacked wilds and like many other slots if you get another three scatters during free spins you will get another 5 or more free spins with the same bet and lines.
Our players fell in love with this slot for its great artwork and as many have said "exciting engine" and the North American themes, it is a very traditional lost in many senses but truly enhanced by some Endorphina magic, that many of our players have been enjoying. Play real money or simply for free at this exciting high chance to win slot!
Position #5 - Wild love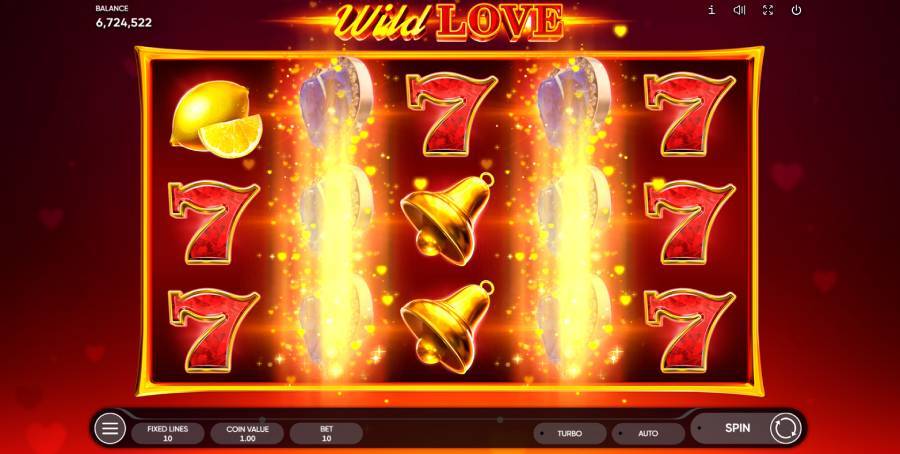 Wild love, a classic game from our friends at Endorphina something they are very well known for, Wild love currently has a lot of the class slot style, with the 7's hearts and classic symbols you are for sure used to seeing, but with a colourful and redefined feel, with cool features and animations. This slot is a 5x3 grid with features like multipliers, risk games which can give you 10x your bet if you take the risk, wilds (which are in the simplicity of a heart) and scatters (which is in the symbol of a star)
It has colourful bright red animations and brings that feel of old slots with the current modern slots that we are sure you will love winning on. With the classic Endorphina interface that all our players have fallen in love with, which is combined with one of the features of the slot, interestingly, each time you win, the spin button and options button will change. You can pick from either of them to then pick which you prefer. Play now on your mobile device or desktop!
Position #4 - Ultra Fresh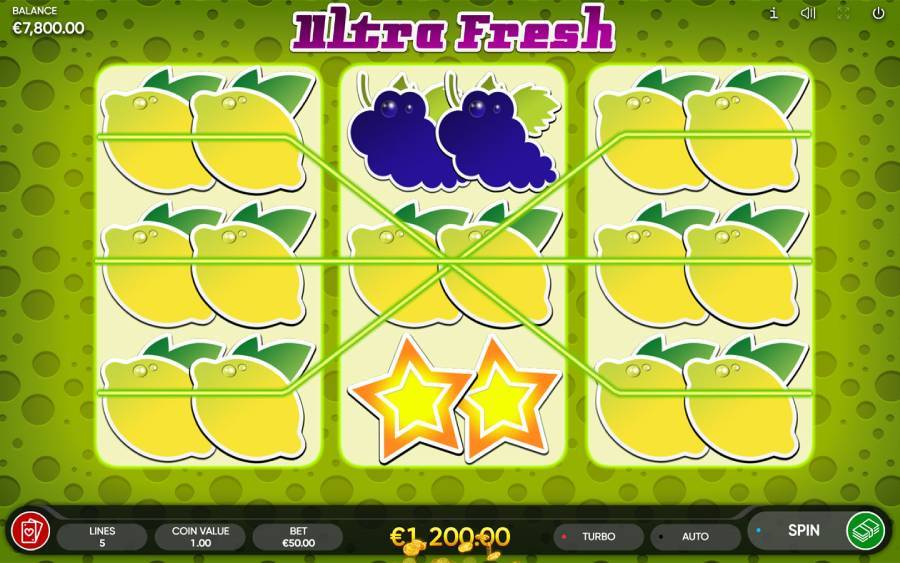 Classics are classics for a reason: they are leisurely to play, they go directly to the point, and they start an outbreak of memories for veteran players; Ultra Fresh is one of Endorphina's variations on classic slot games, with a trendy design and all the benefits that arrive with being able to play a slot game from the convenience of your home.
This slot has a fun pop art style you don't see too often and is not done this well. It has fun hyperactive background music playing in the background, lovely animated slots with bright colours that give them a great style and effect, a great UI that allows you to understand how to play quickly, and for those bold players, ways to play hyper-fast vika the turbo and auto functions.
This slot doesn't reinvent the wheel but brings back a lot of the old that people love with a new paint job that gives a breath of fresh air for you to enjoy, with a great list of features and great UI for you to enjoy today.
Position #3 - 3 Thunders Slot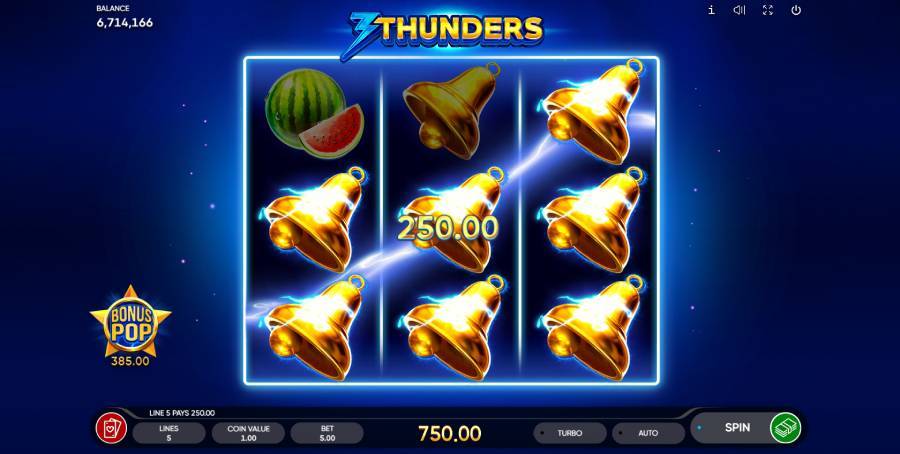 This thunderous slot theme is very much in line with this provider and something they are known for doing well, a more classic looking but still having nice looking graphics and a look set of animations on the slots and background, and something that is usually looked over a fun background track to jam out to while playing this blast of a game.
Some features this is a 3x3 slot with the classic scatters features presented by the lightning bolt, and will activate free spins once there are three on the reel and get 20 free spins, and once you've activated the scatters feature, the 7's become wilds.
And old school slot through and through, Endorphina has become good and well known for making these types of games and is very much a crucial part of their brand like their gambling mechanic, which seems integrated into almost if not all their current slots, which is a great option to have for many of our players who want to add a bit of extra fun to their gaming experience. An overall lovely slot for you, the player, to enjoy today at Scatters!
Position #2 - Joker Stoker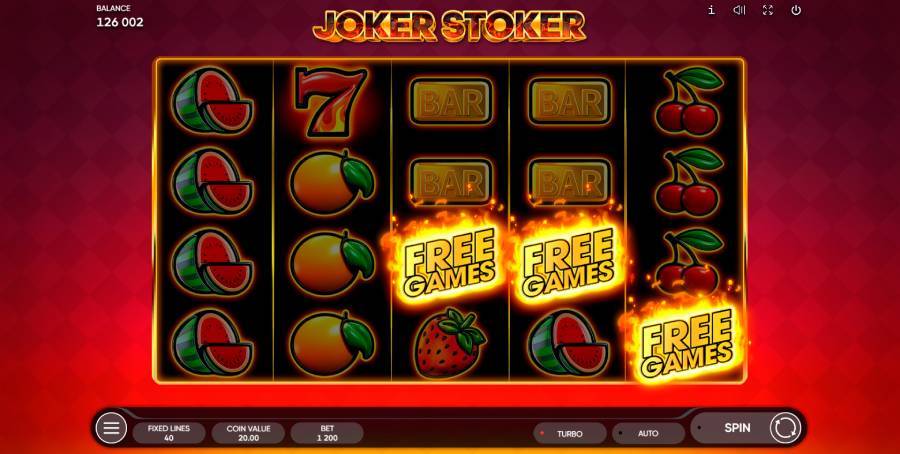 This slot is on fire with how good it is; a 5x4 reel game with a firey and classic looking vibe with hot symbols and an old western type vibe of music playing in the background that puts you in the mood of old school gambling, you have your classic features like the wild presented by the fire joker icon, and free spins shown by the "free game" icon, where once you've matched at least three it activates free spins mode.
Each time you win, it plays a fire animation on each symbol, and its graphics are something else, but that's very common with games from Endorphina games; it usually keeps a simple vibe but brings a lot of quality and fun little features and great sounds for a fun time! We at Scatters love Endorphina, and we hope you do too, play for free or real money today!
Position #1 - Lucky Streak 1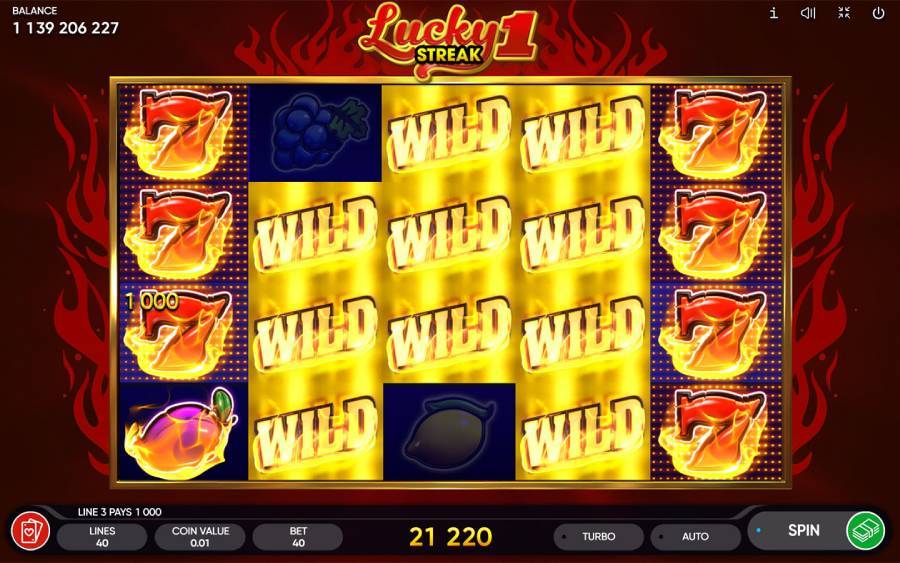 One of Endorphina's most popular bangers, a slot any old school player or maybe a fan of old school slot to enjoy can enjoy; as old school as you can get, it makes you feel like you are in a live casino spinning a space it even has the classic sounds of spinning a slot with no added music.
It has decent designs for the slot, a good engine and UI and overall fun and a hit with many of our players at Scatters, and we suggest playing it today!
Conclusions
We host many great games from our friends Endorphina that have all been instant hits in their regards in the casino world for their high quality, graphics and exciting features, not to mention the excellent and simple interface you can use while playing an Endorphina game, that makes everything so clean and easy to use, Online gambling has never been so easy!
The list of slot games above should keep you busy for a while, but there are a lot of other great Endorphina games you can play today on Scatters easily by going to the casino section and filtering via the provider tab on the far right. We will add any new games to come out from the great Endorphina studio for our players to enjoy, which you'll be able to find in the provider filter or the latest games tab in the casino section of Scatters. Endorphina, a trusted provider by many of our players and the casino world, is an excellent example of how things should be done, hosted on Scatters.
Frequently asked questions
What RTP does Endorphina have on most of its games?
This provider is slightly different because all of their slots are 96% RTP, and GLI tests all their games, so it is an accurate legit percentage, something rare and unique for this brand.
What type of Games does Endorphina offer?
They currently offer a long list of slots, which they do very well in, with their high quality and different list of games, each different from the other, but they do not host any other type of casino games other than slots.
Does Endorphina host table games?
Currently no, they only host slots and put all their effort into working on their slots and making them as high quality as they can be; if you are looking for table or video poker games, we host many high-quality ones at scatters that can be found via the casino tab and the "table games" section.
Does Endorphina have progressive jackpot games?
You might expect such a brand to have one or two dedicated progressive slots, but they currently don't; they still now only have slots, and no game has a progressive feature implemented into it, but we at Scatters have a lot of games with progressive pots. We even have our progressive jackpot that's free to enter, which applies to every game hosted on Scatters; check here for more information.
Is Endorphina a trusted provider?
Yes, Endorphina is a safe and secure provider, certified by Malta Gaming Authority. This provider has a good name in the casino world, and it shows, but if for whatever reason you feel like something has happened, feel free to contact Scatters customer support, where one of the many members of our excellent support team will try to aid you in any problem you may have.
How to win real money from slot games?
If you wonder how to earn real money from slot games, this is your place. It's relatively simple, really, First, make your account with Scatters and fill in your details, give any form of documentation asked of, if requested (this might vary depending on the country), complete your deposit, and start playing, once you want to make a withdrawal of your earnings, Go to your player menu at the top right corner of the window when you're logged into your account, then pick the withdraw tab. Choose your favourite withdrawal method and follow the instructions. The minimum amount for a withdrawal is €/$ 20 (€/$ 100 for bank transfer withdrawals).
===
If you would like to play at Scatters using special offers and bonuses have a look at our promotions: Welcome Bonus, Wednesday Free Spins, Scatters Freepots, Daily Quests, Drops & Wins, Live Casino Tournament, Scatters Casino Rewards, Scatters Level Up System and Bonus Buy.