Scatters Free Spins Wednesday Bonus
Another weekly event at Scatters for you to take advantage of and that will help you on your Scatters adventures, we've already set up and given you a lot to play with in terms of our welcome offer, our loyalty system, and our daily quests to boost your experience, and we have even more, to put a bit of extra step on your Wednesday, and to make waiting for the weekend a bit easier we have Free spins Wednesday!
What is Wednesday's Free Spins Bonus?
Pretty simple, on any Wednesday till this offer ends if you deposit €20, €50, or €100 you will get free spins, the more you deposit the more you get, for €20 you get 20, for €50 you get 60 and for €100 you get a whole 130, you can make these deposits from a timeframe of 00:00 to 23:59 and these free spins can be used on the selected games of that week. (read terms and conditions)
How can I claim these free spins?
This is a simple process, first, go to Scatters.com and log in with your credentials, and if you don't have an account with Scatters you can easily sign up for one, all you have to do is put in the information it asks of you after you log in or sign up.
Go to the top right of the screen and press the deposit button, in that window pick from any of the 3 options you have on any of the selected methods you prefer and make your deposit, and there you go, easy as that, you'll have your free spins.
What is in it for you?
What you get out of this is a question you might be fairly asking, that is a very easy question to answer, why not get free spins for making a deposit you were already given? You can play longer and have a higher chance of winning with all these free spins. So really do not take it.
Why it is a great bonus opportunity?
Well, the bonus you get is all the free spin, they bring up your chances of winning a great deal, and if you want to play the slots we host on our great slot anyways, why not get real money for that while you do it weekly?
The online slots of this month | June 2022
For this week the slots that benefit from this offer are Rise of the Gods reckoning and Alkemors Elements, this changes every week, so you can be happily surprised with new slots you can use these free spins on.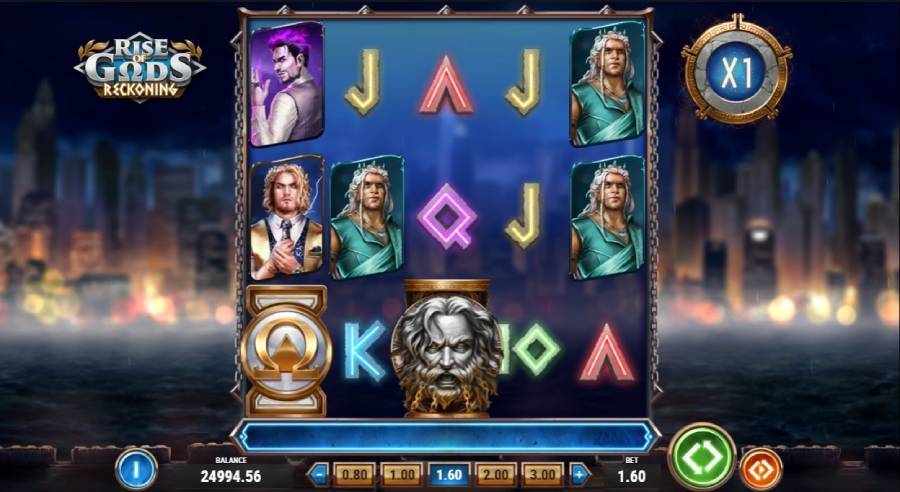 The 3 brothers of Olympus, are the rulers of the land, first, is Zeus the ruler of the sky, and Olympus, and king of the gods. Second is Posiden, master of the Seas, controlling all of the ocean with his magical trident, and the last brother is Hades, king of the underworld, controlling the lands of the dead, the lands where heroes and villains themselves rest.
Features
This slot has an RTP of 96.2%
The 3 brothers' symbols can land stacked on the reel, if it's a fully stacked premium symbol, the win is multiplied by 1+. If you get a stacked symbol on each reel the win tops to 6x
Wrath of the Gods is a feature that randomly triggers on any spin, 2 reels are randomly chosen to synchronize, therefore playing the same symbol on each, and synced reels show only a high-paying symbol
As for free spins that is simple, if you get 3 Cronus scatter symbols that land on the reel you get 6 free spins, whatever win multiplier you have going on is carried over with it to the bonus round, and it doesn't turn off till the bonus feature ends, it can go up though, which is always good to hear. If you get another 3 scatter symbols you can retrigger.
Visuals
This slot has a very modern vibe to it, its set in an old modern city, very smiler to New York, the brothers are dressed as the high-class businessman of power, which is very different compared to many other Olympus gold-themed slots where they are normally more themed around the old world
The symbols are similar to the world it is set in, very modernized and with a ruin greek type style and glow. The Scatter symbol is in the shape of a carved Cronus head statue with a very mad expression, but hey if my kids took my job I'd also be mad.
The wild symbol is a golden alpha type of symbol, as for the other symbols, they are of course the 3 brothers, each with a border matching the brother and having a high level of detail and quality.
The overall opinion is that this slot is definitely worth your time, nice visuals, basic yet always nice to see features, and a high-quality provider, so why not use those free spins on a slot like this with such high quality.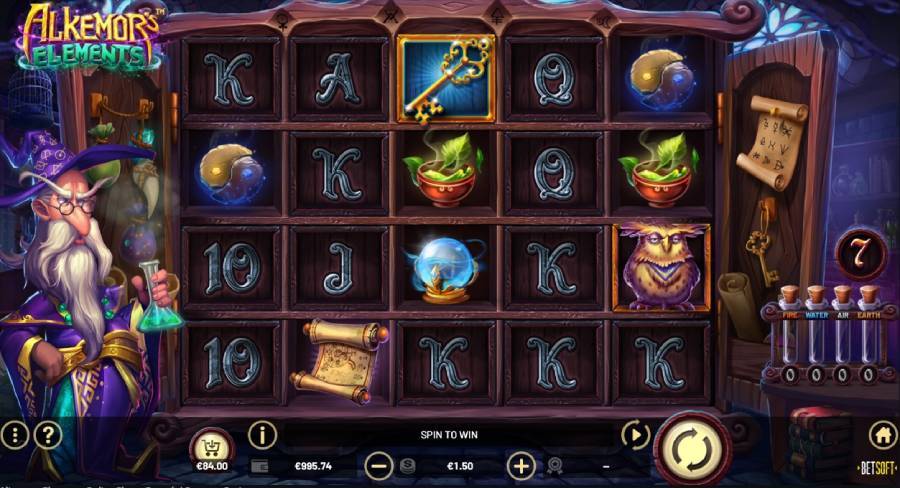 Be taken under the wing of the great Alkemor of alchemy to master the Elements and create riches for yourself, you have everything you need to make your dreams come true with these magic and tools in your hand, you just need to keep trying and learn from your teacher. Keep at it and you'll get there easily.
Features
These slot machines are played in cycles of 10, where in 10 spins where you try to fill up the element vials on the right side of the slot Visuals
When the cycle ends, you will get a number of the element wilds spins that equal to the number of the most collected flask symbol. They also come with "element spells", that act as the wild which there are 4 of, one for each of the vails.
The fire wild puts flash symbols up to 4 reels. The water wild puts up to 6 flask symbols onto the board. Air lets you is somewhat of a copy to water and finally the earth wild places between 6 and 10 flask symbols randomly onto the board.
If you can get 3, 4 or even 5 key scatters to land on the reel, you'll trigger the scatter feature and start a free spin session. You'll either get 8, 10, or 12 free spins. Each free spin bonus comes with different element spells to make the spin more interesting and spin every Wednesday
If that free spin session seemed interesting to you that's great because you can use the bonus buy feature in this slot easily
Players are also free to use the Buy Feature option and purchase 12 free spins for 56x the set stake.
Visuals
This is a 5x4 reel, with a lot of detail in the magic theme, many of the basic and lower-paying slots and higher-paying ones are the magic ingredient, one of the slots is even the same as the wizard.
This slot uses a lot of effects and high-quality graphics to give a nice immersive experience. About everything has a nice little effect, same goes with the UI it's nicely made, simple to understand, and themed around the slot with little things that just tell you the devs really cared
This slot really captures the wizard and alchemist vibe well, from highly detailed symbols to the high quality, not surprised by a developer of this renown and quality control, honestly a fresh and nice design for anyone who wants to try it.
This slot is definitely worth your time, it has features to love, graphics to wonder at, and a great chance of winning amazing prizes, with the free spins scatters is giving out it will make this slot irresistible!.
Conclusions
There are many online casinos, Scatters though has next-level live casino games, and offers where you get so much for making deposit bonuses, especially on Wednesday as we just showed you, you can easily get 50 free spins or more right now with our casino bonuses.
you have 2 amazing slots to play them on, so why not take this great offer get onto Scatters and start playing today!
And if these aren't your type of slot games, we change the games each week!
FAQ's
What do I do if I don't get my rewards?
Very easy, even tho we have a great system in play, you can always contact support to help you fix whatever problem you currently have and they will do their best to fix your problems.
Can I use the spins elsewhere?
No, with this great offer the spins you will be getting are to be used on the games listed for that week, we do have other offers that allow you to use your spins on any slot you want though, via the loyalty system.
Any wagering requirements?
Before taking part in any offer always read the terms and conditions, but yes this slot has as listed in terms and conditions as follows "Winnings from free spins are paid out as bonus money with a 35x wagering requirement"
===
Would you like to play using special offers and bonuses? Please have a look at our promotions: Welcome Bonus, Scatters Freepots, Daily Quests, Drops & Wins, Live Casino Tournament, Scatters Casino Rewards, Scatters Level Up System and Bonus Buy.
Scatters follows all Malta Gaming Authority rules and regulations and always recommends playing responsibly!